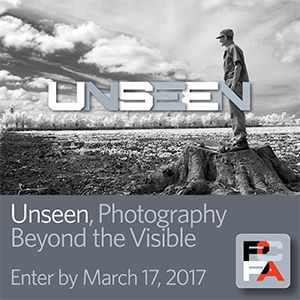 Unseen, Photography Beyond the Visible
Providence Center for Photographic Arts Photography Gallery
118 North Main Street, 2nd Floor
Providence, RI 02903
Contact Email:
peter@petermillerfineart.com
Call Type:
Photography
Eligibility:
International
State:
Rhode Island
Entry Deadline:
3/20/17
Application Closed
REQUIREMENTS:
Media
Images - Minimum: 3, Maximum: 8
Total Media - Minimum: 3, Maximum: 8
Entry Fee (Unseen, Photography Beyond the Visible): $30.00

Media Fee (per sample over minimum):$10.00

Unseen: Photography Beyond the Visible
Exhibit: April 20 to May 13, 2017
Opening Reception: April 20 from 5:00 to 9:00pm
Jurored by Peter Miller & Laurie Klein

Download exhibit prospectus
Non-visible wavelength photography is magical, mysterious, dramatic, and challenging. Images can appear dreamlike, mystical, and surreal — at once both familiar and foreign. Masters of photography including Minor White and WeeGee found expression with the expanded range of infrared spectrum. Simon Marsden used infrared to amplify his affinity with the macabre and haunted. Rock bands including Bob Dylan, Jimi Hendrix, Frank Zappa, and U2 presented a new psychedelic vision with infrared images on their album covers. More recently Richard Mosse's photography captures the beauty and tragedy in war and destruction. Infrared photography transports the viewer into the world of unseen wavelengths of energy, beyond the visible.
Providence Center for Photographic Arts presents Unseen: Photography Beyond the Visible a jurored exhibit of works by the artists who have found creative expression within non-visible wavelengths. Artists who utilize infrared, IR filters, false color, ultraviolet, multi-spectral, and thermographic technology — in digital, film, and post-processes — are invited to participate.
While Unseen is an exhibit limited to non-visible spectrum images, the evaluation of images by the jurors centers on artistic vision. We want to introduce our audience to another means of creative expression where technique is secondary in making selections. Unseen embraces photo-media artists, experimenters, and those who dare to stretch artistic boundaries into a truly different kind of light. Submit your entries to our exhibit through CAFÉ.
Eligibility
Providence Center for Photographic Arts (PCPA) invites photographers from around the world working in infrared, IR filters, false color, ultraviolet, multisprectral and thermographic technology to participate. All mediums, styles, and schools of thought —including experimental and mixed techniques — are welcome. Artwork must be photography-based and 40 inches or less in height and width (including the frame). Photographers must be age 18 or older.
Artist Dates
Entry deadline:

March 20

, 2017, 11:59 pm PST
Notice of acceptance:

March 24

If you choose print service, email files by

April 4

Artwork hand delivered

April 14 & 15

from 1 to 3pm
Shipped artwork to arrive on

April 13 & 14

Opening reception:

April 20

, 5:00 to 9:00pm
Show closes:

May 13

, 1:00pm
Artwork pickup:

May 13 & 14

, 1:00 to 3:00pm
Unsold art shipped out beginning week of

May 15

Any pieces not picked up after 30 days may be donated to charity.
$1000 in Prizes
All prizes are awarded at the opening reception on April 20, 2017 at 7:30pm. Prizes are awarded as gift cards from a major photo retailer who ships internationally.
Best of show $500
2nd place $250
3rd place $150
People's choice prize $100 determined by paper ballot in the gallery or via email
Exhibition Book
We expect that the exhibit will present a comprehensive overview of infrared and other non-visible spectrum photography. PCPA plans to publish a limited edition book Unseen: Photography Beyond the Visible with selected entries from the exhibit.

Fees
PCPA members $24 for three pieces and $10 for each additional entry. Non-members $30 for three pieces and $10 for each additional entry. Limit of 8 entries per person. Online submission and fees are handled through CAFÉ (CallforEntry.org), a free and easy-to-use online application system. Entry fees are non-refundable. PCPA members please email peter@petermillerfineart.com for instructions for the member discount.
How to Enter
Select 3 (and up to 8) images. Save each file as JPG, highest quality, sRGB color space, 1920 pixels on the longest side, without borders, and file size less than 5 megabytes.

Go to

callforentry.org
Login to your CAFÉ account or create a new account. CAFÉ instructions here.
Complete your entry before 11:59pm (Mountain time) on

March 17

, 2017.
Notification of Acceptance
All applicants will be notified by Constant Contact email and the list of accepted artists will be posted on the PCPA website on March 24, 2017. Please refer to the PCPA website only. We will make every effort to contact artists with the information you provide in the entry application. It is the artist's responsibility to check the PCPA website for accepted entries.
Delivery of Accepted Photographs
Artwork can be hand delivered to the gallery April 14 & 15 from 1 to 3pm. Shipped artwork received until to April 16 at 4pm
Exhibit Guidelines
All work submitted for exhibition must be printed and framed professionally with either glass or plexi, and be wired with D-rings and ready to hang. PCPA recognizes that some work is non-traditional and incorporates the framing as an integral part of the presentation. Prints on aluminum, wood, or other alternative material are acceptable. The maximum height and/or width including the frame must not exceed 40 inches.
Images not suitably prepared will be excluded. Once unpacked at the gallery framed images may be evaluated once again. Printing excellence, mounting, and framing qualities of each piece will be taken into account. Your piece must be wired and ready to hang. Do not use screwed hooks, sawtooth hangers, exposed glass edges, or cleats. Work not properly framed or damaged in shipment may not be exhibited.
Print Service
Distant photographers whose work is accepted for the exhibit can use our print service to avoid shipping costs and mailing problems. All prints will be displayed in professional .75 inch black frames behind glass.
We print images at a good size to maximize impact at exhibition. The process is easy:
Save your file at 300dpi at one of the standard image sizes below. Your image needs to fill the dimensions of the file. Do not add any white or black border or extra canvas area. Save as JPG maximum quality, file size less than 20MB.
Email the file to peter@petermillerfineart.com by

April 4

. Write "print service and [your name]" in the subject line of your email.
PCPA will email you a Paypal invoice for $40 per print.
Promptly send payment for the invoice and we will print, frame, and hang your image in time for the show.
After the exhibit all print-service prints remain available for viewing at the gallery. At your request we can ship the print to you after the show has concluded (contiguous 48 states USA only). You pay for shipping.
Print service image sizes at 300dpi:
12 x 16 inches (3:4 aspect)
14.5 x 14.5 inches (Square)
11 x 16.5 inches (2:3 aspect)
Shipping
Ship artwork to arrive on April 13 or 14. Artists who choose to ship accepted works will be responsible for supplying a pre-paid return shipping label. We work hard to sell art and suggest waiting until the end of the exhibit to email a PDF of your return label. UPS shipping is preferred. Do not include return USPS postage or any other pre-paid shipping in your package
Address to:
Providence Center for Photographic Arts Photography Gallery
118 North Main Street, 2nd Floor
Providence, RI 02903
(401) 225-6792
email: peter@petermillerfineart.com
Sales Commission and No Sales Tax
All work accepted for gallery exhibition must be for sale. PCPA will retain a 40% commission on the sale of any work. 60% of sale proceeds will be paid to the artist within 30 days of the close of the show. All photographs must be signed by the artist. The sale of signed, original, limited edition artwork in the state of Rhode Island is sales tax free.
Providence Center for Photographic Arts
PCPA was founded to inspire creative development and provide opportunities to engage with the community through exhibitions, publications, workshops, and mutual support. We strive to advance our members' careers, strengthen the appreciation of photo-based media, and foster dialogue around innovation in the arts.
Our talented member artists come from both the local Providence area and far beyond. PCPA is non-profit organization led by dedicated volunteers. We will run a full calendar of professional workshops, juried, group, and individual artist exhibits, member salons, and other activities throughout 2017. All exhibits are free and open to the public. To join PCPA or for more information click here.
The gallery is open Thursdays, Fridays, and Saturdays from 1:00 - 4:00 pm and by appointment. Please contact peter@petermillerfineart.com or by phone at (401) 225-6792 with any questions. Visit the gallery online. Find us on FaceBook and Twitter.
Questions?
Please email: peter@petermillerfineart.com, or call Peter at (401) 225-6792.
Print this Page
View Legal Agreement