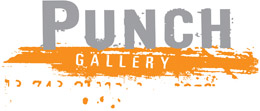 Punch Gallery: Juried Exhibition 2009
PUNCH Gallery
119 Prefontaine Place South
Seattle, WA 98104
Contact Email:
art@punchgallery.org
Call Type:
Unspecified
Eligibility:
Unspecified
State:
Unspecified
Entry Deadline:
10/22/09
Application Closed
REQUIREMENTS:
Media
Images - Minimum: 1, Maximum: 13
Total Media - Minimum: 1, Maximum: 13
Entry Fee (Punch Gallery: Juried Exhibition 2009): $15.00

Media Fee (per sample over minimum):$5.00

PUNCH Gallery
International Juried Exhibition
December 4 - January 2, 2009
Deadline: October 19, 2009
PUNCH Gallery presents an international juried exhibition taking place December 2009. Located in the Pioneer Square area of downtown Seattle, PUNCH provides an excellent opportunity to gain exposure within the Northwest regional art scene.
Artists from any country may submit work in any medium. There is no limit to the number of entries. In addition to traditional 2-D and 3-D works, artists are encouraged to submit work in new media, video, sound, or installation. Complicated installation procedures may require the artist to assist with installation. Members of PUNCH are not eligible to enter.
Juror
Marisa C. Sánchez
Assistant Curator of Modern and Contemporary Art
at the Seattle Art Museum
www.seattleartmuseum.org
Awards
Cash award(s) determined by number of entries will be distributed at the juror's discretion. Our previous juried exhibition presented cash awards totaling $1,300. Several entrants were also offered additional exhibiton opportunities curated by PUNCH members.
Entry fees
- $15 first image
- $5 per additional image
Fees are nonrefundable. Entries must be submitted using the CaFÉ entry system.
Acceptable Files
For 2-D and 3-D works, please submit JPEG files and prepare your images according to the CaFÉ guidlines. For video or sound files, please submit a still image and include a web link to the time-based file in the work description. Links to YouTube.com, Blip.tv, or any other online media server will be accepted for time-based works. For installation or site-specific projects, you may submit proposal images.
Calendar
October 19
11 p.m. Pacific Time
Deadline for receipt of online submissions.
November 2
Notification of acceptance. Artists will be notified via email and announced on our website.
November 20
Deadline for receipt of accepted work.
December 3
Opening reception, award(s) announced.
January 2
Show closes. Following the closing of the exhibition, work is repacked and shipped back to the artists. You may also pick up work at PUNCH Gallery Sunday, January 3 between 11 a.m. and 4 p.m.
Sales
PUNCH will retain a 30% commission on all artwork sales. It is not required, however, that accepted works be for sale.
Size Limitation
Work must be able to fit through our front door (81îx40î).
Insurance
Every precaution will be taken to assure that your work is handled with utmost care and respect during installation and throughout the run of the exhibition. However, it is the artist's responsibility to carry insurance for any of their works in the exhibition. PUNCH will not be responsible for damage, theft or loss of any kind.
Shipping and Return
Accepted work must be sent in sturdy, reusable crates or boxes. Artwork will be returned via the same carrier that delivered it, or it may be picked up at PUNCH Gallery Sunday, January 3 between 11 a.m. and 4 p.m. Work will be insured for return only if the owner requests and pays for this. A post-dated check or money order (postdated for January 3, 2009) should be included with the work when it arrives and be written for the amount covering return costs. In the event that the work is sold, the check or money order will be returned to the artist.
More Information
Send questions to art@punchgallery.org.
Gallery information and juror bio available at
www.punchgallery.org/juried2009
How to Submit Entries
Entries will be submitted electronically using the CaFÉ system.
Print this Page
View Legal Agreement