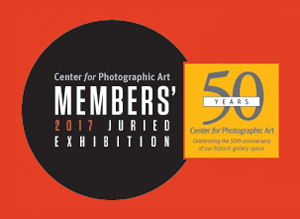 Center for Photographic Art - 2017 Members Juried Exhibition
Center for Photographic Art
Sunset Center
San Carlos Street at 9th Avenue
Carmel, CA, 93921
(831) 625-5181
Contact Email:
richard@photography.org
Call Type:
Photography
Eligibility:
International
State:
California
Event Dates:
6/23/16 - 6/23/16
Entry Deadline:
6/14/17
Application Closed
REQUIREMENTS:
Media
Images - Minimum: 1, Maximum: 20
Total Media - Minimum: 1, Maximum: 20
Entry Fee (Entry Fee - $50 Members' discount available): $70.00

Media Fee (per sample over minimum):$10.00

2017 CPA Members' Juried Exhibition. (Entry period: May 1 - June 14, 2017)
The Center for Photographic Art (CPA) is excited to announce the 2017 Members' Juried Exhibition! This year we are offering $1000 in awards to celebrate the 50th Anniversary of our historic gallery space, founded by the Friends of Photography in 1967, and proudly continued by the Center for Photographic Art since 1988. All new or current CPA Members working in all still photographic media are encouraged to enter. There is no theme; any subject matter is eligible.
Eligibility and Entry Fees
To enter, you must be a CPA member. You may join CPA and enter as a member by paying the $70.00 entry fee (which includes a single image entry and a one year membership with all benefits). If you're currently a CPA member, the entry fee is only $20 for the first image! To receive the current member's $50 discount, use the following discount code at the end of the check out process but please be certain that your membership is current: MJE2017

$70.00 For non-members: includes a single entry and a one year CPA Basic Individual membership
$20.00 For current CPA members: includes a single entry (use discount code at check out)
$10.00/ea. Up to nineteen additional images (twenty total).
Added benefit: Artists receive 100% of sales of their artwork! No gallery commission.
Jurying and Awards
Forty five images selected by the jurors will be exhibited in the historic CPA gallery in Carmel, CA, and featured in an online gallery on the CPA website. Up to an additional forty five images will be selected and included in the online gallery.
All selected gallery and online images will be published in the 2017 Members' Juried Exhibition catalog, available for sale during the exhibition and online afterward.
The jurors will grant the following awards:
First Place : $500
Second Place: $300
Third Place: $200
Plus Five Awards of Merit
Entering the 2017 Members' Juried Exhibition
Entries will be conducted through the CallForEntry (CaFE) online entry system. The submission process is outlined on the CaFE website. www.callforentry.org/
1. Access the CaFE site and create a free personal account: www.callforentry.org
2. Upload your files into your CaFE portfolio with these specifications:
Image resolution: 1920 pixels (longest dimension) @ 72 ppi, 8bit jpeg.
Profile: AdobeRGB (1998). Files must not exceed 5MB.
Please note: Selected images and caption data will be printed in the exhibition catalog directly from the information accompanying each file. Your personal information and image data will be our only source of information. Be certain that your name, titles, dates, dimensions, sales prices, and medium (archival pigment, platinum, silver gelatin, etc.) are accurate. You MUST title each image; "Untitled" is not allowed.

3. You can upload your files to your CaFE portfolio at your leisure and sign out and return later to change or add more images. However, you must complete your ENTIRE MJE entry before you check out and pay your fees. Once your MJE entry is submitted, it cannot be changed, nor can you add additional images. Therefore, please do not finalize your entry until you have entered the desired number of images and have double-checked that all your information including your name, titles, dates , sales prices and medium are accurate and correct. Please allow plenty of time to enter, CaFE is an automated system so late entries cannot be accepted after the deadline.
For assistance, please refer to the FAQ on the CaFE website, or email: richard@photography.org. We will do our best to respond quickly to your email. Keep in mind that we will be very busy near the end of the submission period.
Notification and Submission of Artwork:
Artists selected for the MJE gallery and online exhibition will be notified via email after June 22, 2017.
For invited gallery artists ONLY (online artists do not submit artwork) artwork must arrive at CPA no later than July 12, 2017.
Preparing your image for exhibition
All artwork for display in the gallery must be ready-to-hang. Framed pieces must be glazed with acrylic Plexiglas only; absolutely no glass. Stretched canvas is allowed and frames can be wood or metal and in any style or profile. Unframed work will not be displayed. Your finished piece must not exceed 30 inches on the long side and weigh less than 10 pounds, with hanging wire securely attached to the back of the frame. No saw tooth hangers. For the safety of your piece and our visitors, no exceptions will be granted for these framing requirements.

Delivery of Art
Accepted work must arrive at the Center for Photographic Art no later than Wednesday, July 12, via Federal Express or UPS. Hand deliveries are welcome during gallery hours, Wednesday through Sunday, Noon - 4:00pm. If you ship your work please use sturdy, reusable packaging -- we will use the same packaging to ship it back to you. You may use reusable fiberboard containers or sturdy cardboard boxes, with additional Masonite, bubble wrap and cardboard for shock protection. Use of Styrofoam peanuts or similar loose packaging material is not allowed and the piece will not be unpacked.

Only FedEx or UPS deliveries will be accepted. Sorry, USPS is not allowed. You must include a prepaid return shipping label with additional insurance if desired. No personal checks or stamps!

Prints that do not meet our requirements, arrive late or damaged, cannot be hung properly, or are deemed by the jurors to be of poor quality will be not be exhibited. While your work is in our possession, in the event of loss, damage or theft, CPA's liability is limited to replacement cost of materials only.

Our shipping address is:
Center for Photographic Art
Sunset Center
San Carlos Street at 9th Avenue
Carmel, CA, 93921
(831) 625-5181

Jurors: Elizabeth Corden and Jan Potts, Corden | Potts Gallery, San Francisco. Since opening in 2009, Corden|Potts Gallery has specialized in the work of outstanding contemporary photographers. Elizabeth Corden and Jan Potts, the gallery's co-founders and co-directors, have been curating photographic exhibits since the 1990s. They have provided critical commentary as portfolio reviewers at Lens Culture FotoFest, Paris; Photolucida; PhotoAlliance (SF) and FotoFest Houston, and have served as jurors for competitions such as Critical Mass - Photolucida, The PhotoPlace Gallery, The Center for Fine Art Photography, and the Grand Prix de la Découverte, Paris. CPA recognizes Elizabeth and Jan's sensitivity, depth and appreciation of the medium, and is proud to have them as the Jurors for our 2017 Members' Juried Exhibition.
MJE Submissions Open: Monday, May 1, 2017
MJE Submissions Close: Wednesday, June 14, 2017, 11:59pm MT (10:59pm Pacific)
Jurying period: June 14 to June 22, 2017
Artists notified via email after: June 22, 2017
Gallery artwork due by: July 12, 2017
Opening Reception & Awards Announcement July 22, 2017

Center for Photographic Art - Meaning Made Visible www.photography.org

Please join CPA! Members receive exclusive benefits and discounts on events, workshops and lectures. CPA depends on our membership and welcomes donor and corporate underwriting to help sponsor CPA's world class exhibitions, lectures and other vital programming.
The Center for Photographic Art is a 501(c)3 non-profit corporation.
Print this Page
View Legal Agreement