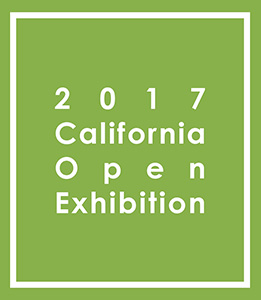 2017 California Open Juried Exhibition
TAG Gallery
5458 Wilshire Blvd.
Los Angeles, CA 90036
Contact Email:
gallery@taggallery.net
Call Type:
Exhibitions
Eligibility:
National
State:
California
Entry Deadline:
7/4/17
Application Closed
REQUIREMENTS:
Media
Images - Minimum: 3, Maximum: 6
Total Media - Minimum: 3, Maximum: 6
Entry Fee (TAG Gallery: 2017 California Open Juried Exhibition): $50.00

Media Fee (per sample over minimum):$10.00

THE DEADLINE FOR THE 2017 CALIFORNIA OPEN HAS NOW BEEN EXTENDED UNTIL JULY 3RD


The 12th Annual 2017 California Open is a juried exhibition celebrating contemporary and modern art created by emerging artists. The competition is hosted by TAG Gallery, an artist-owned gallery now located at 5458 Wilshire Blvd, blocks from LACMA and the Craft and Folk Arts Museums. TAG features emerging and mid-career artists of Southern California. Previously located at Bergamot Station, our new exhibition space is 5,400 sq. ft., twice the size of our previous gallery space. We are excited about our new, bigger space and will be able to accept more CA applicants and bigger work this year!
LOCATION

Formerly located at Santa Monica's Bergamot Station Arts Center, TAG Gallery has relocated to Wilshire Boulevard in the Miracle Mile District. Blocks away from LACMA, the Craft & Folk Art Museum, Ace Gallery and more, our new location is 5,400 sq. ft., twice the size of our previous building. The extra 2,500 sq. ft. allows TAG to accept and display bigger artworks and a larger quantity of work as well. To this end, the 2017 CA Open will accept more entries than in any previous California Open exhibition.

JUROR
The 2017 Juror is artist Scott Canty. Curator Scott Canty earned a BFA in drawing and painting from California State University Long Beach. Canty has been a graphic design instructor for the City of Torrance Joslyn Art Center as well as the Center's Art Curator. Canty has held the positions of Art Curator with the City of Los Angeles Department of Cultural Affairs and the Director of exhibitions at the Palos Verdes Art Center. Recently Canty held the positions of Senior Curator for the LAX ART Exhibition Program and the Director of the Los Angeles Municipal Art Gallery. He also organized exhibitions for other City facilities and programs. He held this position for 30 years until he retired in July 2016. Currently he is painting and working on his drawing series. We're privileged and delighted to have Scott as our juror.

AWARDS
First Place: $1000
Second Place: $500
Third Place: $250
(3) Valerie Mendez Memorial Honorable Mention Awards

ELIGIBILITY
The exhibition is open to all artists 18 years and older in the disciplines of Computer Art, Drawing, Mixed Media, Painting, Print-making, Photography, and Sculpture. Accepted work will be exhibited at TAG Gallery from the 9th – 26th of August 2017, and all work will be for sale. No video, film, installments or artwork that requires special installation or assembly. Work must be original. Entries are limited to six (6) pieces completed since 2011 and not shown previously at TAG Gallery. TAG artists are not eligible

ACCEPTED WORK
Accepted artists will receive instructions for shipping and hand delivery. There is a $50 handling charge for shipped work. Shipping costs and insurance are the responsibility of the artist. A pre-paid return shipping label or air bill is mandatory. Reusable shipping containers only. No wood crates or styrofoam peanuts.

SPECIFICATIONS
All work must be original, unsold work, and the artist must own the sole copyright to art. Substitutions of accepted works will not be allowed, and all delivered work must match the image juried. Frames, mats and wiring must be professional quality and in good condition. No saw-tooth hangers please. Wiring must be in good condition and substantial enough for the weight of the artwork. Two-dimensional works on paper must be framed and under Plexiglas. All accepted work must remain at the gallery for the duration of the exhibit.



SIZE RESTRICTIONS
Hanging works are limited to 60" height and 40" width including frame and may not exceed 30 lbs. per unit. There are no exceptions. Sculptures are limited to 48" height x 20" depth and may not exceed 40 lbs. including base. Submitted works that are larger than the dimensions specified above will not be considered and will be automatically disqualified before jurying process.

SALES
All work must be available for sale. There is a 50% commission to TAG Gallery on sales during the exhibition and 30 days subsequent to the close of the exhibition. No work may be removed from the gallery until the close of the exhibition, and prices quoted on the entry form may not be changed after acceptance.

LIABILITY
Artwork will be handled with reasonable care. TAG Gallery and its representatives will not be responsible for loss, theft or damage of artworks while in the gallery's possession or in transit. TAG Gallery reserves the right to reproduce accepted artwork for publicity and documentary purposes. TAG Gallery allows researchers and commercial filmmakers to use the gallery as a backdrop. The artist retains all copyrights for the artwork.

AGREEMENT
The submission of entries to this competition shall be understood to constitute an agreement on the part of the artist to all rules and conditions as set forth in this prospectus. Entries not meeting the criteria listed herein will be disqualified, and the entry fee will not be refunded.

ENTRY PROCEDURE ONLINE ONLY
All entries must be submitted online at www.callforentry.org. Entries must be submitted on or before JUNE 23, 2017.
Upload requirements for image files (follows all CaFE parameters.)
File format: JPEG only

File dimensions: No smaller than 1920 pixels on the longest side

File resolution: 72 ppi/dpi (standard web resolution)

File size: 5 MB maximum

FEES
$50 for the first three entries. Additional entries $10 each; maximum six entries. All fees are non-refundable and payable only through callforentry.org.

NOTIFICATION
Results of the jurying will be communicated after July 14, 2017. A list of the accepted artists will be posted on our website at www.taggallery.net after July 14, 2017.

QUESTIONS
Additional copies of the prospectus are available for downloading HERE.
Email: caopen@taggallery.net
CaFE.org technical questions: 888.562.7232
TAG Gallery Questions: 310.829.9556

Please read the full prospectus before submitting your entry. Be mindful of the size requirements and the calendar of deadlines.
Print this Page
View Legal Agreement