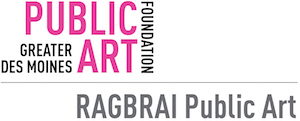 RAGBRAI: Public Art
Contact Email:
mjrowe@dsmpublicartfoundation.org
Call Type:
Public Art
Eligibility:
National
State:
Iowa
Entry Deadline:
5/31/17
Application Closed
REQUIREMENTS:
Media Images:4


A
.
RAGBRAI: PUBLIC ART
This RFQ was developed for
RAGBRAI: Public Art.
The project will commission a major public art work on city property, located on Southwest 5th Street. The public art work will honor two individuals, John Karras and Donald Kaul, who founded
RAGBRAI
is the oldest, largest and longest recreational bicycle touring event in the world.
The private nonprofit Greater Des Moines Public Art Foundation is looking for professional artists to submit their qualifications for this public art opportunity. The Foundation encourages artists from all cultural and political backgrounds who have had experience working in the public sector.
B. PROJECT GOALS
It is expected that the final project when completed and installed will:
Honor John Karras and Donald Kaul who founded the Iowa bike movement: RAGBRAI.
Engage the community, focusing on people of all ages who ride bicycles, and people who work, live or visit downtown Des Moines;
Contribute to the goal of establishing Des Moines as a world class destination for public art.
The selected work should be visible and appealing for both drive-by and pedestrian viewing. It must take into consideration the safety of the public. The material and structure of the artwork must be suitable for an outdoor environment, and be able to withstand local climate extremes of hot, humid summers, and cold, snowy winters. The selected proposal must not require more than minimal maintenance.
C. SITE OF PUBLIC ART PROJECT
The site is south of the central business district of downtown Des Moines, Iowa. The project will be integrated into a plaza adjacent to and north of the Jackson Street Bridge. The pedestrian bridge spans the Raccoon River and is also connected to a popular trail system that creates a connection between downtown and Gray's Lake Park. Repairs and renovations to the historic bridge were completed in 2017. Bridge GPS: Latitude - Longitude: 41.577174,-93.619684
D. BUDGET
The estimated budget for the artistic design, fabrication and installation is not to exceed one hundred thousand dollars ($100,000).

E. ARTIST ELIGIBILITY
This RFQ is open to experienced professional public artists, including sculptors or other visual art professionals, qualified in the design, implementation, and management of installation costs for public art projects.
Artists must be at least 18 years of age.

F. SELECTION PROCESS
The artist selection process will involve an Art Selection panel that will consist of knowledgeable representatives from the art and design community, civic leaders, and property stakeholders. All submittals will be evaluated on the following:
Artistic Merit
Professional Qualifications
Artist's experience applicable to this project
References regarding ability to meet schedule and stay within budget
The selection panel is empowered to recommend two or more finalists at the conclusion of the review process. Should the panel be unable to do so, it may be necessary to extend the existing process or to begin anew by issuing a modified Call for Artists. There will be four project phases:
In Phase 1, artists will be screened based on their qualifications, resulting in the selection of two or more finalists.
In Phase 2, finalists will be invited to present a brief narrative including sketches and any visuals that will inform the Art Selection Panel of the final project. Each finalist will receive travel stipend and an honorarium upon submission.
In Phase 3, a selected artist/team will be commissioned to develop their concept with stakeholder weigh in.
In Phase 4, the project will be commissioned for fabrication and installation.

G. PROJECTED TIMELINE
Phase 1

April 2017 - Call for Artists begins
May 31, 2017 - Request for Qualifications deadline

Phase 2

June 30, 2017 - Two or more finalists selected
Summer (TBD) 2017 - Concept Design development
Early Fall 2017 - Concept Design Proposal presentations

Phase 3

Fall 2017 - Artist/team selected
2017 - Design development

Phase 4

2017-18 - Fabrication & installation

Phase 1
Artist Submittal Requirements for Phase 1:
Current resume/CV should include information about the artist's education, work, awards, professional recognition, and other relevant information.
Please include a brief statement of availability to undertake the anticipated project.
Professional references: List three (3) people with whom you have worked on relevant projects who can describe your participation. Include name, email and current contact information.
Include four (4) digital images of recent work. Please include the following information for each image:

Title of the artwork or project
Media
Dimensions (H x W x D)
Project budget
Date of artwork or project completion
Project/artwork description and location. (100-word limit)
PHASE 2
The artists who are selected to proceed to Phase 2 will be provided with the full scope of the project to enable the artist(s) to submit precise information and make realistic budgets.
Artists/teams may also schedule time to view the site(s) and meet stakeholders if they wish within the concept design time window.
H. AWARDS
The Phase 2 finalists will each receive a $3,000 honorarium upon receipt/presentation of their concept proposals, as well as a $2,000 travel stipend.
GDMPAF is not obligated to pay any costs incurred by the finalist artists in the preparation of a proposal over and above the honorarium provided.
The Art Selection panel will recommend the winning proposal. The selected finalist will be awarded the commission to further design, fabricate and install their proposal.
H. ABOUT RAGBRAI
RAGBRAI is an acronym and registered trademark for the Register's Annual Great Bicycle Ride Across Iowa, which is a non-competitive bicycle ride organized by The Des Moines Register and going from west to east across the U.S. state of Iowa, that draws recreational riders from across the United States and many foreign countries. First held in 1973, RAGBRAI is the largest bike-touring event in the world.
The Register is Iowa's largest and most influential newspaper and RAGBRAI has become a Register tradition. The Register's sponsorship of
RAGBRA
I – began in 1973 when writer John Karras challenged columnist Donald Kaul to do a border-to-border bicycle ride across Iowa.
John Karras

John Karras, an avid bicyclist, is a former feature writer/copy editor for the Des Moines Register.Karras suggested to Kaul that he ride his bicycle across Iowa and write columns about what he saw from that perspective. Karras made up the name, with its unwieldy acronym as something of a joke. "RAGBRAY", that is. There from the start, in 1973, a co-host up to the present and Karras has been a participant in most of the rides.

Donald Kaul

Donald Kaul, also an accomplished rider, is an American journalist and pundit, and was nominated for the Pulitzer Prize for Commentary in 1987 and 1999. Kaul retired after three decades writing opinion columns, mainly for the Des Moines Register, where he established his liberal and satirical style.

I. ABOUT GREATER DES MOINES PUBLIC ART FOUNDATION

Greater Des Moines Public Art Foundation (GDMPAF) is a nonprofit organization that places art in public spaces through public and private collaborations. It is responsible for advancing and administering the affairs and activities of the community's public arts program and assisting to provide public art by venerated professional artists as part of civic and private sector development and community initiatives. GDMPAF believes that identity, distinctiveness, and meaning are added to a specific site by integrating works of art and the creative thinking of artists into the design.

J. ABOUT DOWNTOWN DES MOINES
Des Moines' downtown business district is populated by Fortune 500 companies that are giants in the insurance, financial, and publishing industries. However, a mix of private and public green spaces and buildings are also found in the heart of the city. The past 10 years have seen a very successful effort to encourage downtown living. Numerous lofts, apartments, and town homes , restaurants, and other entertainment establishments have been added throughout the downtown area.
Most recently, Des Moines reclaimed its historic waterfront, the location of several large Beaux Arts public buildings. In 2013, one of its largest civic improvement projects was completed, The Principal Riverwalk. The riverwalk is a pedestrian zone adjacent to the Des Moines River and features lighted bridges and a landscaped promenade. The promenade weaves together a series of civic gardens, including the Greater Des Moines Botanical Garden, the Simon Estes Amphitheater, and Principal Park, a minor league baseball stadium. The Riverwalk connects with 300 miles of central Iowa trails through its walking paths and bridges.

Public Art Highlights
The west entrance to downtown Des Moines, also the corporate lawn of the American media conglomerate Meredith Corporation, is heralded by a whimsical large-scale sculpture. The sculpture Plantoir (2001) is by the celebrated artists Claes Oldenburg and the late Coosje van Bruggen.
Numerous signature public artworks are located throughout the urban core and along the Des Moines River. Highlights include:

The Pappajohn Sculpture Park is a 4.4-acre park showcasing internationally acclaimed sculptures donated by Des Moines philanthropists John and Mary Pappajohn. Works by Willem de Kooning, Louise Bourgeois, and Sol LeWitt are among the 22 world-renowned artists represented.
Temple Chess and Poetry Garden, located between a new and historic building, is a pocket park designed by Iranian-born American sculptor Siah Armajani. The two buildings located in this district are the Central Public Library (2006) designed by English architect David Chipperfield and the 1913 Temple for Performing Arts, reborn as a cultural center for the city.
Cowles Commons adjacent to the Des Moines Performing Arts complex incorporates an early commissioned sculpture (1979) by Claes Oldenburg and Coosje van Bruggen and new LED sculpture (2014) by San Francisco-based artist Jim Campbell.
Municipal Building, one the Beaux Arts buildings along the Riverwalk, has a dynamic, 20-ft. abstract bronze sculpture by American artist Joel Shapiro centered on its esplanade.
The award winning designed HubSpot Plaza and Court Avenue Pump Station feature a public art project by Japanese-born American artist Jun Kaneko. Dedicated in 2013, five dango sculptures and a large glass mural are integrated into this location.
Intergrated into Hansen Triangle Park, along the Riverwal will be the 30-ft sculpture "A Monumental Journey" by acclaimed artist Kerry James Marshall; it will be completed in 2017.
###
Print this Page
View Legal Agreement