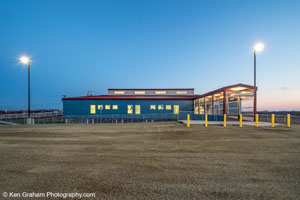 City of Bethel, Alaska: Y-K Region Aquatic and Safety Center, Call for Art
Contact Email:
janelle.matz@alaska.gov
Call Type:
Public Art
Eligibility:
Regional
State:
Alaska
Entry Deadline:
6/21/17
Application Closed
REQUIREMENTS:
Media Images:10


CITY OF BETHEL, ALASKA & BETHEL COMMUNITY SERVICES FOUNDATION
PUBLIC ART - REQUEST FOR ARTIST QUALIFICATIONS
The City of Bethel, Alaska and the Bethel Community Services Foundation are requesting qualifications from artists for artwork to be commissioned for the new Yukon-Kuskokwim Regional Aquatic Health and Safety Center in Bethel, Alaska.
Deadline for Entries: Received by June 21, 2017 9:59 pm Alaska Time.
This RFQ is open to all professional artists residing in Alaska. Applicants must be visual artists. Applications from architects, landscape architects or other design professionals will not be considered unless included as part of an artist-led team. Applications will be accepted online only through CaFÉ at: http://www.callforentry.org/.
Alaska artists in the Bethel region are encouraged to apply. Alaska artists not already registered on www.callforentry.org may request assistance from CaFE at: cafe@westaf.org. Artists must have photos of their work to apply.
Submitted applications will be judged on a competitive basis from which finalists may be selected for locations described in this RFQ. Finalists invited to propose may be interviewed. Finalists may be provided with plans and paid to develop detailed design proposals and/or meet with the art committee to discuss design ideas. Finalists may be considered for more than one location or site. It will be up to the art selection committee to choose the final sites and the best possible artwork for each site.
TOTAL ART BUDGET $90,000 - $140,000
The total budget will be divided to commission artworks. Artists selected to submit proposals must have budgets that will include all costs of design, engineering, fabrication, installation, artwork transportation, special handling fees, special lighting (if any), photographic documentation, liability and automobile insurance. State laws related to public construction, including licensing, insurance, bonding, and payment of prevailing wage rates, may apply. Finalists will be apprised of this information.
FACILITY INFORMATION
For a description of the facility, please check the City of Bethel website:
ABOUT THE PROJECT
This facility has been planned by the City of Bethel for many years. A community situated on the Kuskokwim River and concerned about water safety realized that with proper facilities they could teach their children to swim and thus increase their ability to be safe on the water. The community has long recognized that such a facility is not only important for teaching water safety and reducing drownings but will also have a positive effect on the quality of life of the entire community. Through various plans and surveys over the years, the community has reinforced their belief in the importance of this facility.
COMMUNITY STATEMENT
Bethel (Mamterilleq in Central Alaskan Yup'ik) is a city located near the west coast of the U.S. state of Alaska, approximately 400 miles (640 km) west of Anchorage. Accessible only by air and river, Bethel is the main port on the Kuskokwim River and is an administrative and transportation hub for the 56 villages in the Yukon-Kuskokwim Delta.
Bethel is the largest community in western Alaska and in the Unorganized Borough, as well as the 9th largest in the state, with a population of 6,080 as of the 2010 Census. Annual events in Bethel include a noted dogsled race, the Kuskokwim 300, Camai, a traditional Yup'ik dance festival held each spring, and the Bethel Fair held in August.
ABOUT THE FACILITY
The City of Bethel is proud of its brand new Yukon-Kuskokwim Regional Aquatic Health and Safety Center. The building was designed by Architects Alaska, Inc. and constructed by Bethel Services Inc. and Unit Company. Funding for design and construction of the facility came from City sales taxes collected for this purpose and a 2011 State of Alaska Designated Legislative Grant awarded to the City in the amount of $23,075,000.
The facility includes:
Six-lane competition size swimming pool (7 ft. 4 in. to 3 ft. 6 in.)
Water slide (14 ft. 4 in. high with 1.5 turns)
Kiddie pool with wheelchair ramp entrance
Hot tub that holds 17 adults
Gallery with tables and chairs for viewing swimmers
Exercise room with machines and weights
Fitness room with mirrors and stretch bars for spin class, aerobics, ballet, karate, and other courses
Men's and Women's locker rooms with showers, lockers, bathroom amenities
Concession stand
Examples of uses of the Center include:
Families, children, water polo, swim team

Guitar lessons, judo, yoga, boxing, spin classes, children's ballet classes

Physical and emotional wellness

Community and family building

From cab driver to sushi chef, we see them here!
EXPECTED ART INSTALLATION DATE
The YKRAHSC Art Selection Committee will review applications and contact finalists prior to August 31, 2017. Art should be installed before September 30, 2018 or as soon as artwork is complete and installation can be coordinated with project manager and YKRAHSC staff.
THEMES, GOALS AND INTENT OF ARTWORK
In general, the Art Selection Committee is interested in commissioning artwork that is appealing to the diverse community and related to the mission of the facility. Artwork should have a connection or relationship to the Bethel region and invoke healthy lifestyles.
Specific themes will be further developed by the Art Committee for Proposal stage for the finalists.
LOCATIONS FOR ARTWORK
Main Hallway Walls ($30,000-$50,000)
This area consists of an overhead wall at the end of the hallway with fitness rooms and locker rooms in it, measuring 15' high by 11" wide, and an associated side wall 8' high and 80' long. The smaller end-of-hall area is the primary focus, with the side wall as the secondary focus area. This is intended to be a wall based artwork. Any media will be considered, with long-term care and environmental (high humidity) issues important.
Lobby/Pool Wall ($50,000)
This area consists of five glass panels above the doors between the lobby and the pool area and measure 3' high by 6' long each. This art for this area should be visible from both the public lobby space and the pool room. It is expected that the media will work with the transmitted light in this area.
Exterior Site ($30,000)
This area consists of a large covered breezeway with acrylic panels and a walkway in front of the building, an open ground pad adjacent to the breezeway, and the metal barrier in front of the parking area. Any media will be accepted, but must be durable to withstand harsh weather, freezing and winds. Health and safety issues will also be of high consideration.
Additional Residency ($10,000-$15,000)
Artists are encouraged to indicate interest in adding a community residency to their proposal, with the goal of creating a community led project for additional art at the building. Artists may apply for the residency portion without applying for any of the other areas.
DESIGN CONSIDERATIONS
Any supplements to interior lighting will be at the expense of the artist and coordinated and approved through the project manager. Modified lighting features must be commercially available in Alaska.
MAINTENANCE AND SPECIAL CONSIDERATIONS
Artwork of all durable media will be considered.

Natural materials that are subject to fading or deterioration due to the physical environment of the facility will not be given strong consideration.

The installed artwork must be permanent and designed to last the life of the building.

Artwork must be designed so that maintenance does not require special equipment or extra duties performed by staff. Therefore, routine maintenance and display considerations must be minimal.

Replacement features if required, must be commercially available in Alaska.

Travel (planning and installation) and shipping costs must be factored into the total budget.
CRITERIA FOR ARTIST SELECTION
The criteria for selection will include:
• Quality, appropriateness, and originality of the artist's past work as evidenced by the digital images, the letter of interest and resume
• Durability, maintenance requirements, and safety considerations related to past commissions
• Past projects and references that attest to qualifications, past performance and ability to complete the work on time and in coordination with a project manager.
• Ability to work with contractors, consultants and others on the design team if applicable
APPLICATION REQUIREMENTS
Artists are required to include the following items:
A short letter of interest no more than one page in length. The letter should describe:
The general nature of your approach to making art for the public realm

How your work is or could be connected to the themes of this project

Why your medium or media would work well with this building, specifying which area (s) you would propose for.

How your work is priced, or a budget range of past work
Ten digital images of past work uploaded to Call for Entry.Org. Artwork created in the past 10 years is preferable to demonstrate capability for this project. Please do not submit proposals or preliminary sketches in lieu of images of completed work unless your proposal has been accepted and/or is in progress for another project.

A current resume no more than two pages in length. Limit highlights to work/education/training/awards and recognition from the past 5-10 years.

Names, titles and phone numbers for three professional references who can attest to: success of past projects, qualifications and ability to complete the work on time and in coordination with the project manager, as well as ability to work with contractors and consultants, landscape architect and others on the design team.
ADDITIONAL INFORMATION
This call is for commissioned, site-specific artwork. Plans and renderings that accompany this application are for general reference only. Finalists will be provided with detailed plans if invited to develop a paid proposal.
Requests for additional information may be directed by email to:
Charlotte Fox
Public Art Project Manager
cafox@gci.net
Phone: 907-903-0450
Print this Page
View Legal Agreement