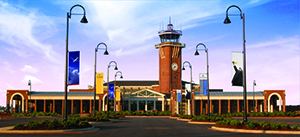 England Airpark/Alexandria Int Airport - Public Art Sculpture
England Airpark/Alexandria Int. Airport
1611 Arnold Drive
Alexandria, La. 71303
www.englandairpark.org
~~~~~~~~~~~~~~~~~~~~~~~~~~~~~~~
River Oaks Square Arts Center (Call Facilitator)
1330 Second Street
Alexandria, LA 71301
318.473.2670
rachael@riveroaksartscenter.com
www.riveroaksartscenter.com
Contact Email:
rachael@riveroaksartscenter.com
Call Type:
Public Art
Eligibility:
National
State:
Louisiana
Entry Deadline:
9/8/17
Application Closed
REQUIREMENTS:
Media
Images - Minimum: 5, Maximum: 20
Audio - Minimum: 0, Maximum: 2
Video - Minimum: 0, Maximum: 2
Total Media - Minimum: 5, Maximum: 20
England Airpark and Community, home to Alexandria International Airport, is seeking request for qualifications and preliminary proposals from individual artists or artists teams for the creation of a monumental gateway sculpture located in a site specific roundabout entrance to the Airpark. This site was specifically created for the installation of a public art centerpiece. This is a high visibility, high traffic opportunity with hundreds of thousands of vehicles utilizing the Airparks roundabout on an annual basis. The roundabout location is one of the most notable and prominent public spaces within the Central Louisiana community.
Public art is important to a community's sense of place, art that represents a community's defining past, present self-image and hopeful future. England Airpark is looking for innovative work that uses a unique space to honor valiant service and uplift the Airpark with public art.
SELECTION COMMITTEE
The committee will evaluate qualifications and brief proposals with the following criteria in mind:
Impact of the artwork on an aesthetic level

Appropriateness of the scale of the artwork

Relationship of the work to the site and The Airpark's community, how it serves to activate or enhance public space

Relevance of the piece to the Airpark and the community at large, including values, history, culture and people

Suitability of the work for outdoor display, including maintenance and conservation requirements.

Feasibility: Installation proposal (timeline for installation, impairment of traffic, weight of the work, and effect on infrastructure (effect on underground lines, artwork safe for high traffic area etc...)
PROJECT GOAL
To incorporate a public sculpture that serves as a focal point for the Airpark roundabout and compliments the surrounding adjacent public space which has been developed with a military context.
PROJECT THEME
Public Art Commission to honor U.S. Army and National Guard light infantry, in particular the 82nd and 101st Airborne Divisions, which were formed in Central Louisiana. (See more discussion in "About England Airpark/About the Project".)
OBJECTIVES
Sculpture will be seen as source of pride within the Airborne, light infantry, Army and wider service veteran community.

PROJECT BUDGET
$125,000 (includes artist design fees, materials, fabrication, artist travel, shipping and final installation consultation.)
SITE
Roundabout Site Dimensions: 23' 7" circumference (circular grassy knoll at present time) From street surface to highest point in the mound center circle, 5' rise. No height restrictions. Power accessible. (See Google Earth for ground level and aerial visuals.)
The roundabout services a large number of vehicles and visitors each day. That number will increase not diminish in the future. Most roundabout users are doing business at the Airpark. A large number of users are passing thru to connect to I-49 and La 1. All military traffic using England Airpark for JRTC rotations goes thru the roundabout. Annually, this amounts to several tens of thousands of military personnel and several tens of thousands of pieces of associated equipment.
Key Notes c/o Site:
The roundabout is a prominent landmark at England Airpark

Treatment of the space in the roundabout can set expectations about what one might find in the rest of the Airpark.

The roundabout has been developed to compliment Heritage Park. Heritage Park is a nationally recognized public space commemorating the U. S. Air Force at England. The areas improved traffic flow and fountains have been well received by the Community. The center piece should also enhance that gateway experience and Airpark story.

The item placed in the center of the roundabout should reflect the activities, actions and/or history of England Airpark within the theme.

The item should be "world class" in presentation, inviting to guest and locals, creating a source of pride.

The item should be uplifting, unifying and not dividing.
ELIGIBILITY/PREREQUISITES
Artists must have installed pieces of similar scale for the public art sector
Demonstrate involvement in a public art project/process
Demonstrate ability to design, fabricate, coordinate public art commissions
Able to join electronically for meetings w/ the England Airpark Authority and/or the selection committee
Demonstrate experience in engaging with community through public art unveiling and public meetings.
APPLICANT SUBMISSIONS
All applications for this project are being accepted through the online platform, CaFÉ™ (www.callforentry.org ). No hard copy or emailed submissions will be accepted. The applicant will be asked to submit a brief statement of interest, work samples consisting of a maximum of 20 digital images of art (see below for more information), resumes, references and a raw proposed rendering for the site.
The applicant shall submit the following:
Statement of Interest – A statement of interest of 500 words or less must be submitted. It should briefly outline the interest in the specific opportunity and applicable experience. Please demonstrate an ability to successfully complete a project of this scope and scale.
Work Samples – Work samples of both public and private projects with description and cost of similar scope and scale. To be considered for this project, the applicant must electronically submit a minimum of 6 and max of 20 digital images of previously completed artworks.
Resume – Submit current resume and references, that outlines your professional accomplishments as an artist or artist team. If applying as a team, please submit a resume for each artist and member with the lead first. Describe the relevant experience of the artist and team with projects of similar scope and scale.
References - Provide contact information, phone numbers and emails for three of the projects shown in work samples above.
Preliminary Sketch - simple, raw rendering for the proposed site
Additional Information regarding this RFQ:
Do not submit any materials not specifically requested as part of this application. They will not be considered or reviewed by the Selection Committee.
All questions regarding this RFQ are to be directed only to River Oaks Square Arts Center (Call Facilitator) Administrator listed below. Applicants may be disqualified if any unsolicited contact related to this RFQ is made with a member of the Selection Committee other than the Project Administrator during the selection process.
England Airpark/Alexandria International Airport reserves the right to cancel this RFQ at any time or to postpone the date and time for submitting applications. No applicant shall have the right to make a claim against the England Airpark/AEX in the event the England Authority cancels this RFQ, decides not to proceed with the selection or commissioning process, awards a contract, or determines not to award any or all contracts specified in this document.
COMMISSION
England Airpark/Alexandria International Airport may commission an artist or team to work on the project. A shortlist of a maximum of five (5) artists and/or teams may be selected from respondents to this "Call for Entry RFQ" and will be invited to participate in a stipend-compensated, expanded Request for Proposal (RFP) process.
Artist Shortlist and Selection
The Art Selection Committee composed of art professionals, representatives of project stakeholders and community leaders may determine a shortlist of up to five (5) artists and/or teams, based on the following selection criteria:
Addressing the requested theme.
Artistic merit
Appropriateness for outdoor environment
Durability & ability to withstand climate extremes
Maintenance regime (including vandalism approach)
References/satisfaction of previous installed public art works
REQUEST FOR PROPOSALS - RFP Finalists Only
From this initial RFQ, finalists will be issued a formal RFP or invitation to submit a proposal for the art opportunity within the roundabout. The proposal shall include graphic depiction of the proposed artwork for judging and public presentation, schedule (design, fabrication, and installation), installation method and design, engineering and construction cost allocation. Additional requirements will be included in the RFP. Finalists may also be required to electronically attend an interview/public presentation, as part of the proposal evaluation process.
Request For Proposal Design Honorarium
Each finalist and/or team will receive a design honorarium of $1,500 for a proposal which includes the cost for the preparation of the presentation and possible travel and accommodations. The design honorarium will be paid upon the execution of an agreement within 65 days of the England Authority's receipt of proposals that meet all the requirements in the RFP. Only one honorarium will be paid per selected finalist artist/team.
Upon the award of the Final Artist Team a contract may be executed for final design, engineering plans, construction documentation and a construction cost estimate and final construction/installation.
Expectations Public involvement is critical to the success of any public art program. Artists will also work closely with the England Airpark and River Oaks Arts Center staff throughout the design process to ensure seamless integration with engineering and design process. The finalist will be expected to accommodate an extended timeframe for completion based on available funds. The finalist's submittal may be used to solicit funding in the fund-raising campaign.

BUDGET
The commission estimated budget for the project will be up to the amount of $125,000. The cost of the proposals will be considered based on a responsive bid. Fund raising campaigns will be necessary for partial funding of project and upon the selection of the winning artist and final proposal. This fund raising effort may dictate the timing of the project installation. A duration of 6-12 months from the award of the artist/team is anticipated for the fund-raising campaign.
The fee for each feature is all-inclusive, and will include design, fabrication, and installation of the work. The fee also includes all professional service fees, labor, materials, travel expenses, traffic control and incidentals necessary to produce the final artwork, including required preparation for and participation in coordination meetings with the Airpark and the community. Up to two (2) possible community/panel meetings will be required as part of the contract (some electronically).
It is anticipated, pending funding appropriations, that the public art installation will be complete and in place by Spring 2019.
TIMELINE (tentative and subject to modification)
Call for Entry RFQ Issue Date: June 21, 2017
Deadline for Entry: September 8, 2017
Shortlist Notification: September 2017
Issuance of RFP October 2017
RFP Due Date: November 2017
Artist Presentations: January 2018
Notification of Finalist: February 2018
Award Contract: March 2018
Preliminary Design CD's: June 2018
Final Design CD's: August 2018
Final Fund Raising Campaign: September 2018
Start Fabrication/Construction: Pending
Installation: April 2019
APPLICATION Q&A:
All questions regarding this Call/RFQ will only be accepted by email (Subject: England Airpark RFQ), not phone, and are to be directed only to the Project Administer:
Rachael L. Dauzat, River Oaks Square Arts Center, Executive Director/Public Art Liaison: Email: rachael@riveroaksartscenter.com Fax: 318-473-2671
River Oaks Square Arts Center in Alexandria, Louisiana has conducted previous public art calls and will be handling this National RFQ for the Airpark. www.riveroaksartcenter.com
River Oaks will serve as Call Liaison for the RFQ, RFP and final phases of this National Call to Artists.
ABOUT ENGLAND AIRPARK...ABOUT THE PROJECT
England Airpark, formerly an active military base, remained open for approximately 45 years. The wonderful historical heritage of this facility is preserved in the general layout of the Airpark, Heritage Park, street names and buildings, many of which are still in use today. It is estimated that approximately 65,000 Air Force personnel and family members rotated thru England AFB while open. Heritage Park showcases a beautiful, nationally recognized, display of aircrafts honoring this legacy.
After the base closure, England Airpark took on a new mission of hosting air deployments of JRTC light infantry rotations to and from Ft. Polk. During the last 23 years, approximately 600,000 troops have transitioned through our facility. These brave men and women have served all over the world. The Ft. Polk JRTC is seen as the finest light infantry training in the world. England Airpark is honored and humbled to play a part in that training.
Interestingly, this year celebrates the 75th anniversary of the creation of the 82nd and the 101st Airborne Divisions, both created at nearby Camp Claiborne. America's first Airborne Division infantry was created in Central Louisiana. These units were born out of the famous Louisiana Maneuvers, leading the way to victory on D-Day in Normandy. Today, they are America's first reaction force to combat. It is fitting that America's airborne point of the spear is still training in Central Louisiana at Ft. Polk. It is said, 60% of the Army troops that have fought in Iraq and Afghanistan have passed thru Ft. Polk's world class JRTC training.
To honor this critical mission and all that it entails, England Airpark is asking applicants to consider as a general theme an appropriate piece of public sculpture commemorating the U.S. Army and National Guard light infantry. The England Authority is asking artists to take note of the volume of vertical space available to reflect the airborne aspect. The site specific roundabout would be surrounded by appropriate landscaping and dramatic lighting for evening pedestrians and traffic. This public art commission would represent the community at large; the Central Louisiana region; Veterans of the Armed Forces. It will serve as an uplifting symbol of honor and remembrance to the visitors who frequent the Airpark on an annual basis.
In summary, England Air Force Base would not have been what it was without the aircraft exhibited at Heritage Park. Our country and England Airpark would not be what it is without the successfully executed mission of training and deploying soldiers of Ft. Polk and the JRTC ISB.
Video:
https://drive.google.com/open?id=0ByKCk1g_xlsQdmlYUy1MUkNadk0


Print this Page
View Legal Agreement