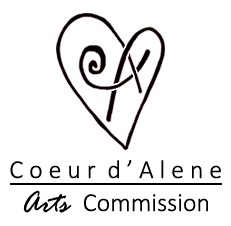 City of Coeur d'Alene, Idaho - Fort Grounds Drive Roundabout Sculpture
710 E. Mullan Avenue, Coeur d'Alene, ID 83814
Contact Email:
amyf@cdaid.org
Call Type:
Public Art
Eligibility:
International
State:
Idaho
Entry Deadline:
7/10/17
Application ClosedNumber of Applications Allowed:
5
REQUIREMENTS:
Media
Images - Minimum: 1, Maximum: 6
Total Media - Minimum: 1, Maximum: 6
City of Coeur d'Alene, Idaho - Fort Gounds Roundabout Sculpture

Project Intent / Location:
The City of Coeur d'Alene's Four Corners area has held a prominent place in the history of the community. Located at the heart of the downtown corridor, it has always been the place where all sectors of the city converge. This area includes Coeur d'Alene City Park, access to the historic Fort Grounds neighborhood, the historic Memorial Field softball field and grandstand, and the new home of the original carousel from Coeur d'Alene's Playland Pier.
In an effort to expand outdoor recreational uses and increase pedestrian activity, the City of Coeur d'Alene developed a master plan to redevelop this corridor while keeping its great historical features intact. Mullan Road from Garden Avenue to Northwest Boulevard has been renamed Fort Grounds Drive, and was redeveloped into a pedestrian-focused corridor, complete with two traffic circles and a traffic roundabout. These features add beauty while also slowing traffic in the area. The Coeur d'Alene Arts Commission is seeking to install art in the largest roundabout that will embody the vibrant present and bright future of this area.
This Call to Artists is for a Sculpture that will be located in the center of the westernmost roundabout of Fort Grounds Drive. The goal for the Sculpture is to significantly beautify the roundabout without obstructing traffic. Located at a major traffic confluence, the area around the Sculpture will receive a lot of vehicular traffic, as well as significant amounts of foot and bicycle traffic.
The total amount of funding available for the piece is up to $45,000.00. Each Artist may submit up to five (5) designs for this project, with each proposal/concept being submitted as a separate application through the CaF
É
website (www.callforentry.org).
Include in your proposal the expected budget for your art. Study the orientation and traffic flow for your submission(s). The art must be comprised of low-maintenance materials that are weather resistant and can stand up to the wear and tear of prolonged exposure. The art will be located in a round island that will be landscaped with respect to the selected piece.
There is no theme to this Call to Artists, allowing for open interpretation and creativity to make a lasting impression on residents and visitors. Please review the attached technical drawing and site image for more information.
Submission Deadline:
Applications must be received through the
CaFÉ
website (
www.callforentry.org
) no later than 5:00 pm PDT on July 10, 2017. The call is titled "City of Coeur d'Alene, Idaho Fort Grounds Drive Roundabout." To ensure fairness, no extensions or waivers of deadlines will be granted.
Timeline:
1.
Call to Artists: May 31, 2017.
2.
Concepts and preliminary drawings from Artists received by July 10, 2017.
3.
Short listing of Artists completed and notified by July 21, 2017.
4.
Chosen Artists to develop final drawings and maquettes by August 20, 2017.
5.
Submissions will be displayed for public review and comment August 21-26, 2017.
6.
The successful Artist will be chosen by September 1, 2017. The design will be brought to the Coeur d'Alene Arts Commission on September 12, 2017, and then to the City Council at their October meeting.
7.
Contract issued for Artist by October 5, 2017.
8.
Delivery of art and installation by April 1, 2018.
9.
Dedication to follow.
Eligibility:
This Call is open to all Artists, Designers, or Creative Individuals residing in North America regardless of race, color, religion, national origin, gender, age, marital status, physical or mental disability. Coeur d'Alene Arts Commission members and selection committee members are not eligible for participation.
I
nitial Submissions:
The Artist will submit a resume reflecting experience in submission, selection, and successful installation of public art on a similar scale. Each of the initial submissions should include at least one (1) image of the proposal/concept, and up to five (5) images of previous work. Each proposal/concept must be submitted as a new application through the CaF
É
website (
www.callforentry.org
). The Artist must also provide the dimensions of the piece and submit a list of materials proposed. The public will be involved with the selection process by voting for their favorite submittals and their choices will weigh in on the decision process for the short‐listed artists.
After the review period of the initial submissions, the finalists will be chosen and notified of their selection. The chosen Artists will then prepare final drawings and maquettes, as well as costs associated with their proposed art piece. Each short‐listed Artist will receive a $300 stipend for their preliminary efforts.
The Artwork:
Artwork must be original works of art by the submitting Artist. The art may be a new original piece or an existing work of the Artist. The art may not be on display in other public art programs within a radius of 200 miles around Coeur d'Alene. The artwork may not contain advertising, religious art, sexual content, negative imagery, or convey political partisanship.
The chosen art will be for exterior installation and requires durability and characteristics to withstand the elements in the Pacific Northwest. There will be electricity available for the installation and lighting.
Submission Requirements:
Please submit proposals through the
CaFÉ
website (
www.callforentry.org
). The call is titled "City of Coeur d'Alene, Idaho - Fort Grounds Drive Roundabout Sculpture."
Selection Process:
Responses to the Call to Artists will be evaluated by a selection committee consisting of seven (7) voting members. Non-voting members of the selection committee shall include members of the Coeur d'Alene Arts Commission and city staff.
Selection Criteria:
Selection criteria to be used for consideration shall include, but not be limited to the following: Artistic quality, context, diversity, and structural integrity. Submissions will also be evaluated on their feasibility and convincing evidence of the Artist's ability to successfully complete the work as proposed by the submitted materials.
Budget & Payment Schedule:
The allowable budget for Artists is up to, but no more than, $45,000.00. Included in this budget are the Artist's fee, travel, fabrication, engineering, materials, documentation, installation, lighting, and all other costs accrued by the Artist specific to this Call to Artists. The chosen Artist will be given an up-front negotiated draw from the budget, with the remaining balance of the Artist's fee paid upon acceptance of the final artwork.
Applica
ti
on Return:
The City of Coeur d'Alene will keep all applica
ti
ons on file, unless the artist indicates that they do not want their name added to the city's ar
ti
st database for email no
ti
ces of future calls. Ar
ti
st's response for this Call to Artists will not be returned. Every effort will be made to protect submi
tt
ed materials; however, the city will not accept responsibility for any lost or damaged materials during the selec
ti
on process.
*******************
The City of Coeur d'Alene reserves the right to change the dates of the project
ti
meline, to modify this solicita
ti
on, to request addi
ti
onal informa
ti
on or proposals from any or all par
ti
cipa
ti
ng ar
ti
sts, to re-open the compe
titi
on and/or to accept or reject, at any
ti
me prior to the commissioning of a work, any or all design proposals.
For more information about the Coeur d'Alene Arts Commission, visit our website at
http://www.cdaid.org/index.php/committees/arts-commission
.
Contact information
:
City Liaison to the Arts Commission:
Sam Taylor, Deputy City Administrator
Phone: (208) 769‐2359
Email:
staylor@cdaid.org
Thanks for your interest!
Print this Page
View Legal Agreement