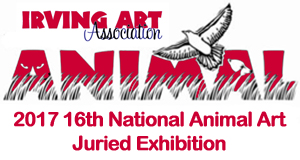 2017 National Animal Art Juried Exhibition
Irving Art Association
PO Box 153581
Irving, TX 75015-3581
Contact Email:
iaaexhibits@gmail.com
Call Type:
Exhibitions
Eligibility:
National
State:
Texas
Entry Deadline:
7/26/17
Application Closed
REQUIREMENTS:
Media
Images - Minimum: 1, Maximum: 3
Total Media - Minimum: 1, Maximum: 3
Entry Fee (Irving Art Assoc Non-Member ): $35.00
Entry Fee (Irving Art Assoc Member): $30.00

$3,000 in prizes will be awarded.

16th annual animal art exhibition presented by the Irving Art Association
Gallery location: Jaycee Park Center for the Arts, 1975 Puritan Dr, Irving, TX 75061

ARTWORK REQUIREMENTS

Any animal species will be considered as acceptable subject matter for works, both wildlife and domestic, including pets.
Artwork must be created from personal photographs or observation. Concept, design and execution should be solely that of the artist. Work from another's copyrighted or published materials is not permitted.
Submitted works must have been completed within the last 2 years, and not accepted in a previous IAA National Animal Art Exhibit.
Limit of three (3) entries per Artist.

All artwork must be framed as required or it will be disqualified

Artwork must not exceed 36" x 36" and weigh under 20 lbs.

Computer generated and offset printed works are ineligible.
Irving Art Association reserves the right to reject any works not meeting eligibility requirements, or deemed inappropriate to hang in the galleries at the Jaycee Park Center for the Arts even after the image is accepted.

CATEGORIES

Supports: canvas, panel, paper, or yupo
Oil Painting
Water Media - watercolor, gouache, acrylic, etc.
Mixed Media - collage, calligraphy, encaustics, fabric art, hand-pulled prints or the use of two or more mediums. Collage must not extend more than an inch beyond the picture plane. Found objects & artist's photos may be incorporated, but no recognizable copyrighted elements may be used.
Dry Media / Drawing - includes pastels, color pencil, graphite, charcoal, inks, silver, gold, conte crayon, oil pastel, markers, and scratchboard.
Photography - No professional studio photos.
Categories with less than 7 accepted artists may be combined with another for award purposes only.
SUBMISSION & PAYMENT
Submit your entries
online
through CaFE (www.callforentry.org).
Artists may submit up to three (3) entries.
Entry Fees:
$35
Non-IAA Members
$30
IAA Members
Payment can be made by credit card through CaFE or by check made payable to:
Irving Art Association
PO Box 153581
Irving, TX 75015-3581
attn: Exhibits
Checks must be received by July 26, 2017
Not a member? Join IAA at irvingartassociation.org/membership
ENTRY DEADLINE: Wednesday, July 26th
at 11:59p.m. Mountain Time
Upload options for image files:
File format:
JPEG only
File dimensions:
No smaller than 1920 pixels on the longest side
File resolution:
72 ppi/dpi (standard web resolution)
File size:
5 MB maximum

SELECTION & AWARDS
All entries may not be accepted into the show. Awards will be selected at the discretion of the juror. If the artist is not able to attend the Awards Reception, please notify the Show chair at iaaexhibits@gmail.com. Accepted work must remain on exhibit for the duration of the show.

FRAMING / PRESENTATION
Artwork must be framed and wired with screw eyes or D rings and wire should be approximately 1/3 down and strung tightly across ready to hang.
No saw tooth hangers.
If glazing is used, any works larger than 16"x20" must be under Plexiglas, with the exception of pastels, which may use glass as long as the 20 lb. total weight limit is observed.
Framing with glazing is recommended for fragile artwork (see Liabilities clause).
Wrap-around canvas or cradled panels of at least 1.5" deep may be used, no staples showing with the sides painted or finished.
Keep the framing simple, sturdy and lightweight. Artwork must not exceed 36" x 36", nor be heavier than 20 lbs.
Failure to comply with the above requirements or the size or weight limits will result in disqualification.


SHIPPING

Shipped entries will be delivered to a local storage facility and a $30 fee will be applied to cover storage, unpacking and repacking of works. An email will be sent with notification containing delivery instructions for out of town entries. Please print clearly when shipping and be sure to include a RETURN LABEL.

HAND DELIVERY & RETURNS OF ACCEPTED ENTRIES
All notifications will be sent via email. If you have not received notification by August 14, please contact the Show Chair at iaaexhibits@gmail.com.
Hand delivery of accepted artwork is on Saturday, August 26, 10 - 2pm.
At close of show artwork may be picked up on September 24, 10 - 2pm with the exception for those choosing to participate in the Traveling Exhibit at the Irving Art Center.
Any work left after pickup date will be considered property of IAA and disposed of after 15 days.

JUROR: Patsy Lindamood www.lindamoodfineart.com

TRAVELING EXHIBIT
Local artists selected for the show are invited to participate in the Annual IAA Traveling Animal Art Show. Location is the prestigious Irving Arts Center. Participation is optional. The IAA Exhibits Committee can assist with transport.

Questions: Please contact Irving Art Assocation at iaaexhibits@gmail.com or call the IAA Office at 972-721-8063. Exhibit Chair: Linda Shotwell
CALENDAR
Entry deadline: Wenesday, July 26, 2017 at 11:59p.m. MST
Email notification: Saturday, August 12, 2017
Shipped entries arrive: Monday, August 21 - Friday, Aug. 25, 2017
Delivery / Intake: Saturday, August 26, 2017 10am - 2pm
Reception & Awards: Sunday, September 10, 2017 2am - 4pm
Strike / Pickup: Saturday, September 30, 2017 10am - 2pm
IAA Traveling Animal Art Exhibit
- October 7 – November 26, 2017
Location:
Irving Arts Center -
Admin / Front foyer
3333 N. MacArthur
Irving TX 75062
Participation in the traveling exhibit is optional
and limited to hand-delivered works only.
Print this Page
View Legal Agreement