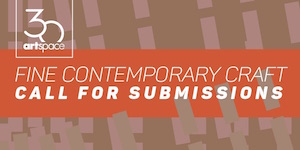 Artspace- Fine Contemporary Craft 2017


Artspace, attn. Annah Lee
201 E Davie St
Raleigh, NC 27601


Entry Deadline: 9/22/17
Application Closed

REQUIREMENTS:

Media
Images - Minimum: 3, Maximum: 5
Audio - Minimum: 0, Maximum: 3
Video - Minimum: 0, Maximum: 3
Total Media - Minimum: 3, Maximum: 5

Entry Fee (Artspace- Fine Contemporary Craft 2017): $25.00



Artspace invites artists working in a variety of craft media to enter the Fine Contemporary Craft Exhibition, a biennial national juried exhibition. Eligible media include functional or sculptural works in the following: basketry, ceramics, fiber, furniture (any media), glass, jewelry, metal, mixed media, handmade paper and wood. Entries will be juried by Roger Manley, Director of the Gregg Museum of Art and Design for cash prizes. A full color brochure will be produced for the exhibition.

While Artspace's gallery space is fully accessible, we strive to make the submission process accessible for artists as well. We encourage anyone to submit for our open calls-for-art . If you need any additional information or accommodations in order to enter a call-for-art please contact Director of Artistic Programs, Annah Lee at 919.821.2787 or alee@artspacenc.org
Deadline: September 22
Eligibility
All work must be original. Eligible media include functional or sculptural works in the following: basketry, ceramics, fiber, furniture (any media), glass, jewelry, metal, mixed media, handmade paper, and wood. Fine art media such as painting, photography, and lithography are NOT ELIGIBLE unless incorporated into an otherwise eligible media. Decorated furniture, candles, pressed flowers, handmade reproductions, and objects made from commercial kits or commercially available plans are also NOT ELIGIBLE.
Images
Each entrant must submit images of up to two original works that they wish to show. Submissions will only be accepted through www.callforentry.org. You may submit a maximum of 3 details total. The work submitted must be available for exhibition if selected.
Shipping & Transportation
Entries must be hand-delivered or shipped to Artspace between 10am-6pm (no Sunday deliveries; ring bell on Mondays). All shipping and transportation costs are the responsibility of the artist. Shipped entries must be sent in a reusable container. Artists must prepay for return shipping. If accepted, you must submit a prepaid return shipping label.
Sales
Artspace will retain a commission of 40% of the retail price of each work sold from the exhibit. Work in the exhibit does not have to be for sale.
Calendar
September 22 2017: Deadline for receipt of completed entries.
Awards
All accepted entries will be listed in an exhibition brochure.
Best of Show – $1000
Second Place, Award of Distinction – $500
Third Place, Award of Merit – $250
Honorable Mentions (2) – $50 each
To Apply
Submit the information below via CaFÉ. *Submissions will NOT be accepted in any other format.*
1. Applicants may apply with images of up to 2 original works and 3 details per artwork (up to 8 images).
2. Please include detailed information with each image including title, medium, dimensions/time, date completed, etc.
3. Artist's Statement
4. Resume
5. $25 application fee (mail checks to Artspace or pay online with a credit card).
Inquiries
Annah Lee, Director of Programs & Exhibitions, alee@artspacenc.org