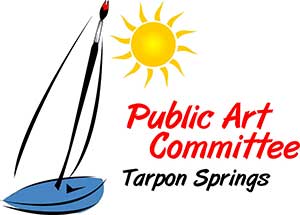 Art Bike Racks II
All submissions must go through CaFE.
Contact Email:
Denise Manning: dmanning@ctsfl.us
Call Type:
Public Art
Eligibility:
National
State:
Florida
Entry Deadline:
10/6/17
Application Closed
REQUIREMENTS:
Media
Images - Minimum: 3, Maximum: 10
Video - Minimum: 0, Maximum: 3
Total Media - Minimum: 3, Maximum: 10
Tarpon Springs, Florida: Tarpon Springs encompasses roughly 17 square miles, half of which is water. The Gulf of Mexico forms the western border, 2500-acre Lake Tarpon the eastern, and from the Anclote River, forming the northern border, four large mangrove-lined, tidewater bayous extend into the City. Spring Bayou, at the west end of the City's main street, provides the backdrop for the Western Hemisphere's largest Greek Orthodox Epiphany celebration each January 6th. This rich Greek heritage dates to 1905 when experienced deep-water sponge divers from the Dodecanese Islands were recruited to harvest the expansive offshore sponge beds. Tarpon Springs became the sponge capital of the world.
Historic Downtown Tarpon Springs: Today, downtown Tarpon Springs is a thriving walkable commercial district lined with all kinds of independent small businesses including breweries and restaurants, retail stores and art galleries, and a carefully preserved Historic Train Depot. The Pinellas Trail, a paved multi-modal recreational trail, runs through downtown bringing bicyclists and pedestrians from across the county. The architecture downtown remains one of the City's most valued attributes with many structures over 100 years old.

Population: While the City's population ballooned with the influx of Greek islanders, Tarpon Springs was actually settled in the 1870s. Early pioneers migrated from other parts of Florida and the southern states, and fishermen and spongers came from the Bahamas. Real estate investors in the 1880s, promoting the warm climate and quiet waters of the river and bayous, enticed wealthy winter residents from northern cities. Vintage photographs, depicting Tarpon Springs as the Venice of the South, show Victorian outings by boat and horse and buggy. The stunning landscape, climate, and abundant fish and wildlife were first valued by the Native American tribes that occupied the land and built the sacred mounds which are still evidenced today.

Traditions: Blending colorful eastern Mediterranean, down-home southern, and northern snowbird influences, cultural traditions combine with natural history and beauty to define the City's unique sense of place. A colony of performing and visual artists have found inspiration in Tarpon Springs for more than 100 years, and many examples of art and architecture can be found along the Art and History Trail.

View the Art and History Trail Map at http://tarponarts.org/public-art/.

Explore Historic Tarpon Springs virtually through our City, Historical Society and Chamber of Commerce websites at https://www.ctsfl.us/, http://tarponspringsareahistoricalsociety.org/ and http://www.tarponspringschamber.com/, respectively.

Project Description: The Tarpon Springs Public Art Committee (TSPAC) is seeking designs for Phase II of its Art Bike Rack Project. This phase of the project will place artist-designed and fabricated bike racks primarily in downtown Tarpon Springs along the City's Art and History Trail. Bike rack designs must accommodate two to four bicycles and represent the unique aesthetic and cultural identity of Tarpon Springs' downtown historic district, built primarily at the turn of the twentieth century.
Design, Fabrication and Delivery: This is a design and build project that requires the artist to deliver one uniquely designed and completed commercial-grade, welded metal bike rack for the City to install. Artists may use a fabricator of their choice.

Budget: up to $3,000 per bike rack including design, fabrication, and delivery. Submissions must include a detailed budget itemizing design fee, materials, fabrication, and the cost of additional fabrication of limited editions. The design becomes the property of the City of Tarpon Springs.
Specifications: It is important that the bike racks are functional as well as sculptural/aesthetic in nature. Bike racks must:
Accommodate two to four bicycles upright by their frames.

Enable the frame and one of the two wheels to be secured using a standard u-lock.

Provide locking points that are between 1' and 3' above the ground.

Intersect with the ground plane securely to ensure that the racks can be mounted firmly to the hardscape.

Provide a gap near the bottom for pedal clearance.

Include no sharp edges or potential safety hazards.
Dimensions: Bike racks must have a minimum dimension of 3' x 4' (w x h) and may not exceed 4' x 5.5' (w x h).

Wheel Benders: In the bicycle community, bike racks that hold bicycles upright by the wheel are known as "wheel benders". Bike racks popular with bicyclists support bicycles by their frames instead of the wheels. Designs that appear to encourage "wheel bending type" bicycle parking will be disqualified.

Content: Bike rack designs cannot directly advertise or advocate for any particular entity or organization (i.e., Publix, University of South Florida, etc.). Also, designs must be appropriate for use in the public domain.

Thematic Designs: Proposed installation sites are located in Historic Downtown Tarpon Springs in which a complimentary thematic design is necessary. Bike rack designs must represent the unique aesthetic and cultural identity of Tarpon Springs' downtown historic district, built primarily at the turn of the twentieth century. While designs may be created with specific sites in mind, the Selection Jury will make the final decision placing designs at applicable installation sites.

Installation Sites:
Train Depot: 160 E. Tarpon Ave. (2 bike racks)

City parking lot: 145 E. Tarpon Ave. backing up to the parking lot at 21 N. Safford Ave.

(2 bike racks)

Cultural Center: 101 S. Pinellas Ave. (1) bike rack

Community Garden: 116 N. Ring Ave. (1) bike rack
Eligibility: The competition is open to all artists, age 18 and older, regardless of race, color, religion, national origin, gender, age, military status, sexual orientation, marital status, or physical or mental disability.
Modifications: TSPAC reserves the right to modify designs as necessary for safety, space requirements, and installation.
Selection: A jury composed of local arts advocates, bicycle advocates, other community stakeholders, City representatives, and the TSPAC will select the winning designs. Submissions will be reviewed and awarded points based on:
Design: creativity, artistic merit, functionality, and compatibility with the character of the proposed installation sites.

Manufacturing specs: durability, maintenance, and public safety.

Schedule

Price
Submissions Requirement: Artists may submit as many entries as they wish. Submissions must include:
Artist's Information Sheet: Including: Name, Mailing Address, Phone, E mail, Website, and whether an individual artist or a team (list all team members).

Artist's Resume: (one page maximum, for individual, or each team member).

Proposal Design Description: A brief (one page maximum) description to accompany each design explaining the design's appropriateness to the site and its functionality.

Design Format: Digital files should be sized to 8.5" x 11" at 300 dpi and submitted in JPEG format. Designs may be hand-drawn or prepared using computer software. Designs must be to scale and must include dimensions, materials, and other manufacturing specifications. Designs must be submitted on a white background. Digital files must be named: "Artist Last Name, First Name, design title." No three-dimensional models will be accepted.

Budget: Each design budget must itemize design fee, materials, fabrication, delivery, and the cost of additional fabrication of limited editions.
Projected Timeline
:
Call for Artists Posted: August 4, 2017
Submission Deadline: October 6, 2017
Winners Notified: November 30, 2017
Planned Installation: February/March, 2018

Further Information: Please contact Denise Manning, Public Art Committee, phone
(727) 943-4922
, ext. 6010, or Email dmanning@ctsfl.us.
Print this Page
View Legal Agreement