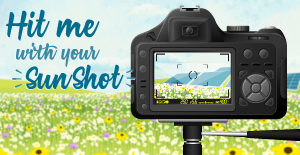 Hit Me with Your SunShot
Contact Email:
solar@ee.doe.gov
Call Type:
Photography
Eligibility:
National
State:
District of Columbia
Entry Deadline:
8/17/17
Application Closed
REQUIREMENTS:
Media
Images - Minimum: 1, Maximum: 20
Total Media - Minimum: 1, Maximum: 20
DEADLINE: Thursday, August 17 at 11:59p.m. MST
HIT ME WITH YOUR SUNSHOT! PHOTOGRAPHY COMPETITION
The
Department of Energy's SunShot Initiative
is looking for the best solar energy technology photos from across the United States. The
Hit Me with Your SunShot
photo contest will award solar photographers with $2,500 in cash prizes, including a $500 grand prize, and the winning photographs will be featured on the Department of Energy's webpage and in promotional materials.
Photos are being accepted in the following categories:
Solar Installers and Installation – Photos should depict the installation of a solar photovoltaic or concentrating solar power system or show a system that has been installed.
Utility-Scale Projects – Photos should depict a solar project that is over one megawatt in size.
Solar + Storage – Photos should depict solar systems that have battery storage systems installed. The photo can be of the battery system alone.
Solar Hardware and Power Electronics – Photos should depict the individual components of a solar system, like the inverter or the racking system.
Concentrating Solar Power – Photos should depict a solar system that uses mirrors to focus light to a receiver and collect energy. The project could be used for electricity or steam processes.
Community Solar – Photos should depict solar systems that utilize a community solar business model to be built or show the activities around the installation of that system (e.g., community meetings or events).
University Research – Photos should depict solar energy research being conducted in a higher education setting.
Solar and Weather – Photos should depict a solar installation in an unusual weather system like snow, clouds, hail, etc.
All professional and amateur photographers are encouraged to submit their photos. If the artist is under 18, a parent or legal guardian must be present to accept the online terms and conditions. Current federal employees and support service contractors working on a federal site may submit photos but are unable to receive cash prizes.

​All artists are required to submit their name, contact information, and a brief description of each photo. The description should include the names of any people in the photo, the state where the photo was taken, and a short description of the activity. If people are present in the photo, you must complete a model release form and submit it along with your photo.

SELECTION PROCESS AND PRIZES

Submissions will be judged by Simon Edelman, Chief Creative Officer for the Department of Energy, and Dennis Schroeder, photographer at the National Renewable Energy Laboratory. Photos will be judged for the creativity, quality, and relevance. The Hannon Group, which has been contracted to run this contest on behalf of the Energy Department, will vet all photos for relevancy and to ensure they meet our selections standards. In addition to the $500 grand prize, one winner will be selected from each of the eight aforementioned categories, each receiving $250.

All photos must be submitted via the Call for Entry (CaFE) website. An administrator will vet the photos to ensure that they are relevant to the category. The administrator may reassign a photo to a category other than that identified by the submission. The administrator will also ensure that the photos meet the selection standards laid out below. All photos that meet our selections standards will be posted on the Department of Energy's Flickr page. Photos will be judged for the creativity, quality and relevance. Winners will be announced by August 31, 2017.

QUESTIONS

Watch a video here that shows each step of how to apply.

For assistance with online entry system you may contact CaFE Support at 888-562-7232 or cafe@westaf.org. Video tutorials are available on how to use CaFE and how to how to Apply to a Call.
Any questions about the competition or rules can be submitted via email at solar@ee.doe.gov.
Print this Page
View Legal Agreement