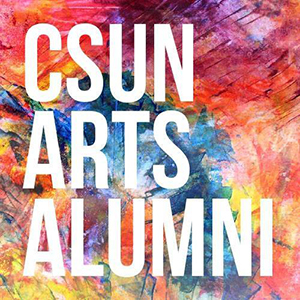 Beautiful Parts
Contact Email:
arts.alumni@csun.edu
Call Type:
Alumni
Eligibility:
Local
State:
California
Entry Deadline:
8/25/17
Application Closed
REQUIREMENTS:
Media
Images - Minimum: 1, Maximum: 3
Video - Minimum: 0, Maximum: 3
Total Media - Minimum: 1, Maximum: 3
Entry Deadline: 8/25/17 11:59am
Juried by artist, Kim Abeles, and organized by the curatorial collective, Rough Play, Beautiful Parts marks the first annual exhibition hosted by the CSUN Alumni Association Art Chapter.

Concept:
Understanding that precepts of attractiveness have evolved over time and vary between cultures, this exhibition invites artists to consider cultural constructions of aesthetic appeal, and asks,—"How do we receive messages about beauty in a contemporary global society and how are we affected by internalizing ideals?" Works selected for the exhibition respond to canons of bodily proportion, such as ratio depiction (waist-to-chest, waist-to-hip, and leg-to-body), and consider the distinction between "real" and "ideal". The artists selected for Beautiful Parts, approach these issues with awareness of the history and continued evolution of dialogues surrounding body image and the related psychologies of status, identity, physical attraction, and self-esteem.
Beautiful Parts will be held in the CSUN West Gallery and will coincide with the Pacific Standard Time exhibition in the CSUN Main Gallery: THE GREAT WALL OF LOS ANGELES: JUDITH F. BACA'S EXPERIMENTATIONS IN COLLABORATION AND CONCRETE. Which of course features one of CSUN's most notable Arts Alumni, Judith Baca.
Entry Requirements: All CSUN Art Alumni

We are a newly formed chapter and wanted to offer this exhibition for all CSUN Alumni not just CSUN Alumni Association, Art Chapter members. Our chapter's goal is to keep connections through both exhibition and curatorial opportunities, artists talks, social gatherings and promoting the accomplishments of our incredibly talented alumni. Please consider becoming members in order for us to expand and continue these types of exhibition calls and more. www.csunalumni.com
Accepted Media: All
Images - Minimum: 1, Maximum: 3
Total Media - Minimum: 1, Maximum: 3

Exhibit Dates: October 14 - 26, 2017 ( Opening Reception TBA)
Key Scheduled Dates:
• Notification of Acceptance – Friday September 8, 2017
• Delivery of Artworks to the CSUN Art Galleries, West Gallery, October 12, 2017 9:00 a.m. - 1:00 p.m.
• Art Pick-up – Friday October 27, 2017 9:00 a.m. - 12:00 p.m.
Artwork Requirements:


2D work must be wall-hanging ready.
Maximum 3D dimension must be able to fit through a standard doorway.
Video and special installation must be coordinated with artist.
Each piece must be labeled with the name of the artist and title of the work, year, medium and dimensions
Juror:
Kim Abeles' art cross disciplines and media to explore biography, geography and environment. Abeles received the 2013 Guggenheim Memorial Fellowship, and fellowships from J. Paul Getty Trust Fund for the Visual Arts, California Community Foundation, and Pollack-Krasner Foundation. She has created projects with California Science Center, air pollution control agencies, health and mental health departments, and natural history museums. In 1987, she innovated a method to create images from the polluted air, and Smog Collectors brought her work to international attention. She has exhibited in 22 countries, and Kim Abeles: Encyclopedia Persona A-Z toured the U.S., and South America sponsored by United States Information Agency. She received her MFA from the University of California Irvine. Her work is in public collections including MOCA, LACMA, Berkeley Art Museum, and National Geospatial Intelligence Agency. Abeles' journals and process documents are archived at the Center for Art + Environment, Nevada Museum of Art.
Print this Page
View Legal Agreement