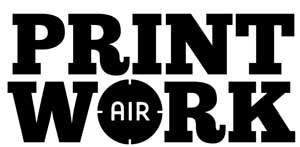 Printwork 2017
518 Foreland Street
Pittsburgh, PA 15212
Contact Email:
info@artistsimageresource.org
Call Type:
Unspecified
Eligibility:
Unspecified
State:
Pennsylvania
Event Dates:
8/6/17 - 11/6/17
Entry Deadline:
10/23/17
Application Closed
REQUIREMENTS:
Media
Images - Minimum: 3, Maximum: 6
Total Media - Minimum: 3, Maximum: 6
Entry Fee (Printwork 2017): $25.00

Media Fee (per sample over minimum):$5.00

PRINTWORK 2017:
Artists Image Resource (AIR) has been supporting engaging and challenging work through its on-going programming since 1996. This national juried exhibition is a way to make the best of contemporary printmaking visible to a large audience in the Pittsburgh region. Because of the political climate, special consideration will be given to socially and politically engaged print work.
CALENDAR 2017:
OCT 23 Deadline for receiving all entries
NOV 06 Notification of acceptance
NOV 30 Deadline for receipt of accepted works
DEC 8 Opening Reception
FEB 4 Exhibition closes
MAR 6 Return of work
JUROR: JOSEPH LUPO
Joseph Lupo received his BFA from Bradley University and his MFA from the University of Georgia. His work has been a part of over 80 different solo and group exhibitions and has been featured at the International Print Center of New York, The Contemporary Art Workshop in Chicago, the Pittsburgh Center for the Arts, the Indianapolis Art Center, and The Contemporary Art Center in Atlanta. Joseph's work is included in various permanent collections including the Rare Book and Manuscript Library at Duke University, the Denver Art Museum, the Museum of Texas Tech University, and the Spencer Museum of Art. Joseph served on the Executive Board of SGC International from 2006-2012, and served as the president from 2008-2010. He has received multiple awards and grants for his work as an academic including the "Honorary Member of the Council" award from SGCI (2014), "BIG XII Faculty Fellowship" (2013), "WVU Senate Research Grant" (2008 and 2009), "Excellence in Teaching" (2015), "Excellence in Service" (2014), and "Excellence in Research" (2013) awards from the WVU College of Creative Arts.
To see more about Joseph Lupo and his work visit: josephlupo.com
ARTISTS IMAGE RESOURCE:
Artists Image Resource is an artist run, non-profit printmaking studio located in an urban neighborhood on the Northside of Pittsburgh, PA. The studio serves as a broad-based print and imaging resource whose purpose is to integrate the creation of fine art printwork with innovative educational programs that explore the creative process.
In 1996, Artists Image Resource was created to serve professional artists in the Southwestern Pennsylvania region. Since then, AIR has created numerous outreach activities and partnerships that serve the community. AIR supports entrepreneurs and other makers with "off the street" access to print and imaging services and facilities. AIR now supports cultural work both in and outside of our region.
AIR receives operating support from the Heinz Endowments, The Pittsburgh Foundation, The Pennsylvania Council on the Arts and the Allegheny Regional Asset District. AIR also has received funding from The Milton Fine Foundation, The Laurel Foundation, The Hillman Foundation, The McCune Foundation, The Grable Foundation and others.
For more information about AIR: http://www.artistsimageresource.org/

ELIGIBILITY:
Open to all artists living in the United States 18 years of age and older. All artwork must be original and completed within the last 3 years. Work should not exceed 48" in any
dimension. Entries must incorporate traditional, digital, or experimental printed media. No photographs, but artist's books are welcome.
PRESENTATION:
Accepted artwork must be suitable for formal gallery presentation as well as the rigors of packaged shipping. Special display instructions must be explicitly stated and included in shipping.

AWARDS:
Cash awards and an exhibition opportunity. Cash awards will be decided and announced by the juror during the opening reception on Dec. 8, 2017. AIR Director Robert Beckman and the AIR Board of Directors will choose one artist for an exhibition opportunity.

ENTRY FEE:
$25 for 3 entries, $5 for each additional work. Maximum of 6 images per entry.
Sales and Reproduction:
Sales will be encouraged. AIR will receive 20% of the sales price.
Artists Image Resource reserves the right to reproduce accepted entries in press
releases, our website, and any other advertising purposes.
SHIPPING AND INSURANCE:
Accepted works must be received by Nov. 30.
Artists are responsible for the costs of delivery to AIR, COD deliveries will not be accepted. ALL work must be delivered via UPS or FEDEX, NO US POSTAL SERVICE.
Work must be packaged appropriately in a reusable box or crate. No Styrofoam peanuts. Artists are responsible for the insurance of work during shipping. AIR is not liable for any damage or loss of artwork during transit to and from the gallery.
AIR will insure all works from their arrival to departure from Artists Image Resource.
Artists are responsible for the cost of return shipping. Please include a prepaid return shipping label where it can be easily located.
All accepted work must be professionally framed, wired and ready to hang. Please provide instructions for any special display requirements. Artists Image Resource reserves the right to refuse any work that differs from the application imagery or work that is not ready for display.
Ship accepted artwork to:
Artists Image Resource "PRINTWORK 2017"
518 Foreland Street
Pittsburgh, PA 15212
Print this Page
View Legal Agreement