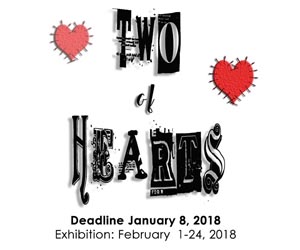 2018 - Two of Hearts, An Exhibition for the Month of Love


577 S. Coast Highway A-1
Laguna Beach, CA 92651


Entry Deadline: 1/8/18
Application Closed

REQUIREMENTS:

Media
Images - Minimum: 1, Maximum: 15
Total Media - Minimum: 1, Maximum: 15

Entry Fee (2018 Two of Hearts, An Exhibition for the Month of Love): $35.00
Media Fee (per sample over minimum): $2.00



TITLE: Two of Hearts
MEDIUM: ​​​​​​​​​​All​​​​​​​​​​​
DEADLINE: January 8, 2018
SHOW DATE: February 1 to February 24, 2018

In the spirit of Valentine's Day, the month of February will be all about the heart. Las Laguna Gallery proudly presents: Two of Hearts. Just as discussion about the heart is a subjective matter, so too is the interpretation of the theme for our February show.


We are looking for works of art that not only evokes the various feelings of love (passion, affection, lust, tenderness, infatuation, etc.), but also can include literal images of hearts themselves.

We invite the artist to take a conceptual, literal or emotional approach on matters of the heart. In addition to portrayals of the heart, we ask, what do you love?

Accepted are all media from photography to fabric, mixed media, fiber arts, all paintings, drawings including, oil, acrylic, ink, graphite, pastels, and more. We love them all..

All local, national and international artists, professional and amateur are encouraged to submit their artwork for this art exhibition.

Acceptable sizes: We do not have a limitation on sizes of work but have found works over 60 inches to be costly for shipping and recommend sizes that are manageable.