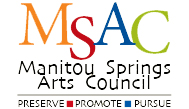 Manitou Springs Public Art- Canon Ave.
P.O. Box 61, Manitou Springs, CO 80829
Contact Email:
audrey.e.gray@gmail.com
Call Type:
Public Art
Eligibility:
National
State:
Colorado
Entry Deadline:
11/15/17
Application ClosedNumber of Applications Allowed:
3
REQUIREMENTS:
Media
Images - Minimum: 3, Maximum: 10
Audio - Minimum: 0, Maximum: 2
Video - Minimum: 0, Maximum: 2
Total Media - Minimum: 3, Maximum: 10
Entry Fee (Manitou Springs Public Art- Canon Ave.): $10.00

Site History
In May 2017, several oak trees were removed from along the sidewalk on Canon Avenue. These familiar residents were much-loved (see "The Tree Couple", completed by Charles Rockey nearly 30 years ago), but disease and the need for better ADA compliance along the sidewalk necessitated their removal.
In their place, the city of Manitou Springs plans to install public art. Spaces have been left in the new sidewalk to accommodate this project. To this end, the city is seeking proposals for public art to be created and installed in these spaces.
Manitou Springs, CO was established as a scenic health resort in 1872 by General William Jackson Palmer and Dr. William Abraham Bell. Previously, it had been a sacred site to the Ute and Arapaho tribes. The city is home to many mineral springs and has been the quintessential tourist town for decades. It is situated at the base of Pikes Peak, hosts several national events, and is home to the Manitou Springs Incline. Earlier this year Manitou Springs was listed as a Colorado Creative District.
Project Eligibility
This project is open to any Artist or Artist team in the United States. Artist(s) will be juried based on their past work and selected based on the project application and concept submitted.
Scope of Work
The Scope of Work includes the project concept, presentation, design, implementation, and installation of the completed work. The artwork should be three-dimensional and materials used must be durable and suitable for a free-standing outdoor installation. Designs are not limited as to style (contemporary, traditional, abstract, etc.) or materials (metal, fiberglass, concrete, etc.) so long as are durable and will withstand both heavy pedestrian use and the elements.
Artist(s) will enter into a city contract and provide all on-site equipment and supplies. Artist(s) awarded this project will work closely with the Manitou Springs Arts Council, City Council, and City staff.
Comprehensive general liability insurance insuring the Artist(s) and/or Installation Contractor and naming the City as an additional insured with minimum combined single limits of $1,000,000 each occurrence and $1,000,000 aggregate will be required. The policy shall be applicable to all premises and operations.
Selected finalists will be asked to give a visual presentation of the project to the Manitou Springs Arts Council and City Council, and be asked to field questions from Council members regarding their proposal.
Sculpture installation is to be completed in early May 2018.
Budget
An all-inclusive budget of up to $15,000 has been allocated for this project. The selected Artist(s) is responsible for all materials, supplies, fabrication processes, and will work at their own risk. The Artist(s) will be expected to carry their own general liability insurance. The Artist(s) are responsible for the preparation of the installation site and installing the completed work.
Application Process
All applications must be submitted to the Manitou Springs Arts Council by November 15, 2017. Applications may be submitted though CAFÉ.org https://www.callforentry.org/festivals_unique_info.php?ID=4711. Finalists will be notified by November 30, 2017, and the final artist will be selected on or before December 31, 2017.
Submission Requirements:
Applicants must provide the following information:
· Concept Statement for this project, timeline of project from time of design acceptance, and drawings of proposed artwork
· Current Resume, artist statement, and brief biography
· Up to ten images of completed large-scale work, similar in scope if possible. Please include: title of artwork, medium, location, dimensions, and year of completion. Audio and/or Visual uploads are available as an option should that be of benefit in showing your past projects.
· Finalists will be asked to provide an all-inclusive budget, including but not limited to: materials, installation, labor, rental equipment, insurance, site prep, documentation, administration fees, artist fees, contingency costs, and travel to and from the site.
Application Jury Process
The Manitou Springs Arts Council will be overseeing the jurying of submitted RFPs. Manitou Springs Arts Council is a non-profit organization whose mission is to preserve, promote and pursue collaboration between artists and the arts community in Manitou Springs. The jury process will be conducted blindly.

The jury may select up to three finalists who will be invited to view the site with selected representatives. Finalists will have three weeks to prepare a proposal and present it to the Manitou Springs City Council. A $500 stipend will be provided post-presentation. The jury reserves the right not to proceed with this project if no proposal is found to be appropriate.
Print this Page
View Legal Agreement