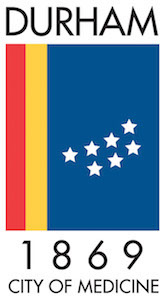 Public Art for the Liberty Warehouse Wall in Durham Central Park
101 City Hall Plaza, Durham NC 27701
Contact Email:
stacey.poston@durhamnc.gov
Call Type:
Public Art
Eligibility:
National
State:
North Carolina
Entry Deadline:
11/1/17
Application Closed
REQUIREMENTS:
Media Images:10


Application materials include:
Statement of Interest

Annotated samples of prior work relevant to this project

Project perso

nnel

résume

Reference

s
Submittals must be received by 5:00 PM EST on Wednesday, November 1, 2017.
If you have any questions, please direct them to the project manager:
Erin Kauffman, Executive
D
irector of Durham Central Park
919.794.
8194
erin.kauffman@durhamcentralpark.org
Additional questions may be directed to:
Stacey Poston, Special Projects Manager and ADA Coordinator; City of Durham General Services Department
919.560.4197 x21254
stacey.poston@durhamnc.gov

PROJECT BACKGROUND
Durham Central Park, Inc. and the City of Durham are seeking Candidates with experience in creating public art that fosters a unique sense of place to design, fabricate, and install a permanent public artwork at the Liberty Warehouse Apartments wall in Durham Central Park in downtown Durham.
The site of the proposed art wall is a newly constructed brick wall that forms the northeastern boundary of the park and encloses the neighboring Liberty Warehouse Apartments. The brick wall is composed of 5 panels that are interrupted by brick pilasters. On average, the wall height measures approximately 11 feet tall. It totals approximately 110 feet in length. The wall is composed of a concrete masonry unit (CMU) with a brick veneer. The use of the entire wall length (5 panels) is not required, but a competitive submission will preferably activate at least 3 panels. In addition, submissions are allowed but not required to project out onto the ground plane a maximum of 15 feet from the wall. Detailed structural attachments to the brick wall, if required, will need to be reviewed and approved in advance by the selection panel.

Permanent art is defined by the City's "Resolution Establishing a Public Art Policy" as:
Original visual art icluding, but not limited to, sculptures, murals, photographic renderings, mosaics, lighting and electronic art, installations installed on a permanent basis in spaces which are visible from public streets and pedestrian walkways, free of any admission fee, through a process providing opportunity for community input
Candidates are expected to create a work of art inspired by one or all of the following themes: Inclusivity, Diversity, Community, Activism, Creativity, Entrepreneurial Spirit, and Progress. The "canvas" for this project should be thought of more broadly than just the 2D wall planes. Proposals for digital, sculpture, and interactive art are encouraged.
Maintenance and Durability: The selected artwork must be able to sustain, over time, natural weather conditions and require minimum maintenance. The selected artwork must be vandal and graffiti resistant. The selected artist shall also provide an anticipated maintenance schedule.
Safety and Security: The selected artwork will be evaluated on the overall safety and security of the finished work. Three-dimensional objects will need to be vetted against standard safety codes and guidelines. Objects that provide places to hide or places that are obscured from lines of sight to the public are discouraged.
About Durham Central Park:
Durham Central Park (DCP) is a five-acre city-owned park at the heart of the Central Park District. The Park is operated by Durham Central Park, Inc., a 501c3 non-profit organization. DCP Inc. holds an agreement with the City of Durham to manage, develop, and sustain this unique urban oasis.
About Liberty Warehouse:
Liberty Warehouse features urban apartments renovated from the shell of Durham's last standing tobacco auction warehouse. The historic urban mixed-use community borders Durham Central Park.
About the SmART Vision Plan:
In 2012, the City of Durham was selected as one of five cities in North Carolina to participate in the 2012 NC Arts Council's SmART Initiative to demonstrate how creative placemaking revitalizes downtowns and fuels sustainable economic development. The Durham Arts Council, in partnership with the City of Durham, Durham County, and multiple private partners and community stakeholders, worked with award-winning landscape architect and urban designer Mikyoung Kim, creating a SmART Vision Plan which reimagines the rapidly transforming north-south corridor of Blackwell/ Corcoran/ Foster Streets as a vibrant arts and entertainment hub that reflects the city's unique character. This "Ballpark to Ballpark" plan aligns with the corridor straight through downtown where private developers are investing hundreds of million dollars in commercial, retail, residential, hotel, and technology-based real estate activities. Restaurants, hotels, music clubs and shops have opened, and downtown resident and visitor populations have increased significantly. The SmART Vision Plan focuses on adding public art components, pedestrian amenities and lighting in three distinct districts with deep historic and cultural roots: American Tobacco, City Center, and the Central Park District. Potential approaches to art and enhancements to these locations that are outlined in the Vision Plan are meant to be helpful to the selected artist, not directive or restrictive.
About Durham:
A booming city in North Carolina's thriving Research Triangle, Durham began in 1864 as a small rail depot village. Tobacco drove the early economic development of Durham; the distinctive voice of the Piedmont Blues music grew to entertain workers; and the largest black-owned insurance company in the country opened its headquarters on Parrish Street in 1906. Drawing on this rich and diverse history, Durham has reimagined and repurposed its earlier tobacco and textile warehouses and prominent landmarks to create a vibrant downtown. Since 2000, the city has experienced exponential growth with a total of $1.3 billion in investments. For more information about Durham please visit: http://downtowndurham.com/
ELIGIBILITY
Candidates must be professional artists or designers as stated in your resume, eligible to work in the United States, and age 18 or older. Candidates are eligible regardless of race, color, religion, national origin, gender, gender identification, military status, sexual orientation, marital status, or physical ability.
SUBMISSION REQUIREMENTS
All interested Candidates must complete and submit their application through CaFE.
Statement of interest: narrative outlining your qualifications and interest in this project

Work samples: visual representations of past artwork that demonstrate your qualifications for this project. In order to be considered for this project, the applicant must upload a total of 10 images that represent no more than 5 previously completed projects. Each sample should have an accompanying summary of the title, location, cost, materials/media, and timeline associated with that piece

Project personnel résumé: résumés for each artist/ artist team member

References:

each artist should provide three (3) current professional references or recommendation letters with contact information for each reference
SELECTION PROCESS AND EVALUATION CRITERIA
Staff will preview application for completeness and may reject incomplete applications or non-responsive submissions.
A Selection Committee (which may include staff from Durham Central Park, Liberty Warehouse, the City of Durham's General Services Department, Office of Economic & Workforce Development and Parks and Recreation, volunteers from the Durham Public Art Committee, visual art/design professionals, and other community members) will review and evaluate Candidates' applications based on criteria that may include but is not limited to the following:
Aesthetic excellence of past projects

Experience, success, and/or interest in community engagement in the process of creating public artwork

Proven track record of using the materials and methods appropriate for this project

Demonstrated ability to manage projects with similar budgets on time and on budget
The
Selection Committee will invite up to five (5) Finalists to Durham, North Carolina during November 2017 to view the site, meet community stakeholders
, interview with Selection Committee members, and submit a design sketch.
Reasonable compensation for travel and
accommodations
will be provided
.
After the interviews, the Selection Committee will recommend a Finalist's design to the City for approval. This awardee will be invited to contract with the City for the commission of this work.
SCOPES OF WORK
The services which will be required from Finalists during the selection process are, but are not necessarily limited to:
Durham Central Park, Inc. and the City of Durham will commission the Finalist with the best qualifications (referred to as "Awardee") to design, fabricate, and install the public art piece along the Liberty Warehouse Wall. We anticipate the contract to start between December 2017 and January 2018 and terminate upon completion of the project.
The services which will be required from the Awardee during the contract are, but are not necessarily limited to:
Visiting the site

Meeting with potential stakeholders

Interviewing with the Selection Committee

Submitting final design concept
Durham Central Park, Inc. and the City of Durham will commission the Finalist with the best qualifications (referred to as "Awardee") to design, fabricate, and install the public art piece along the Liberty Warehouse Wall. We anticipate the contract to start between December 2017 and January 2018 and terminate upon completion of the project.
The services which will be required from the Awardee during the contract are, but are not necessarily limited to:
Collaborating with Durham Central Park, Inc. and the City on the final design

Leading an engagement process to raise awareness of the resulting piece within the community

Overseeing the installation

of

the public art piece on the wall

Devising a maintenance plan to ensure the proper conservation of the piece
BUDGET
The total budget for this project is $50,000. This amount includes all fees and expenses associated with this project, including materials, equipment, labor, permits, engineering documents, insurance, taxes, travel, installation, shipping, identification plaque, maintenance instructions' document, and written and professional photographic documentation of the completed project.
TENTATIVE PROJECT TIMELINE
Issue date: September 20, 2017
Submittal deadline: November 1, 2017
Finalist selection: November- December 2017
Finalist interviews: December 2017
Artist selection: December 2017
Community engagement and concept development: January 2018
Concept and design development approval: January 2018-April 2018
Fabrication and installation: April 2018 - July 2018
Project Completion: August 2018
Print this Page
View Legal Agreement