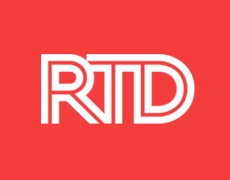 RTD EFR Rail Line Extension- Windscreens
1600 Blake Street, Denver, CO 80202
Contact Email:
christina.zazueta@rtd-denver.com
Call Type:
Public Art
Eligibility:
National
State:
Colorado
Entry Deadline:
10/6/17
Application Closed
REQUIREMENTS:
Media
Images - Minimum: 6, Maximum: 15
Audio - Minimum: 0, Maximum: 2
Video - Minimum: 0, Maximum: 3
Total Media - Minimum: 6, Maximum: 20
The commission amount for windscreen enhancements is $100,000.

The Regional Transportation District (RTD) of Denver, Colorado is the transportation agency for an eight-county area in Colorado serving a population of 2.8 million people. RTD is committed to increasing the number of original commissioned pieces of art throughout its district. RTD is pleased to announce a series of commissioned art opportunities on the FasTracks Southeast (EFR) rail line extension project—which includes Sky Ridge Station, Lone Tree City Center Station, and RidgeGate Station, all of which are currently under construction.

The Southeast Rail Line opened in 2006 as a 19 mile extension of rail from I-25 & Broadway, with 15 miles along I-25 to Lincoln and an additional 4 miles along I-225 to Parker Road. This extension will add an additional 2.3 miles of rail and three new stations to bring service south into the city of Lone Tree.

This commission is for the windscreen enhancements along the Southeast rail extension.
Station Description
Windscreen enhancements will be placed at three stations along the extension as a common element. The stations that would be included in this commission are Sky Ridge Station, Lone Tree City Center Station, and RidgeGate Station.

Site Description
The location for the artistic windscreen enhancements would be located on the station platform. The enhancements are intended to provide cohesiveness along the line while providing an individual identity to each station.

Artwork Guidelines
1. The movement, safety and security of pedestrians is a priority.
2. The artwork will be outside and exposed to the elements. It must be able to withstand the constantly changing weather conditions of Colorado which include wide fluctuations in temperature and intense sunlight.
3. Materials used must be durable and require little or no maintenance.
4. Prior approval for use of electricity is needed.
5. Artwork proposed for any location by the tracks must not violate any of the clearance and safety regulations concerning the overhead electrical wires (that power the trains) or impede with any train operations.

Selection
There will be three phases of the selection process. All artists can apply prior to the October 6, 2017 deadline. Phase one: a small group of finalists will be selected by the Southeast rail extension project art committee, made up of artists, arts professionals, and art commissioners. Finalists will be selected based on their application materials. Phase two: if selected, artists will then make a site visit and prepare a proposal. Phase three: finalists will be interviewed by the committee on December 7, 2017.

Application Process and Materials:
All materials must be submitted in digital format via the Café™ website at www.callforentry.org There is no charge for artists to register and submit entries.
Each application must include:
· Six (6) digital images of relevant work. Accompanying image annotation (in section where you upload images) must list media, size, title, date and a brief description of the artwork if necessary.
Note: Six images are required for the application to be accepted.
· Current resume
· Two professional references
· Optional description of initial ideas for the artwork at this location
Timeline
September 25, 2017 Call goes out of CAFÉ
October 6, 2017 Call closes at midnight
October 20, 2017 Finalist artists notified and asked to prepare proposals
December 7, 2017 Committee interviews finalists/view proposals
December 11, 2017 Final artist notified of selection
Fall/Winter 2018 Artwork to be installed

For questions or site plans and drawings of the three stations where the windscreens will be placed, please contact Christina Zazueta at christina.zazueta@rtd-denver.com

Print this Page
View Legal Agreement