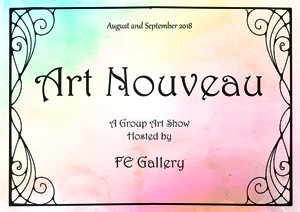 Art Nouveau
Fe Gallery
1100 65th Street
Sacramento, CA 95819
Contact Email:
art@fegallery.com
Call Type:
Exhibitions
Eligibility:
National
State:
California
Entry Deadline:
5/31/18
Application Closed
REQUIREMENTS:
Media
Images - Minimum: 1, Maximum: 6
Total Media - Minimum: 1, Maximum: 6
Entry Fee (Art Nouveau): $20.00

Media Fee (per sample over minimum):$5.00

"The New Nouveau"
A group art show inspired by Art Nouveau.
Hosted and curated by FE Gallery in Sacramento, CA.
Best in show receives a $500.00 prize.
Work from the show will be available to view and purchase both in our gallery and on our website(fegallery.com).
Jumping points and suggestions:
We are looking for art with fluid, rhythmic, asymmetrical lines that ensnare and claim ownership of their delicate and sinuous subjects. The line should reign over all other pictorial elements-form, texture, space, color- defining and decorating each.
Elegant, Graceful, Delicate, Intentional flatness, Ink, and watercolor, Undulating lines, Natural patterns, Transparent layers, Drawn borders, Draped fabrics, Blushing skin, Contour lines
"Art Nouveau was coil-envy" –China Mieville


Details Overview(please also read the contract!)
On application, you agree to the contract (below) and obligate that your art will be made ready and available for the show.
Medium: All 2d/3d mediums. No film/audio/performing art at this time. Inquire via email about installations or unusually large pieces. Digital and photography art must be printed. All work must be ready to display (framed/wired, etc.).
Unfortunately, not every artist can be shown due to limited space. Art will be selected by a private group of gallery associates who will consider qualifications such as theme relevance, subject matter, technical skill, editing and finishing, price, size, and medium.
More about submitting:
· Only one digital image must represent each art piece. If you would like to add a detail shot of your piece, please combine into a single 'split image' showing both the piece and the detail shot. If submitting a diptych or triptych, please submit these as a single image.
· Please apply using the final price of the art piece. Consider framing fees, shipping fees, and the gallery's 40% commission.
· Please include dimensions of art, and dimensions of art with frame separately.
· Please include the medium(s).
· All art must be original and submitted by the copyright owner and credited to the creator(usually the same person). Please cite any references.
· Applicants must be at least 18 years of age.
· Each artist limited to six pieces max for group shows.

Important Dates:
Exhibit runs: August 11th, 2018 – September 28th, 2018
Weekly hours: Monday-Friday 9am-4pm, Saturday by appointment, Sunday closed.
Specialty hours: Saturday Aug 11th 6-9pm(opening reception), Friday Sept 28th 6-9pm(closing reception).
Application deadline: May 31st, 2018 (Applications close at 11:59 PM in Pacific Time Zone on the deadline date)
Art delivery deadline: July 31st, 2018 (art must arrive at the gallery by this date. Late received art may or may not be displayed depending on how far along in the hanging process we are when it arrives.)
Art pick-up or returned via shipping: October 1st, 2018 – October 5th, 2018
Print this Page
View Legal Agreement