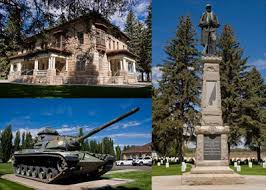 Veterans Community Living Center, Homelake: Request for Images
Contact Email:
ruth.bruno@state.co.us
Call Type:
Public Art
Eligibility:
Regional
State:
Colorado
Entry Deadline:
11/8/17
Application ClosedNumber of Applications Allowed:
3
REQUIREMENTS:
Media
Images - Minimum: 1, Maximum: 3
Total Media - Minimum: 1, Maximum: 3
Colorado Creative Industries seeks to acquire public art through direct purchase of existing artwork – original artworks that have already been completed - for the Colorado Department of Human Services' Veterans Community Living Center at Homelake (VCLC) in Monte Vista, Colorado. The amount of funding available for artwork is $33,500. This VCLC is looking to acquire more than one artwork and artworks under, and up to, $5,000 will be considered. This opportunity is open to Colorado artists only. Funding for this project is provided by the state of Colorado's Art in Public Places Program. The deadline for applications for this project is Wednesday, November 8, 2017.

ABOUT THE VETERANS COMMUNITY LIVING CENTER AT HOMELAKE
The Veterans Community Living Center at Homelake is situated on a 25 acre site, one mile east of Monte Vista, in the San Luis Valley. The Center's natural surroundings and historic buildings offer scenic views of Homelake and the mountains and provide a relaxed and serene environment for residents. The area is agrarian and has a high desert climate.
The Center was formerly the Colorado Soldiers' and Sailors' Home. The home was established by an act of the Colorado State Legislature in 1889 at the behest of the Grand Army of the Republic to provide a home for the aging and disabled veterans of the Civil War. The first resident was admitted in November, 1891. Shortly thereafter, a cemetery was established at the Home. Between 1898 –1905, the barracks, commander's residence, administration building, and chapel were added to the community. More than 4,000 veterans have lived at the facility -- starting with those from the Civil War and continuing to those from current conflicts.
In the 1965 Legislative session, an act was passed to change the name of the institution to Colorado State Veterans Center and the old hospital was raised and removed. In 1966, an honor camp from the Colorado State Reformatory was brought onto the grounds to demolish the old barracks building and several other old buildings that had been condemned for years. The new Nursing Home was constructed in 1991, and the old nursing home was remolded into Administrative Offices. The Old Administration Building is currently being refurbished and will eventually house the Homelake Museum.
Homelake Veterans Community Living, which believes in honoring its residents with compassionate, dignified care, has been preserving memories and honoring veterans from every major war in U.S. history. The Veterans Community Living Centers serve only veterans, veterans' spouses and Gold-Star Parents, creating a unique atmosphere among long-term care facilities. Residents enjoy camaraderie with other veterans and respect from staff and volunteers, who value the contributions these service men, women and their families have made to our country.
BUDGET: $33,500 total, individual artworks up to $5,000
Artworks below, or up to the budget of $5,000 will be considered for purchase.
OPPORTUNITIES FOR PUBLIC ART
The Homelake Veterans Community Living Center is looking to acquire multiple artworks for display in the Nursing Home building. The Public Art Selection Committee would like artworks that will fit in with the Center's unique history and its function as a nursing home facility for veterans and their families. The committee would like artworks that speak to this site either through works that are focused on the San Luis Valley region or the military service. Artists should consider that this site is a "home," and artworks should contribute to a comforting and restful environment for the Center's residents, their families, and staff.
Due to the building's design and need to keep floors clear, 2D works are the main type of artwork that will be considered. Works may be sculptural in nature, as long as they are wall-mounted and do not protrude more than 4". The Selection Committee will consider artworks of all media, including but not limited to, paintings, photography, mixed media, and fabric. There are a few different wall sizes available to hang artwork in the building, so artworks of various sizes will be considered, with a preference towards works that are 24"x36"or larger.
The Art Selection Committee will consider the following:
Artist's location – artist

must be based in Colorado

Thematic relevance

Artistic excellence

Technical competence

Scale, material, form and content

Ease of maintenance, minimal and low cost maintenance
Additional requirements:
Artists are required to deliver selected artworks to the Veterans Community Living Center at Homelake in Monte Vista – please account for this delivery requirement when listing the cost of the artwork on the application (more details on applying below)

Artwork must be ready to hang and framed, if applicable. Frame must be in good condition.
Artists residing in the San Luis Valley and/or artists who are veterans are encouraged to submit artworks for consideration.
COLORADO ART IN PUBLIC PLACES PROGRAM
All works of art purchased pursuant to this request are owned by the State of Colorado via the Colorado Department of Human Services and the Department of Public Services. De-accession of the public art, if necessary, will follow the policies and procedures established by the Colorado Creative Industries.
SELECTION PROCESS AND SCHEDULE
The Art Selection Committee will review all complete and eligible submittals of artworks in consideration for acquisition of the building. The projected schedule is as follows:
November 8, 2017 - Deadline for receipt of applications via CaFÉ™ system
December/January 2017/2018 – Selection panel meets to select artworks for purchase
January/February 2018 - Notification of purchase selections
January/February 2018 -Drop off of artworks at VCLC in Homelake, CO.
APPLICATION PROCESS
All applications for this project are being accepted through CaFÉ™ (www.callforentry.org ). No hard copy submissions will be accepted. The applicant will be asked to submit digital images of available artwork (see below for more information), a resume, and a statement of interest. There is no application fee to apply or to use the CaFÉ™ online application system.
Digital Images. In order to be considered for this project, the applicant must electronically submit digital images of available artworks through the CaFÉ™ system. Artists may submit 1-3 images of the same artwork within the same application, in order to show various details. Please include images that show the frame, if applicable. Artists may submit up to 3 available artworks for consideration. The maximum amount of images for all artworks submission allowed is 9 (3 per artwork). Each artwork must be submitted as its own application.
Instructions on how to use CaFÉ™ and format images/video can be found at www.callforentry.org/image_prep.phtml. Assistance in using the CaFÉ™ system is available during regular business hours by calling 303­629­1166, 1­888­562­7232 or e­mail cafe@westaf.org.
Resume: Submit a current résumé that outlines professional accomplishments as an artist.
Statement of Interest: A statement of interest in 500 words or less must be submitted via CaFÉ™. It should briefly outline the artist's interest and/or information on the available artwork, if explanation is relevant. Statement should also address how submitted artworks relate to the thematic specifications of this opportunity.
QUESTIONS
For more information or clarification, please contact Ruth Bruno, Public Art Program Manager, Colorado Creative Industries at 303­892-3813 or ruth.bruno@state.co.us .
ADDITIONAL SOURCES OF INFORMATION
https://www.colorado.gov/pacific/cdhs/veterans-community-living-center-homelake
http://www.museumtrail.org/homelake-veterans-history-museum.html
http://www.homelakeveteransmuseum.org/
Print this Page
View Legal Agreement