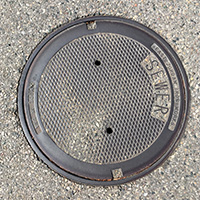 Artwork for Manhole Covers
Ann Arbor Art Center
117 W. Liberty St.
Ann Arbor, MI 48104
Contact Email:
exhibitions@annarborartcenter.org
Call Type:
Public Art
Eligibility:
International
State:
Michigan
Entry Deadline:
12/23/17
Application Closed
REQUIREMENTS:
Media
Images - Minimum: 1, Maximum: 3
Total Media - Minimum: 1, Maximum: 3
The Ann Arbor Art Center has been chosen to manage the selection of artwork to be produced on cast iron manhole covers throughout the City of Ann Arbor. On average, 200 to 300 manhole covers are replaced each year due to planned major roadway construction and utility projects. They can otherwise last for decades. This project is part of a city initiative to infuse art into the early stages of construction project planning.
Three artist designs will be selected to be produced on manhole covers throughout the six-year production schedule, likely to begin in 2018. It is intended for each winning design to be produced for an approximate two-year period. Each of the three winning designs will be awarded $1,000 stipend payment from the City.
Submissions will be reviewed by a committee of community stakeholders and arts professionals, and the selection process will conclude with a public vote on semifinalists and final approval by the City of Ann Arbor. The three winners will be selected by March 2018 and production of the first design is expected to begin later in 2018.
Partners in the commission include the Ann Arbor Art Center and its 12-member advisory committee, Ann Arbor's City Council and Public Art Commission, and City of Ann Arbor staff (with lead support from the project's manager/engineer).

DETAILS
The proposed artwork is intended to beautify manhole covers throughout the city in order to excite public interest in the community, and inspire civic pride. This project has the ability to make a memorable statement about the Ann Arbor community. Spaces to infuse art into manhole covers include sidewalks and roadways throughout the Ann Arbor city limits.
Manhole covers are produced through a five-step manufacturing process: pattern making, mold preparation, melting/pouring, and cooling and finishing. New molds are prepared approximately every two years but this time length can vary based on the number of manhole covers that are replaced. During this project, as new molds need to be prepared, they will contain one of the winning artwork designs. Designs will be produced for approximately two years each but the length of time may vary. The City intends to produce each of the three winning designs during the course of the six-year production period.

SPECIFIC IDEALS
• The successful proposal will maximize usage of the space available on the manhole cover - a 14" diameter circle. Designs must be submitted in a circular format.
• Due to the mold manufacturing process, artists are dissuaded from including intricate details and complexity that cannot be replicated in the final manufactured product. No gradations or shading. Complex art may be disqualified due to the feasibility at the manufacturing stage. As a general rule, realistic designs are less desirable.
• All submissions must be original work of the artist; no logos or non-original symbols.
• Manhole cover designs will only be produced in the color and look of the original iron material, they will not be painted. Submitted designs should be single color only.
• Special consideration will be given to proposals that express the identity, name, attributes, values or history of Ann Arbor, though this connection is not required.
• Despite Ann Arbor's reputation as a regional epicenter of athletics and academics, ideal proposals will avoid overt references to sports or area educational institutions.
• Technical or vector files are NOT required. No bid process for fabrication or material sourcing is required.
• The ideal artist submission meets all of these criteria. Artists who do not follow the guidelines of this call for entry will be automatically disqualified from jury.

SEMIFINALIST SELECTION CONSIDERATIONS
Semi-finalists will be judged on three scoring categories: Overall Creativity, Execution of Design, and Adherence to Submission Guidelines.
Should the need arise, geographic location of the artist will be used as a tie-breaker by awarding additional points to finalists based on the geographic location in which they reside. Up to five additional points will be awarded for artists who reside in Washtenaw County, MI, the state of Michigan, or the United States.

SELECTION PROCESS / TIMELINE
The selection of artwork for this project will occur through a process of rigorous public review and participation, including the following:
• Internal reviews of semi-finalists by Art Center staff and City staff;
• Design review by city-appointed fabricator;
• External reviews by a committee composed of area art and design professionals, community leaders, and general community members;
• Online public polling of 4-6 semifinalists, resulting in three winners to be presented to the City of Ann Arbor for final approval.

IMPORTANT DATES
December 2, 2017: Call For Entry opens; question period opens;
December 10, 2017: Question period closes;
December 23, 2017: Call For Entry closes;
January 2 - 30, 2018: Internal and external advisory committee reviews submissions, resulting in 4-6 semifinalists;
January 31-February 7, 2018: City-appointed fabricator reviews semifinalist designs to determine feasibility;
February 8-18, 2018: Public voting on the top 4-6 semifinalists, resulting in three finalists;
February 19-28, 2018: City staff work with Art Center staff to prepare for the presentation of the finalists to the City of Ann Arbor.

Semifinalists announced in February, 2018; finalists announced in March 2018.

ELIGIBILITY
This call for submissions is open to all individuals regardless of race, color, national origin, age, marital status, sex, sexual orientation, gender identity, gender expression, disability, religion, or veteran status. All individuals must have a legal right or authorization to work in the United States.

SUBMISSION REQUIREMENTS
1. Designs must be submitted in a circular format. As a guide, a schematic of the manhole with the image area is available as a download with this call for entry. Do not submit this schematic as a template with your image in place.
2. Visual design proposals, such as illustration, sketch, or image are acceptable. Each artist may include one item in the following formats: 8.5 x 11" page (PDF) or image (jpeg, 300 dpi). For your information, schematics of the foundry engineering drawings are available as a download with this call for entry. Technical or vector files are not required.
3. One submission per person, team or collective.
4. Artist statement and brief biography of the artist included with submission.
Incomplete submissions, or those that do not adhere to the submission requirements or specific ideals stated above, will be disqualified from the competition. All submissions to this call for art remain the intellectual property of the submitting artist.

ADMINISTRATION
The Ann Arbor Art Center is solely managing the call for art and selection process on behalf of the City of Ann Arbor. Upon the selection of the three finalists and the City's approval, the selected artist will then work directly with the City of Ann Arbor regarding payment and contract details. During the submission period, project questions should be directed to the Ann Arbor Art Center (see below). After the Ann Arbor Art Center's final recommendation for the project artist/artwork, the City of Ann Arbor will process work authorizations pertaining to international candidates. Artists (or artist-led teams) will be required to complete a media release form and give permission to reproduce submissions in support of project promotion efforts.

QUESTIONS
For technical assistance regarding proposal submission through the callforentry.org portal, email the CaFÉ team at café@westaf.org or visit the CaFÉ Help webpage.
For general questions about the project, please email
mskidmore@annarborartcenter.org
(no phone calls, please). Questions will only be answered during the 'Question Period,' (Dec. 3 - 10, 2017), and responses will promptly be posted on the Ann Arbor Art Center's website (www.annarborartcenter.org) as part of an FAQ accessible to all entrants.
Print this Page
View Legal Agreement