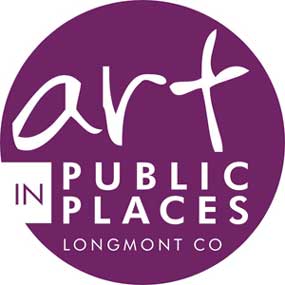 Nature in Bronze
400 Quail Road
Longmont, Colorado 80501
Contact Email:
lauren.greenfield@longmontcolorado.gov
Call Type:
Public Art
Eligibility:
National
State:
Colorado
Event Dates:
1/1/18 - 1/1/18
Entry Deadline:
1/21/18
Application Closed
REQUIREMENTS:
Media
Images - Minimum: 3, Maximum: 12
Total Media - Minimum: 3, Maximum: 12
Request For Proposals

Project:
Longmont's Art in Public Places (AIPP) Commission is accepting submissions from artists or teams of artists who wish to be considered for a permanent installation to be located along the St. Vrain greenway. Art in Public Places is a program of the City of Longmont and is administered under the Longmont Museum in Longmont, Colorado.
History of Art in Public Places:
City Council proposed and ratified an Ordinance in 1988 which allocates 1% of City Capital Improvement Projects to a special Art in Public Places fund. Since that time, AIPP has built a collection of more than 70 permanent public art installations throughout the City. That collection can be seen here www.longmontcolorado.gov/aipp.
In 2006, AIPP proposed an Ordinance revision to allow for temporary or loaned artwork, resulting in the Art on the Move program. Since that time, Art on the Move has borrowed and exhibited more than 75 works of art from Colorado artists, which has proven extremely successful in exhibiting "more" artwork, attracting more (Colorado) artists and providing greater visibility and diversity to the Longmont community and their visitors.
And in 2011, AIPP added Shock Art to its programs. Collaborating with Longmont Power and Communications, each year five to seven electrical boxes are identified to be painted by local artists, who are selected through a community voting process.
Scope of Project: The donors of the funds for this project have two requests for this project: bronze (medium) and nature (theme). The intention is to add the selected sculpture to the permanent collection and place along the St. Vrain greenway. We are seeking a bronze sculpture with a "nature" theme with pedestal/installation and delivery costs included.
https://longmontcolorado.gov/Home/Components/FacilityDirectory/FacilityDirectory/88/56?npage=2
Community Profile:
The City of Longmont is located approximately ten miles east of the Rocky Mountain foothills, 35 miles northwest of Denver, and 12 miles northeast of Boulder. The population of approximately 97,000 represents a diversity of cultures, including Anglo, Hispanic, Asian, African American, and American Indian. Longmont's roots are in agriculture. As the City has grown, its economy has diversified to include high-tech manufacturing and many service industries.
Longmont is undergoing a surge of growth, which has greatly increased the real estate values and put it on the map as a true destination. Thirteen craft breweries and several distilleries call Longmont home, and an abundance of restaurants, galleries, and coffee shops provide opportunities for all seeking "indy" experiences and unique opportunities.
Project Description:
Funds to complete this project have been generously and anonymously donated by a couple who has deep roots in Longmont. Their request is simple. They like bronze. And they have a deep appreciation for nature. They are inspired by their evening walks. Along the three miles of walking trail, they encounter the St. Vrain River, several ponds (among them Golden Ponds, named after Stuart Golden, a former leader in our Community, and Fairgrounds Lake) as well as a plethora of wildlife (deer, fox, raccoons, osprey, ducks, eagles, a variety of birds, snakes, and, of course, dogs and people).
Project Specifics:
This project must adhere to the 2002 AIPP guidelines for bronze sculptures: "where artwork may be one of a number of castings, the AIPP Commission is seeking a number within the original number of castings. No sculpture in its entirety shall be intentionally duplicated within 100 miles of Longmont."
AIPP retains a bronze conservator who treats each of the bronzes in the collection on an annual basis. Conservation recommendations must be provided by the artist to the City as part of process to ensure sufficient funds are set aside for such work.
Submission Requirements:
Artists may submit up to three (total) works, and up to twelve images total (up to four images of one piece).
Timeline:
December 2017 — Call to artists
January 21, 2018 - submissions due
February 2018 – Winner announced
Early Summer 2018- Delivery/Installation
Budget:
Up to $20,000 is available for an artist or team of artists. This amount includes all fees for the design, materials, fabrication, transportation, and installation of artwork; artists' insurance (see below); and any miscellaneous expenses that may be incurred relating to site preparation and licensing fees. AIPP may be able to assist with additional landscape costs.
The selected artist will be required to provide proof of insurance within 30 days of notification of winning the commission. Insurance must be obtained as follows:
"The Artist shall obtain and maintain for the full period of the Contract: Commercial General Liability insurance including bodily injury, property damage, personal injury, contractual liability and products/completed operations coverage, and automobile liability insurance covering bodily injury, property damage and personal injury, with limits of no less than $1,000,000 per occurrence.
Eligibility:
Any practicing visual artist residing in the United State may apply. Students pursuing graduate or undergraduate degrees in fine art are eligible and encouraged.
The AIPP Commission encourages artists from all cultural, ethnic, and economic backgrounds to apply.
Artists will be required to maintain a close working relationship with the City of Longmont staff person, the Art in Public Places Commission, the selection panel(s), and the community. This may include participation in various meetings related to the art project.
Artists wishing to collaborate as a team on a project may do so, submitting up to 10 images total and a resume for each artist.
Selection Process:
A selection panel, which may be comprised of community members, artists, and City staff, will review all submissions. Selection criteria include quality and innovation, timelessness, compatibility with the site, permanence, and public safety. The selection panel, assisted by the AIPP Commission, will select the artwork based on the aforementioned criteria and the budget. Three finalists may be selected in the process. There would not be an in person presentation required, though follow up questions may be posed.
Deadline:
Applications will be accepted through callforentry.org and must be received by January 21, 2018
Inquiries:
Information beyond the scope of this proposal will not be available until after the artist or team of artists is selected.
Additional information regarding the City of Longmont and the Art in Public Places program may be obtained at these websites:
AIPP: https://longmontcolorado.gov/departments/departments-a-d/community-services-department/art-in-public-places
City of Longmont: https://www.longmontcolorado.gov/
Entries:
All entries for this project are being accepted through callforentry.org and may not be submitted directly to the AIPP administrator.
Print this Page
View Legal Agreement