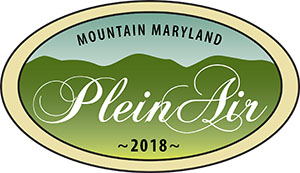 Mountain Maryland Plein Air-Competition & Exhibition-Cumberland 2018


Allegany Arts Council
9 N. Centre St.
Cumberland, MD 21502


Entry Deadline: 5/1/18
Application Closed

REQUIREMENTS:

Media Images: 3



Entry Fee (Mountain Maryland Plein Air): $40.00

HOW TO APPLY
Applicants must submit 3 digital images of their plein air artwork and a 200 word (max) bio. If selected, the applicant must provide a photo of themselves. The submitted bio and photo will be used in the event booklet, publicity and website, so please make sure what you write and send is what you want to see in print.

The entry fee is $40. All applications must be submitted through the CaFé system by midnight (Mountain Standard Time) on May 1, 2018. The Allegany Arts Council will not accept applications directly. If you have participated previously, note that some of the rules have changed.

ENTRY GUIDELINES
Accepted artists will be responsible for their own lodging during the event. However, a number of community members have agreed to host participating artists. In past years we have been able to accommodate all artists interested in finding such housing.

A 35% commission on all artwork sold during the Mountain Maryland Plein Air event will be retained by Allegany Arts Council's Saville Gallery, with all sales handled by representatives of the Arts Council. During the course of the Saville Gallery exhibition, artwork will be insured for 65% of its retail value.

SELECTION PROCESS
Phase 1: Artists interested in being featured in the Plein Air Exhibition in September need to apply and be pre-screened through CaFÉ in order to be included in the Mountain Maryland Plein Air Exhibition. During this initial review, our Juror, Valdislav Yeliseyev, will evaluate the submitted images (these images must be examples of your actual Plein Air artwork) to determine if the artist will be invited to participate in the exhibition. A total of 30 artists will be invited. All artists who apply will receive electronic notification of the results of the screening process. Notification will be sent to the email address supplied when applying through CaFÉ.

Phase 2: Invited artists will be featured in a short exhibition during the week of the event. This exhibition is designed to educate the audience about participants and promote the invited artists. This will also provide invited artists with another opportunity to show and sell work. These works will be selected by the artists. Some sales are possible during this exhibition. All exhibited artwork must be for sale.

During Plein Air week a number of optional events may be planned. Invited artists will receive further details on these opportunities as plans develop. All artists will be encouraged to participate in the Quick Draw event in Cumberland on Saturday. There is no charge to register for the Quick Draw and all invited artists will be pre-registered for the event. However, all participating artists must have their canvas or board stamped the day of the Quick Draw event.

JUROR

Vladislav Yeliseyev (Vlad) is a renowned master of watercolor, Signature member of American Impressionist and National Watercolor Socities. He is also a two-time Best of Show winner at Mountain Maryland Plein Air. yeliseyevfineart.com


IMPORTANT DATES
May 1, 2018 - Last date to submit application via CaFÉ Website (12 midnight Mountain Standard Time)
Sept. 24 through Sept. 29 - Mountain Maryland Plein Air
*Further schedule details will be available soon.

For additional information, please visit www.alleganyartscouncil.org or contact us at art@alleganyarts.org or at 301.777.2787.