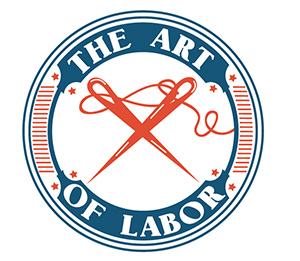 The Art of Labor
PO Box 4044
Las Vegas, NM
87701
Contact Email:
info@surfacedesign.org
Call Type:
Unspecified
Eligibility:
International
State:
New Mexico
Entry Deadline:
4/6/18
Application Closed
REQUIREMENTS:
Media
Images - Minimum: 2, Maximum: 4
Video - Minimum: 0, Maximum: 2
Total Media - Minimum: 2, Maximum: 4
Entry Fee (Members): $40.00
Entry Fee (Student Members): $20.00

THE ART OF LABOR

EXHIBITION: Members of the Surface Design Association are invited to submit work for the 2018 International Juried Members exhibition, The Art of Labor. The exhibition will be held in partnership with the San Jose Museum of Quilts & Textiles (SJMQT) at their location in San Jose, CA, July 22, 2018 - October 14, 2018. The exhibition includes awards. Entries may be submitted online January 8, 2018 – April 6, 2018.
GOAL:
Using the word "Labor" as a point of departure, jurors Carole Frances Lung (Frau Fiber) and Amy DiPlacido will seek fiber, fiber-based, or textile-inspired work by artists exploring the many possible definitions of the term and its relationship to art.
Since the Industrial Revolution, a key identifying characteristic of any community is the work of its people, their leisure activities, and subsequent roles in society. While some people's work appears to be easy, others are engaged in more difficult tasks. Labor, in its multifaceted definition, can refer to everything from exertion and production, to organized workers and political parties, to the experience of giving birth.
The act of labor may be both physical
and
mental, an effort which is difficult and sometimes compulsory. From "slow fiber" to DIY processes, fiber art is steeped in the traditions of material appreciation and labor, of the time involved in making art, and of the effort required in innovative manipulation or techniques. Associated with this process is the value and worth of skill, production, and time.
Works should be completed on or after January 1, 2014. Established, emerging, international and student artist SDA members are encouraged to participate. Artists working in all media are encouraged to apply.
JURORS:
Amy DiPlacido
(
https://www.sjquiltmuseum.org/sjmqt-board-committees-internship-volunteer/
) )is a visual artist and curator based in Northern California. Her work documents the passage of time and perception through installation, collage and drawing. She is an artist in resident at the Cubberley Artists Studio Program in Palo Alto, CA. She has exhibited her work at Westmoreland Museum of Art, Fuller Craft Museum and Interlochen Center for the Arts. As the Curator of Exhibitions at San Jose Museum of Quilts & Textiles, she has collaborated on shows involving historic, ethnographic and contemporary fashion and textiles. She has an M.F.A. in Fiber from Cranbrook Academy of Art and a B.F.A. in Fiber from Massachusetts College of Art and Design.
Carole Frances Lung (
https://carolefranceslung.wordpress.com
) is a soft guerilla activist, artist, and academic living in Long Beach, CA. Through her alter ego Frau Fiber, Carole utilizes a hybrid of playful activism, cultural criticism, research and spirited crafting of one of a kind garment production performances investigating the human cost of mass production and consumption, addressing issues of value and time, through the thoroughly hand-made construction and salvaging of garments. She has exhibited extensively nationally and internationally. Carole is an Associate Professor at California State University Los Angeles where she was recently named a Fellow for the Public Good.
ELIGIBILITY & ENTRY FEES:
This exhibition is open to all members of Surface Design Association (SDA). You may enter three pieces for consideration per entry. 2D, 3D and video works are eligible. Work must have been completed since January 1, 2014. Work executed under classroom/educational guidance or supervision is not eligible.
$40 entry fee for members
$20 entry fee for student members
ENTRY PROCEDURE:
Entries are to be submitted online through CaFÉ Call For Entry website located at
https://www.callforentry.org/festivals_unique_info.php?ID=4871
The following information is required for submission:
1. Name, address (and shipping address if different), telephone, e-mail.
2. Up to 4 images total may be submitted, with no more than 3 individual artworks for consideration; the 4 images may be any combination of original works and detail images as long as the artist does not submit more than 3 individual artowrks for consideration. Up to 2 video samples may be submitted for consideration.

3. Images - full and detail - JPEG only; Upload options for image files
• File format: JPEG only
• File dimensions: A minimum of 1200 pixels or greater on the longest side. Anything
larger than 1200 px will be resized to fit the limitations.
• File resolution: 72 ppi/dpi (standard web resolution)
• File size: 5 MB maximum
4. Video sample submissions not to exceed 3:00 minutes in length. Maximum size video 100 MB. Up to two video samples may be submitted, for a total of 200 MB.
5. Each image must be titled as follows: "Submission #/ Last name/ Title".
6. A brief artist statement (50-100 words, maximum).
SHIPPING:
Complete shipping instructions will be sent with the acceptance notification to the hanging exhibit. Artists are responsible for shipping costs both to and from form & concept (including insurance during transit) through either providing a pre-paid shipping label, Fed Ex or UPS account number, or credit card information for return shipping. It might be helpful to indicate this up front, but include specific shipping instructions with the acceptance letters for those included in the exhibit. All artwork must arrive at SJMQT no later than July 1, 2018. Works will be returned in their original packaging no later than November 14, 2018. Artworks must be shipped in sturdy, reusable containers with appropriate packing material. More specific shipping instructions with acceptance letters will be provided. Shipping address: San Jose Museum of Quilts & Textiles, 520 S. First Street, San Jose, CA 95113
PHOTOGRAPHIC GUIDELINES: Artists are strongly encouraged to submit images for this call for entry that present your work to best advantage. Your photographs should give a sense of how your piece "sits" or "hangs." Detail photographs are important to show the technical excellence of the work; they can highlight special areas that might not be obvious in the full shot of the work. Works accepted in the exhibition must be available to be photographed individually or in exhibition installation shots for advertising and publicity during the entire run of the exhibition.
AWARDS:
First Place: $600
Second place: $400
Third place: $300
Honorable mention: $100
SDA Award of Excellence: one-year membership to SDA
SALES: Please note that price and/or value of an accepted entry may not be changed after it is set. There is a 50% gallery commission on works for sale. Work should be marked "NFS" if it is not available for purchase. Include value of work for insurance purposes. SJMQT will handle sales transactions while work is on exhibit and ship work to buyer when show is over. All sold objects must remain with the exhibition for the duration of the exhibition and will not be forwarded to the purchaser until the end of the show. Payments to the artist for all sold pieces will be made at the close of the exhibition. Shipment of all sold objects will be paid by the purchaser.
IMPORTANT DATES:
January 8-April 6, 2018: Entries submitted through CaFE
May 1, 2018: Notification of acceptance
July 1, 2018 Selected artwork due to SJMQT
July 22, 2018: Opening reception
October 14, 2018: Exhibition closes
November 14, 2018: All work received by artists
Surface Design Association, a 501c3 non-profit textile arts organization founded in1977, is dedicated to promoting awareness and appreciation of textile-inspired art and design through member-supported benefits including publications, exhibitions and conferences.
Visit us at www.surfacedesign.org.
For questions, contact info@surfacedesign.org or call 707-829-3110.
Print this Page
View Legal Agreement