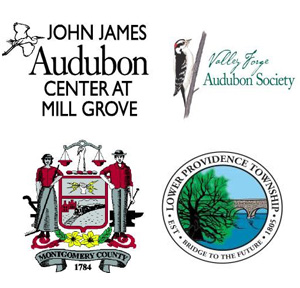 Drawn From Nature Juried Exhibition
1201 Pawlings Road
Audubon, PA 19403
Contact Email:
wchristie@audubon.org
Call Type:
Exhibitions
Eligibility:
Local
State:
Pennsylvania
Event Dates:
4/13/18 - 4/28/18
Entry Deadline:
3/11/18
Application Closed
REQUIREMENTS:
Media
Images - Minimum: 1, Maximum: 2
Total Media - Minimum: 1, Maximum: 2
Entry Fee (Drawn From Nature Juried Exhibition): $25.00
Entry Fee (JJAC/VFAS Member): $20.00

CALL FOR ENTRY
The shared mission of the John James Audubon Center and the Valley Forge Audubon Society is to inspire people to appreciate, preserve, and protect birds, other wildlife, and their habitat; to promote personal appreciation and stewardship of the local natural environment through education and active participation in its preservation; and to preserve the artistic, scientific, and historic legacy of John James Audubon and celebrate the conservation movement he inspired.
The theme of this art show follows from the above ideas. Images should in some way feature, with or without human presence, some aspect of birds, wildlife and/or nature; and/or the impact of birds, wildlife, nature, or humans on a past, present or future environment.
More than $2,000 in cash prizes will be presented for outstanding examples of the accepted artists' work. This show is an opportunity for artists to exhibit and sell their work, as well as an opportunity for JJAC/VFAS to realize funds from commissions to support education programs.

To learn more about the Valley Forge Audubon Society, visit valleyforgeaudubon.org and John James Audubon Center at Mill Grove, visit johnjames.audubon.org
REQUIREMENTS
Open to all artists. PLEASE NOTE: MAILED OR SHIPPED ARTWORK IS NOT ACCEPTED. Work must be hand delivered and picked up. Members of the Valley Forge Audubon Society/John James Audubon Center receive $5 discount on entry fee. Membership information is available at: http://johnjames.audubon.org/become-member-today. You will be asked to include the 7 digit membership number in the application. For assistance with this, contact wchristie@audubon.org.
Work submitted must have been created within the past three years.
No reproductions will be accepted. Each entry must be original in concept and composition and be executed solely by the submitting artist.
Artwork that has previously been exhibited at any JJAC exhibition will not be eligible.
Artwork shall not exceed 48 inches on its longest dimension including frame.
Work containing feathers will not be accepted.
NEW: All Entries MUST be for Sale
Sale prices cannot be changed upon delivery of artwork to show
 
Framing/Display. All artwork must be framed and ready for display according to the following criteria:
Two-dimensional works must have secure hanging wire on the back. No eyehooks, saw tooth hangers or Uni-Frames.
Potentially smearable work on paper must be glazed for protection.
Triptych and diptychs need to be able to be hung with one hanger.
Three-dimensional works must be able to be displayed without intervention from JJAC staff.
NEW: Three-dimensional work that is wallhung, must be framed.
JJAC reserves the right to reject any work that is deemed too fragile, entails inordinate difficulty in handling or display, or contains subject matter deemed inappropriate for a family audience

Categories
1. Oil/Acrylics
2. Watercolors
3. Other Two-Dimensional Works-on-Paper/Mixed Media
4. Photography — includes both Traditional Film & Digital
5. Sculpture and Other Three-Dimensional Work
JURORS
Juror of Selection: CHERYL AGULNICK HOCHBERG
Cheryl received her BFA from the Tyler School of Art in Philadelphia and her MFA from the University of Wisconsin-Madison. Cheryl's work has been exhibited throughout the US. Her recent solo exhibitions include the Radford University Art Museum (2016), the Allentown Art Museum (2014), Montgomery College/Takoma Park (2013), The Banana Factory in Bethlehem, PA (2013), and Sweetbriar College (2012). Her work has been included in group exhibitions, most recently at Art Prize in Grand Rapids, MI, the Ice Box and Gravers Lane Gallery, both in Philadelphia, Womanmade Gallery in Chicago, and Phillips Exeter Academy in NH. Her work is in the collections of the Federal Reserve Bank in Philadelphia, the Westinghouse Corporation, and the Lehigh Valley Hospital.
Cheryl is a Professor of Art at Kutztown University, where she is Program Director for Applied Digital Arts and the College of Visual Arts Academic Success Specialist. She is a 2015 recipient of the Kutztown University Chambliss Award for Excellence in Faculty Scholarship. As a Professor at KU, she regularly teaches drawing courses and a professional practices course. She also serves as advisor for Eckhaus, a student-run gallery on Main Street in Kutztown, and is on the board of FUSE (www.allentownfuse.org).

Juror of Awards: BRUCE HOFFMAN
Bruce is the Director of Gravers Lane Gallery in the historic Chestnut Hill area of Philadelphia. He is an independent curator, artist, writer, and educator. He has a Bachelor's of Fine Arts from Tyler School of Art where he serves on the Alumni Board. He was the Director of an internationally recognized gallery for twenty years where he established and curated the International Fiber Biennial from 1998–2010. He served as adjunct professor at Moore College of Art and Design where he taught the first undergraduate course on Curatorial Studies and has lectured throughout the country. He is on the Executive Board of FiberPhiladelphia, serves as curatorial consultant, and recently served on the advisory board for a fledgling program titled Surface and Structure part of the International recognized Mural Arts Program in Philadelphia pairing artists with working textile industries.
 
ENTRY DETAILS
• All artists must create a free profile at callforentry.org and apply directly to this exhibit through the callforentry website.
• Juror of Selection will review electronic submissions to determine works to be included in the show. Juror of Awards will review artwork in person at JJAC.

For best results, your digital entries should be submitted in the following format:
• JPEG only
• File dimension: no smaller than 1900 pixels on the longest side
• File Resolution: 72 ppi/dpi (standard web resolution)
• File Size: 5MB maximum
• May submit one image of each work
ENTRY FEE
$25.00 for up to two works. Members of JJAC/VFAS receive a $5 discount: contact wchristie@audubon.org if you are unsure about the status/membership number of your VFAS/JJAC membership. There will be no refund for work not selected. Payment can be made by:
1. Credit card on the callforentry.org site
2. Check payable to Audubon. Mail to 1201 Pawlings Road, Audubon, PA 19403. Checks must be received by March 10, 2018.

Sales/Commissions A 30% commission on all sales of exhibited work will be retained by Audubon Pennsylvania to education and outreach programs.PLEASE NOTE: All artists who sell artwork will be contacted by JJAC and must complete a W-9 form at that time.

IMPORTANT DATES
If you need technical assistance, call 610-666-5593, x 110.
January 4 Online submission opens
March 11 Online submission closes at 11:59 pm
March 19 All artists will receive an email notification of work included/not included in the exhibition by close of business
April 7 & 8 9 am – 12 pm Delivery of accepted artwork to upper barn. Artwork may not be delivered prior to or following these time periods. No entries will be accepted by mail or delivery services.
April 9 Award winners will be notified by phone by the end of the day
April 13, 5:30 – 7:30 pm Artist Reception and Awards Ceremony. Awards will be presented at 7: 00 pm.
April 14, 10 am– noon Coffee with Bruce Hoffman, Juror of Awards. Tour the show with Bruce as he discusses the work and his process in choosing winning entries. $5 at door
April 14 - April 28 Art Show Open. Hours: Tuesday thru Saturday 10-4, Sunday 1-4, Closed Mondays
April 29, 10 am - 3:00 pm Artwork Pickup. Artists who remove their artwork before the close of the exhibit will not be permitted to exhibit in future exhibitions. Audubon is not responsible for the storage of art following the pickup hours. Artwork will not be returned by mail or other delivery services.
A charge of $5 per day will be placed on all work not picked up by the designated time.
The John James Audubon Center at Mill Grove and Valley Forge Audubon Society thanks the many volunteers who make Drawn From Nature possible. If you would like to volunteer during the show, at a future art show, or for other art related activities at the Center, such as greeting visitors and artists, assisting with receptions, exhibitions, planning, or other volunteer opportunities, contact the Center at 610-666-5593, ext. 110 to learn more!
Go to http://johnjames.audubon.org/get-involved/art-show-2018 for a copy of this Prospectus.
Print this Page
View Legal Agreement