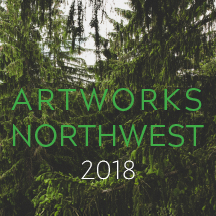 2018 Artworks Northwest


Umpqua Valley Arts Association
1624 W. Harvard Avenue
Roseburg, Oregon 97471


Entry Deadline: 3/13/18
Application Closed

REQUIREMENTS:

Media
Images - Minimum: 0, Maximum: 5
Audio - Minimum: 0, Maximum: 5
Video - Minimum: 0, Maximum: 5
Total Media - Minimum: 1, Maximum: 5

Entry Fee (2018 Artworks Northwest - Non-member): $30.00
Entry Fee (2018 Artworks Northwest - UVAA Member ): $20.00

View Site Details



UMPQUA VALLEY ARTS ASSOCIATION PRESENTS:

ARTWORKS NORTHWEST
Hallie Brown Ford Gallery: A regional juried art show of work from the Pacific Northwest (Northern California, Oregon, Washington, Idaho, Alaska, British Columbia, Western Montana, and Western Wyoming). Open to all media.

Juror: Andries Fourie

Cash Awards:
$1000 1st Place
$500 2nd Place
$300 3rd Place
$200 J. Lynn Peterson – Hundred Valleys Award
Exhibit Dates: May 4 – June 24, 2018
Entry Fee: Non-refundable $30 fee for non-members and $20 for members for 1–5 Artwork entries.
Juror Andries Fourie is a South African-born curator, artist and teacher. He has a Masters in Art from California State University, Sacramento, and a Masters of Fine Art from The University of California, Davis. Andries has taught, lectured, exhibited and conducted art workshops in South Africa, Canada, Namibia, Kenya, and the United States. He is currently the Curator of Art and Community Engagement at the High Desert Museum in Bend, Oregon.

Submission Deadline: Friday, March 9, 2018
Artist Schedule:
Submission Deadline: March 9, 2018
Email Notification: Friday, March 30, 2018
Art Delivery to UVAA: Monday, May 4, 2018
Opening Reception: Friday, May 4 - 5pm to 7pm
Exhibit ends: Sunday, June 24, 2018
Artwork Pick Up/shipped: July 2 & 4, 2018 from 9am to 4pm
Rules of Entry:
Eligibility: Eligible to all artists to submit up to (5) entries in all themes, genres and media, except video. All work must be display-ready upon arrival. UVAA commission rates are 30% for UVAA members and 40% for non-members. Entries must be original works of art and entirely created by the entrant. No reproductions representing original artworks will be accepted. Fine art prints (including c-prints, digital prints, etchings, lithographs, woodblock, etc.) are eligible, but must be signed, numbered and in a limited edition of 125 or less. Only original artwork will be considered. No work will be accepted into this show which is in violation of any copyright. Artwork must have been completed within the last two years. Work must not have been previously exhibited at UVAA.
Criteria:
Entries submitted must be digital JPG files. Entries and awards will be judged by the juror in person or from digital JPG files. All entries must be made through the CaFE website (

www.callforentry.org

)
Artists may not substitute another work for an accepted work nor withdraw the work once it is accepted.
All entries must be for sale.
All artwork must fit through a standard 3-foot wide door and weigh less than 50 lbs.
UVAA reserves the right to refuse upon arrival any work that does not match the image or meet hanging criteria or is of unacceptable quality.
UVAA reserves the right to reproduce artwork from digital images for publicity purposes.
Shipping and Delivery of Accepted Artworks:
Art Center hours are Tuesday through Friday, 10am - 4pm and Saturday 10am - 2pm.
Work may be hand-delivered or shipped, to be received at UVAA between April 30th and May 1st. Artwork will be the responsibility of the artist until it is received by UVAA. Each artist will be responsible for shipping costs to and from UVAA. Complete instructions will be included with acceptance letter. UVAA will insure each accepted work for 60% of its value from the time of arrival at UVAA until it is released to the shipping agent.
History of ArtWorks NW:
The Umpqua Valley Arts Association is proud to present ArtWorks NW 2018, a juried art show. This event began in 2007. It was originally titled "Hundred Valleys" to showcase the local pride in the beautiful Umpqua Valley area of Oregon. In 2012 the name changed to reflect the broader regional outreach and impact of this increasingly important venue; ArtWorks NW's sister show PhotoWorks NW was also began in 2012. In 2015, UVAA married ArtWorks NW and PhotoWorks NW into one exhibition. We are excited to offer this call to artists as an opportunity to have their work recognized and enjoyed by the viewing public.
For questions and additional information contact:
Umpqua Valley Arts Association, Gallery Director, Sandee McGee
541-672-2532 | www.uvarts.com