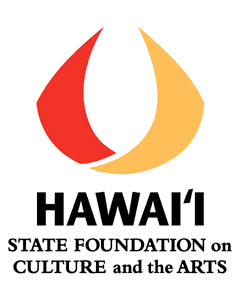 2018 APP HAWAII: Commissioned Works of Art for the Department of Education
Hawai'i State Foundation on Culture and the Arts
250 South Hotel Street 2nd Floor
Honolulu, HI 96813
Contact Email:
trisha.lagaso.goldberg@hawaii.gov
Call Type:
Public Art
Eligibility:
Regional
State:
Hawaii
Entry Deadline:
1/22/18
Application Closed
REQUIREMENTS:
Media
Images - Minimum: 7, Maximum: 7
Total Media - Minimum: 7, Maximum: 7
APPLICATION DEADLINE: JANUARY 22, 2018
CaFE closes the application at midnight (11:59 PM) Mountain Time. Tech support is available until 5 PM (MT), but the application itself closes at midnight.

ELIGIBILITY: Hawai'i Artists
An artist who was born and/or educated in Hawai'i, regardless of whether they currently reside in Hawai'i or elsewhere; obtained a major part of his or her artistic training and development in Hawai'i; is a Hawai'i resident; or has made a significant impact in Hawai'i through exhibitions, installations, and or commissions.

Purpose/Goals: For this project, the goal of the Hawai`i State Foundation on Culture and the Arts (HSFCA) is to commission artwork of the highest aesthetic standards for the Hawai`i public school system that contributes to the happiness and well-being of students, staff, and community. Through this RFQ we intend to establish a qualified pool of professional artists for consideration for three public school sites. We encourage artists using a variety of artistic approaches and media to apply. Teaming with teachers, students, and the school community, artists will work to develop a work of art in the school, which reflects and is appropriate to the school's environment, curriculum, cultural values, and aesthetics. The Art in Public Places/Department of Education-Artists in Residence Program (APP/DOE-AIR) aims to provide meaningful and authentic experiences for students and staff to learn the processes of conceptualization, design, decision-making, production and evaluation of works of art, while building capacity of teachers to incorporate or infuse art into the school curriculum.

Program Description: APP/DOE-AIR is a collaborative program between the HSFCA and DOE. The program was established to implement an integrated visual arts in education program, while providing commissioned works of art in public schools. Funding is made available through the HSFCA Works of Art Special Fund, under Section 103-8.5 of the Hawaii Revised Statutes. In the 2017-2018 school year, up to three DOE school projects will be initiated. Each project will be budgeted with a maximum of $100,000, to hire the services of a professional visual artist as chosen by an Art Advisory Committee (AAC). The budget is paid directly to the artist in phases. There are six phases delineated in the contract, spreading over an estimated three-year period of the project. The HSFCA manages the contracts and payments to artists for all projects. The APP/DOE-AIR project includes an educational component that is integrated into the school's curriculum. As part of the educational component, the artist is required to provide a residency in the school equivalent to 14-16 days of instruction during the term of the project. The AAC decides on the appropriate grade level or classes that will have the benefit of direct contact with the selected artist. The DOE's APP-AIR Resource Teacher is available to assist the artist and principal in formulating lesson plans for teachers and students. Additionally, the artist must conduct a minimum of one in-service training workshop for teachers, one presentation to the school and community, and one studio visit for a select number of students and teachers (only if the studio is safe and conducive for such a visit). Culminating works of art at the school might include sculpture fashioned out of metal, stone, glass, concrete, or wall murals created with ceramic and/or mosaic tiles, metal, glass, or concrete. The APP/DOE-AIR program commissions individual artists only; artist collaboratives will not be considered.

Project Budget: $100,000

Tentative Schedule:
Application deadline: January 22, 2018
Artist interviews with schools: February 5-26, 2018
Adjudication: February 27-March 14, 2018
Project implementation: September 2018-December 2021
Selection Criteria: Hawai'i resident status; if not a resident, please list prior relationship/work history in the state. · Artistic merit as evidenced by digital representation of past work. · Appropriateness of the artist's medium, style and previous professional experience as they relate to the art goals and opportunities in this project. · Experience with projects of similar scale and scope, including familiarity with public agencies, the public review process, and experience working with community groups. · Experience working with students a plus.

Artist Selection Process: After the application deadline the APP/DOE-AIR staff will screen applicants to establish a qualified candidate pool to be considered for these commissions; candidates must meet selection criteria in order to qualify. These pre-qualified artists will be presented to the Art Advisory Committee. The AAC for each school is composed of six members, including the school's principal, one teacher, one student, one community member, a visual art consultant, and HSFCA Commissioner. After interviewing the candidates and reviewing proposals, the AAC will recommend candidate(s) to the HSFCA Board of Commissioners.

Contact us: Please direct questions to Trisha Lagaso Goldberg, Art in Public Places Project Manager, at trisha.lagaso.goldberg@hawaii.gov. All information contained herein does not constitute either an expressed or implied contract and these provisions are subject to change.
Print this Page
View Legal Agreement