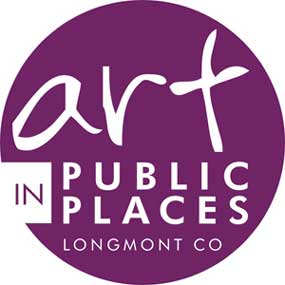 Art on the Move 2018-19
400 Quail Road
Longmont, Colorado 80501
Contact Email:
lauren.greenfield@longmontcolorado.gov
Call Type:
Public Art
Eligibility:
Regional
State:
Colorado
Event Dates:
1/1/17 - 1/1/17
Entry Deadline:
2/2/18
Application Closed
REQUIREMENTS:
Media
Images - Minimum: 3, Maximum: 10
Total Media - Minimum: 3, Maximum: 10
Art on the Move will embark on its 14th year bringing loaned artwork from Colorado artists to the City of Longmont for a year of creativity, enhancement and color for all to enjoy.
In 2017- 2018, 11 sculptures by 10 Colorado artists were exhibited, our largest exhibit of temporary artwork to date. In 2018, we are looking to exhibit up to 10 sculptures throughout the City, with a concentration in St. Stephen's Plaza, our original location for Art on the Move, which houses five pedestals. The remaining five locations are spread throughout the City.
Citizens and visitors appreciate Art on the Move because it provides an opportunity to view and experience a variety of new pieces each year. AIPP enjoys Art on the Move as it introduces more and more new Colorado artists to Longmont each year! Artists love it because it's great exposure AND they have the opportunity to receive one of three (cash) awards, in addition to receiving a stipend!
Artwork must be durable and able to withstand all weather conditions. All media will be considered; however, all work submitted for review must adhere to the space criteria as the available pedestals are of set sizes.
Up to 10 works of art for the following locations will be selected for Art on the Move in 2018-2019:
St. Stephen's Plaza (up to five at this site): On each of three pedestals, circular steel plates have been installed on concrete; each is the same size. Two of the pedestals are concrete and may be drilled into to secure artwork.
Longmont Waste Diversion Center (1): 36" steel base. (preferred site for re-cycled, re-purposed materials)
Kensington Park along Third Avenue (1): Concrete pedestal(s) or steel base.
Library/Civic Center Plaza (1): 20" x 32" Concrete pedestal.
Recreation Center – concrete sidewalk or pedestal.
Roosevelt Park – exact location TBD
Pedestal dimensions – St. Stephens Plaza
BONUS:
We have one empty pedestal in St. Stephen's Plaza that we'd like to fill NOW!! If you have a sculpture that meets all of our criteria and is available for January installation, please identify that sculpture as "available 1/18." Submissions for this unique opportunity must be received before January 10; sculpture will be displayed from late January 2018 until July, 2018. We are "piggybacking" this empty pedestal onto the rest of the Art on the move 2018-19.
Theme:
There is no theme this year. We encourage artists to propose artwork that is interactive, kinetic or is self-illuminating.
Submission requirements:
Colorado Artists are invited to submit up to three different pieces to be considered for AOTM. Please submit up to three images (or drawings) for each piece proposed. Please submit only images of proposed work; we are not looking for images of past work at this time and will only request it if we need it.
Criteria:
The Art in Public Places Commission is seeking to display unique and original artwork of a diverse range. All artwork must be size/scale appropriate; work will be installed on the various bases/pedestals as described and must be "transportable" after the 12-month period. All media appropriate for outdoor locations will be considered. No additional lighting will be provided for any of the artwork. Artwork must be appropriate for public display, and will not be considered if any offensive, religious, or political messages may be interpreted. Note: Longmont loves interactive artwork!
The selection panel will consider the following criteria in its review of submitted artwork: appropriateness, durability, uniqueness, compatibility with site, and safety. The AIPP Commission is seeking quality work that is durable and can handle extreme weather conditions, which may include intense sunlight, high winds, and freezing temperatures mixed with ice and snow. "Sunlight" or "exposure" considerations will not be made for individual pieces that might fade. Artists may submit work that is completed and available or work to be fabricated before the installation date of July 2018. Artwork may be available for sale and will be referenced as such on the City's AIPP website.
Select artists will receive a stipend of $750 per piece after delivery and installation of the artwork. No additional funds are available for transport of artwork. The City of Longmont will be responsible (physically and financially) for installation of all artwork. The artist is responsible for delivery of the artwork and for pick up following the terms of the contract.
Submissions:
Submissions will be accepted on callforentry.org
All submissions must include the following information:
Up to three different works of art available, and a maximum of three (3) images of each piece.
Letter of interest and/or artists statement (limit 400 words, please).
Resume or CV.
Annotated image list with the following: title, year, medium/materials, dimensions of artwork, current location (if applicable), cost, and approximate weight of piece, date of availability (if appropriate)
Dimensions of base; preferred/intended installation method for each piece must be included. A sketch or photo with dimensions is preferred.
Contact information with name, physical address, email address, phone, and website!
Questions may be addressed to lauren.greenfield@longmontcolorado.gov
Timeline:
December 2017 – Call to artists goes live
Thursday, February 2, 2018, Submission deadline.
Late February 2018 – Selections made, all artists notified.
March/April 2018 – Contracts written and signed.
Late June/early July 2018 – Delivery of completed artwork and installation.
July 14, 2018 – Dedication of all AOTM 2018-2019 artworks.
June 2019 – Art is de-installed and artwork is returned to the artists.
To view current installations, as well as photos of pedestals, please see http://www.longmontcolorado.gov/departments/departments-a-d/community-services-department/art-in-public-places/art-on-the-move
Print this Page
View Legal Agreement