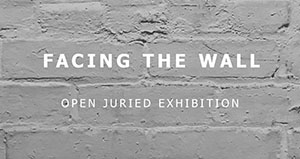 Facing the Wall


Mailing Art League Rhode Island, One Avenue of the Arts, Providence, RI 02903


Event Dates: 3/9/18 - 5/26/18
Entry Deadline: 2/21/18
Application Closed

REQUIREMENTS:

Media
Images - Minimum: 1, Maximum: 3
Total Media - Minimum: 1, Maximum: 3

Entry Fee (Facing the Wall Entry Fee): $25.00



Walls have delineated nations and cities throughout human history. Walls define what is inside as separate from what is outside, and while this definition can begin as simply geographical or in the name of safety, it invariably includes a defining of identity. Whatever the motivation, walls identify what is within them and what is outside them, placing limits on both. We are now in an era of new walls - walls built on the borders of nations, ideologies, cultural and personal identities. Whether attempting to break through, climb over, dig under, circumvent, use as a canvas, or decorate, artists respond to the walls that confront them. Facing the Wall will display work that calls to attention the ways people confront the walls in their lives.

Please read this prospectus carefully and only consider submitting work if you can comply with the requirements and timetable outlined in this document.

IMPORTANT TIMELINE DATES

Exhibition: Friday, March 9 - Saturday, May 26, 2018
Registration Deadline: Wednesday, February 14
Reception and Awards: Thursday, March 29, 2018 5:30-8pm
Pick-iup: Tuesday, May 29, 10am-3pm & Wednesday, May 30, 12-5pm
Notification of Acceptance: On or before February 27 via email. No inquires please. All decisions are final.

Juror: Julia Samuels of Overpass Projects

Awards:
1st Prize $300
2nd Prize $200
3rd Prize $100

ALRI has an 18-year history of supporting artists and the arts, and is honored to be one of five resident arts companies in The VETs Memorial Auditorium complex. The VETs Gallery is part of the recently renovated VETs Memorial Auditorium complex, a state of the art performance facility. Thousands of visitors view the Gallery's juried and invitational visual art exhibitions. Adjacent to some of Providence's best shopping areas, restaurants and hotels, the ALRI-managed Gallery is close to the Rhode Island School of Design and Brown University.

Overpass Projects is a fine print publisher based in Providence, RI run by artist and master printer by Julia Samuels. Overpass Projects is dedicated to preserving antiquated techniques of printmaking through contemporary practice, and Overpass strives to work with individual artists from all backgrounds and mediums, innovating new applications of printmaking, bridging divisions between techniques and discipline, further asserting the relevance of fine printmaking within the ever-changing context of contemporary art.

Eligibility: Any artist who is at least 18 years or older may participate to the extent that their participation is allowed under law.

Artwork: All 2D and 3D media is eligible.

No video entries will be accepted. Artwork previously exhibited with ALRI is not permitted. All work must be original. Work found to be copied from copyrighted work will not be hung. Reprints are not permitted. All work must be exhibition ready to install with the appropriate hardware. No saw-tooth hangers or clips. No dark colored mats. Work that does not adhere to the guidelines, or is deemed not to be a faithful representation of the image submitted, will not be exhibited. Artwork must be appropriate for viewers of all ages.

Submittal Fee: Artists may submit up to 3 images for $25.

All CAFE fees are non-refundable and must be paid by credit/debit card. Payment of those fees indicates the acknowledgement of the terms and conditions of the exhibition.

Want to become an ALRI Member? ALRI membership offers many benefits to artists. If you would like to explore ALRI and join as a Member, please go to the link, www.artleagueri.org, and click on the "Learn More" button in the "JOIN" box.

Size Limit: Maximum size up to 36" wide and 40" high including the frame. Artists may have multiple pieces (diptych, triptych etc.) to make up one work. 3D work will be moved on a regular basis for events. We ask that the overall footprint of 3D work be 24" x 24" or less with a weight limit 35 lbs.

Installation Pieces: Must include a detailed description of any electrical, lighting, or space requirements.

In-Person Delivery of Accepted Work: All in-person deliveries will be made Monday, March 5, 10am- 3pm & Tuesday, March 6, 12-5pm, at The VETS Gallery on the 3rd Floor of the Veteran's Memorial Auditorium in Providence. Access is provided via the street level entrance at 83 Park Street at the rear of the building. Parking is available either on the street, or in the Providence Place Mall parking garage. Anyone delivering artwork in person must remove any packing materials used from the Gallery. Please DO NOT use Styrofoam peanuts or their equivalents in packing. Accepted work MUST remain in the Gallery for the duration of the exhibit.

Shipment of Accepted Work: Shipped deliveries must arrive at a designated UPS facility in Rhode Island by March 4, based on specific instructions that will be communicated via e-mail to those artists whose work is accepted. Each box shipped must be accompanied by a prepaid, return shipment label which is placed in an envelope inside the box. Please make sure that the box and materials that you use will adequately protect your work, and DO NOT use Styrofoam peanuts or their equivalents in packing. A $15 ALRI handling fee will be required for each box shipped. Accepted work MUST remain in the Gallery for the duration of the exhibit.

Return of Work: Participating artists who delivered their art in person will pick it up on Tuesday, May 29, 10am-3pm or Wednesday, May 30, 12-5pm. Those who shipped their art will have it returned to them in the packaging in which it was sent using its prepaid return shipping label.

If ALRI, UPS, or other carrier determines that the packaging is not adequate to safely ship the art back to the artist, ALRI will contact the artist. The artist must notify ALRI in writing of any changes in their contact information, or their intended place or time of return of their art, prior to the end of the exhibition. The artist is solely responsible for any time, materials, storage, shipment, or other charges that may arise from inadequate packaging, delayed or redirected shipments, nonresponse of the artist, or any other artist requests. All additional charges must be paid prior to the return of the art.

Sales & Commissions: Sales are encouraged. Work may be for sale or listed as not for sale (NFS); however, no work may be listed as Price on Request (POR). Prices provided by the artist should reflect the 30% (members), 40% (non-members) commission taken by ALRI on all artwork sold. Artists will be paid their 70% (members), 60% (non-members) percentage of the sale by ALRI within 30 calendar days after the exhibition closes.

Questions: Contact artleagueri@gmail.com or call (401) 861-0500. To learn about other ALRI exhibits and programs, visit www.artleagueri.org.