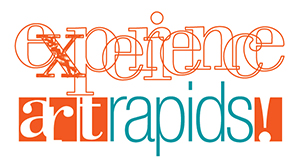 Experience Art Rapids!


Experience Art Rapids
PO Box 301
Elk Rapids, MI 49629


Event Dates: 6/9/18 - 6/22/18
Entry Deadline: 4/15/18
Application Closed

REQUIREMENTS:

Media
Images - Minimum: 1, Maximum: 10
Video - Minimum: 0, Maximum: 5
Total Media - Minimum: 1, Maximum: 10

Entry Fee (Experience Art Rapids!): $35.00



Experience Art Rapids! will hold its 2nd annual art competition and exhibition from June 9 – 22, 2018. It will be held in the Village of Elk Rapids with local businesses and public spaces hosting some of the region's finest artists. Elk Rapids is located on the shores of beautiful Grand Traverse Bay.

The type of artwork accepted this year will include all mediums in 2D and 3D and must be original works of art. Outdoor spaces will be available for sculptural works. The public will be guided through the event with a map and signs identifying participating venues. The maps will be available at our information center as well as each venue.

Cash prizes totaling $7,000 will be awarded. Winners will be selected by both a People's Choice Ballot & Juried Awards:

· $3,500 Juried Awards:

A jury of three will select a short list of the top five pieces with an award of $2,500 for Juror's Best of Show and a $250 award for each of the remaining four.

· $3,500 People's Choice Awards:

The People's Choice Awards will be determined by public ballot. Event attendees will have an opportunity to vote for their favorite works of art. A ballot form will be included in the event map and ballot boxes will be available at multiple event venues. A $2,500 cash prize will be awarded for first place and a $250 award for each of four individual works receiving the next highest vote count.

The event will conclude with an awards party on June 23rd and all artists will receive an invitation to join in celebrating the winners of the Juried Best of Show and People's Choice awards. Attendance is optional.

Sale of Artwork:

Artist must indicate within application if individual pieces are available for sale. Art Rapids takes a 20% commission and handles all sales transactions, including collection and submission of sales tax, during the event. Artwork must remain in the exhibition throughout the entirety of the event. Art Rapids will make arrangements for the customer to pick up artwork at close of the exhibition and will make shipping services available to the customer at cost. Please include the 20% commission when pricing your work or indicate "NFS" if the artwork is not for sale. Disbursements of sales proceeds (less commission & sales tax) will be made by check to artists within 3 weeks after the exhibition closes.

Entry Fee: $35.00 non-refundable fee per application for up to 5 submissions. Payment due upon submission.



Eligibility:
Must be 18 or older

Must be original works of art

No work will be accepted into this show which is in violation of any copyright.
Selection Criteria:
Artistic quality will be the main selection criteria. Our goal is to be as inclusive as possible with a focus on creating a cohesive and engaging show. Our strategy is to match art and venues to the best advantage of both, grouping artists that either compliment or create dialog through contrast with each other. A large number of entries means we have to make difficult choices. While we may not be able to include all the submitted work, we will strive to showcase each artist to the best of our ability.
Please note that if not all or any of the pieces are selected, the entry fee is non-refundable.
Submission Materials:
Images of submissions with titles

Type of media

Framed size of piece (length, width, depth)

Notification if artwork is for sale. If so, then price MUST include Art Rapids! 20% commission
Timeline:

April 15, 2018: Application Deadline
May 1, 2018: Notification to Artist of Acceptance
June 4-8, 2018 Installation Dates (accepted artists will be notified of their installation date or given contact info to make installation arrangements with venue.)
June 9-22, 2018: Experience Art Rapids! Exhibition
June 23, 2018: Awards Party (attendance optional)
July 13, 2018: Deadline for Artist reimbursement of sold artwork