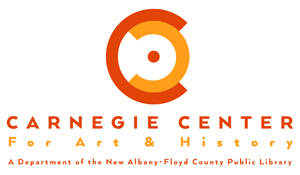 2018 Form, Not Function: Quilt Art at the Carnegie


201 E Spring St
New Albany, IN 47150


Event Dates: 5/25/18 - 7/30/18
Entry Deadline: 3/15/18
Application Closed

REQUIREMENTS:

Media
Images - Minimum: 1, Maximum: 6
Total Media - Minimum: 1, Maximum: 6

Entry Fee (Carnegie Center for Art & History Entry Fee): $35.00



​2018 Form, Not Function: Quilt Art at the Carnegie

Calendar:
March 15, 2018, 11:59:59 PM Mountain Time Zone:

Entry deadline

March 16 – 30, 2018:

Jurying process

April 3, 2018:

Notification of acceptance

April 29 – May 5, 2018:

Accepted works received at Carnegie Center

May 25, 2018:

Opening reception

May 25 – July 21, 2018:

Exhibition dates

July 30, 2018:

Works available for pickup

August 6 - 10, 2018:

Works shipped on or about
Cash Awards:
$1,000 Suellen Wilkinson Best of Show sponsored by Carnegie Center Inc.

$500 Award of Excellence presented by Schmitt Furniture

$500 Award of Excellence presented by the Louisville Area Fiber and Textile Artists

$300 Award of Excellence presented by River City Fiber Artists

$100 Award for Creative Use of Stitching presented by the Southern Indiana Quilt Guild

$100 Award for Political and Social Commentary

$100 Inspired by Nature Award

$50 Visitors' Choice Award

Plus additional Awards of Merit

Jurors: The exhibit is juried each year by a rotating panel of fiber artists & experts, who consider the originality, design, technique, and craftsmanship of the submitted works. The 2018 jury includes:
Rachael L. Baar is the new staff curator at The National Quilt Museum in Paducah, Kentucky. She is one of the leaders for a team that is responsible for the art content of the museum. In addition, she directs the installation for all incoming exhibits, manages the current exhibits, and maintains and preserves the permanent collection of over 600 quilts. Previously, Rachael was the director of the Preston Arts Center in Henderson, Kentucky and after 21 years, retired last spring to relocate to Paducah.
Paula Kovarik received her Bachelor of Arts in graphic design from Southern Illinois University at Carbondale. After a successful career as owner and creative director of a graphic design firm, Paula has returned to her art. Her work has been recognized by professional associations such as Quilt National, Studio Art Quilt Associates, the Schweinfurth Art Center. Paula lives and works in Memphis, Tennessee. Her work has been published in a number of magazines including American Craft, Art Quilting Studio and Fiber Art Now.
Aaron McIntosh grew up in Kingsport, TN, a factory town in the Appalachian foothills of East Tennessee. A fourth-generation quilter, his family's working class environment and domestic life figure large in his visual vocabulary. In his work McIntosh explores the intersections of material culture, family tradition, identity-shaping, sexuality and desire in a range of works including quilts, collage, drawing, sculpture and furniture. His areas of research include identity politics, Appalachian history, queer theory, material culture studies, and critical craft theory.
McIntosh's education includes a BFA from the Appalachian Center for Craft and a MFA from Virginia Commonwealth University. His exhibition record includes numerous solo and group exhibitions, including Quilt National '09, Queer Threads: Crafting Identity & Community at the Leslie Lohman Museum of Gay & Lesbian Art in New York, Man-Made: Contemporary Male Quilters at the Craft and Folk Art Museum in Los Angeles, and most recently Queering the Bibliobject at the Center for Book Arts in New York. His personal essays and critical reviews have appeared in the Brooklyn Rail, Hyperallergic and the Journal of Modern Craft. McIntosh holds numerous awards, including two Windgate Fellowships (2006 & 2015), a Maryland State Arts Council Individual Artist Grant (2013), and a Richmond-based CultureWorks community engagement grant (2017).
McIntosh currently lives in Richmond, VA, where he teaches Fiber/Textiles in the Craft/Material Studies Department at Virginia Commonwealth University.
Eligibility: Form, Not Function is an annual juried exhibit of contemporary quilt art held at the Carnegie Center for Art & History in New Albany, Indiana. All works must be quilted (two or more distinct layers held together with stitches). The layers may include fiber and textile materials, but this is not required and other techniques and mediums are acceptable as long as the work is quilted, as defined above. We reserve the right to reject entries that do not meet this criterion. The exhibit is open to artists, age 18 or older, living in the United States. Collaborative works made by multiple artists are eligible. Works must be ready to hang on the wall, including the hanging rod. Works must be original and completed since January 1, 2015. There is no minimum or maximum size. (Gallery walls are 12 feet high. Works cannot be suspended from the ceiling.) Three-dimensional works (including those mounted on stretchers) are eligible, but must be ready to exhibit on the floor, on a pedestal or include hardware for wall display.
Entry Fee: $35.00 for up to three (3) works (represented by up to 6 images).
Entry Information: Entries will only be accepted online through www.callforentry.org
No more than one work by an artist will be selected. For each work entered, submit only two digital images of the completed work, one full view (showing all edges of the work) and one detail view (showing the stitching and details characteristic of your work). Entries that include more than two images for a single work will not be accepted. Images must be of the actual, completed artwork, rather than digital or other images used in the work. Please label detail images as such. Include title, media, dimensions and price with each image. You must also submit the completed application, correct entry fee, an artist statement and biography (each 3,000 characters maximum). Complete entry materials must be submitted online by March 15, 2018 at 11:59:59 PM Mountain Time Zone. Artists will be notified of acceptance on April 3, 2018.
Digital Images: See media preparation information at: www.callforentry.org/image_prep.phtml
Image quality and color correction is extremely important and we advise that artists seek the services of a professional photographer. Backgrounds should be black, white, gray or earth tones with no text. We reserve the right to reject entries that are not accurately represented by the images. Accepted artists will be asked to provide high-resolution images for printing. We reserve the right to use images of the work for publicity and educational purposes.
Insurance: The Carnegie Center for Art & History will insure all works from the time they arrive on site until they leave our premises. Artists should insure their works while in transit both directions. In the event of loss or damage, it will be the artist's responsibility to provide documentation concerning the value of the work and the extent of the claim.
Display: All work must be received ready for hanging, including the hanging rod. Three-dimensional works (including works mounted on stretchers) must be ready to exhibit on the floor, on a pedestal or include mounting hardware for wall display.
Sales: We encourage artists to offer their works for sale. The Carnegie Center, Inc. will retain a 40% commission on any work sold during the exhibition at the Carnegie Center for Art & History or any sale that results from mediation by Carnegie Center staff or volunteers.
Shipping & Receiving: Artists are responsible for all shipping costs. The work must be shipped via Fed EX or UPS and a PRE-PAID return-shipping label must be enclosed with the work. Works not including a pre-paid return-shipping label may be excluded from the exhibition. Works should be shipped in a substantial, reusable container. The Carnegie Center will not be responsible for any damage due to incorrect packing or an insufficient container. Any specific packing instructions or requests should be included in writing in the shipping container. All works will be handled with care and returned in the original packing materials. Accepted works should arrive at the Carnegie Center from April 29 – May 5, 2018 between the hours of 10:00 – 5:00. Works will be available for pick up on July 30, 2018 between 10:00 – 5:00 and works will be shipped on or about August 6 - 10, 2018. Please call ahead to 812-944-7336 if you plan to deliver or pick up your work in person.
Terms and conditions: By submitting work to this competition, the artist agrees to all terms and conditions listed in this prospectus.
Mailing address: Carnegie Center for Art & History, 201 East Spring St, New Albany, IN 47150
Questions? Contact Daniel Pfalzgraf, Curator, 812-944-7336 or dpfalzgraf@carnegiecenter.org