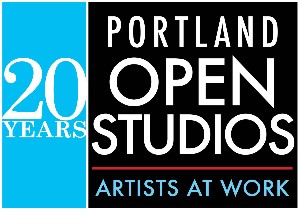 20th Annual Portland Open Studios
Portland Open Studios
PO BOX 31077
Portland, OR 97231
Contact Email:
apply@portlandopenstudios.com
Call Type:
Unspecified
Eligibility:
Local
State:
Oregon
Event Dates:
10/13/18 - 10/21/18
Entry Deadline:
3/9/18
Application Closed
REQUIREMENTS:
Media
Images - Minimum: 3, Maximum: 4
Total Media - Minimum: 3, Maximum: 4
Entry Fee (20th Annual Portland Open Studios): $30.00

Portland Open Studios is a juried studio tour of ~100 artists in the Portland metro area, providing a unique opportunity for artists to open their studios to the public. Now in our 20th year, Portland Open Studios is an important and anticipated annual arts event that attracts visitors from the community and beyond. The Tour is a free event; attendees may purchase a printed Tour Guide or Mobile app and a free Mobile app is also available.
IMAGES
Required: 3 artwork images
Optional: 1 "at work" image.
The "at work" image will preferably show the artist in the process of making their work. These "at work" images may be used in advertising, on tour materials, on the Portland Open Studios website, or as part of our educational efforts. The "at work" image will not be scored by jurors.
Artists may only submit three artwork images; any application with a fourth artwork image will be marked 'Incomplete' and may be disqualified from jurying if not corrected upon request.
All images need to conform to CaFE standards:
File format: JPEG only
File dimensions: No smaller than 1920 pixels on the longest side
File resolution: 72 ppi/dpi (standard web resolution)
File size: 5 MB maximum
FEES
Collected upon acceptance
Participation Fee - $250
(The participation fee funds all of Portland Open Studios' advertising budget the tour guide, and some general operating costs)
TIMELINE
March 9, 2018 midnight mountain time, Submission Deadline
April 1, 2018 Selection Notification to artists via email
April 23, 2018 - Artists Meeting at Lagunitas – Get to know your fellow Portland Open Studios artists. Receive relevant information about the tour and other events for the year.
June 19, 2018 - Artists Meeting – General Artists Meeting at Lagunitas
September – Artists Kick Off Party – Yard sign distribution. Join us for food, drinks, and more.
October 13-14 & 20-21, 2018 Weekend dates of studio tour. Studios open 10-5.
JURY PROCESS
Three jurors from Portland's arts community view and score each applicant's submitted images. The combined scores determine which artists are invited to participate.
The percentage of previous participants admitted will not exceed 65% of total participants.
In the event of tied scores at the threshold to acceptance, past behavior as a participant may be evaluated (i.e. being a super volunteer, rules violations, etc.).
2018 JURY
To be announced.
ELIGIBILITY
-Open to all visual media except film.
-Artists are required to open their studios* and demonstrate their working methods all hours of both weekends. Artists must show an educational element, such as documentation of methods or demonstrations of technical and creative processes.
-Open to residents of Clackamas, Multnomah, and Washington Counties.
-Artists may self-promote in any manner as long as any mention of their studio address includes information about Portland Open Studios.
*A studio is any workspace which the artist is permitted to open to the public and where the artist can demonstrate their working methods - Living rooms, Parent's garages, etc. are all permissible. If the artist is uncertain of where they will be in October they should not apply.
SCHOLARSHIP
Kimberly Gales Emerging Artist Scholarship:
Artists 20–30 years of age are encouraged to apply for the Kimberly Gales Scholarship to Portland Open Studios. Recipient will have their participation fee waived and will receive a $100 stipend. See application for details about additional requirements.
BENEFITS
-Expand your audience and deepen relationships with established followers by demonstrating your methods and sharing your work
-Artwork and contact information published in a full color Tour Guide, which is distributed throughout the region.
-Artwork and contact information published in our iPhone and Android Mobile apps.
-A dedicated page on our website featuring three images, website link and artist statement
-The use of signs directing people to your studios during the tour.
-A minimum of two free workshops providing Tour information, professional tips, and the opportunity to connect with other artists
-Announcements about you and your work published in the Portland Open Studios blog from April 2018 until March 2019.
-Coordinate self-promotion with Portland Open Studios' marketing efforts.
-Artists may sell their work, be invited to exhibitions, become the subject of news articles, or asked to teach classes as a result of being in Portland Open Studios
- We will offer our teaching guide on the website.
Print this Page
View Legal Agreement