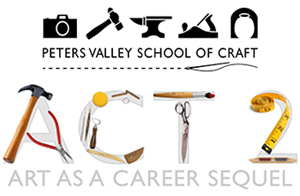 Act 2: Art as a Career Sequel
Peters Valley School of Craft
19 Kuhn Rd
Layton, NJ 07851
Contact Email:
gallery@petersvalley.org
Call Type:
Exhibitions
Eligibility:
International
State:
New Jersey
Entry Deadline:
3/1/18
Application Closed
REQUIREMENTS:
Media
Images - Minimum: 2, Maximum: 5
Total Media - Minimum: 2, Maximum: 5
Entry Fee (Act 2: Art as a Career Sequel): $25.00

Media Fee (per sample over minimum):$10.00

ABOUT
Artists find their calling at all different stages of life, some early on and others further down the road. This exhibition celebrates the determination and passion of those who have pursued an artistic path after initially choosing another career or field of study.
The exhibition will be held in spring 2018 at Peters Valley School of Craft's Sally D. Francisco Gallery. Peters Valley is one of the country's premier craft schools, offering immersive summer workshops for beginners to professionals taught by prominent artists in eight professional studios. We are a not for profit 501c(3) organization established in 1970 in partnership with the Delaware Water Gap National Recreation Area in New Jersey.
JURORS
Jennifer Adele Zwilling
is the Curator of Artistic Programs at The Clay Studio in Philadelphia. She joined The Clay Studio in January 2015 from the Philadelphia Museum of Art where she was most recently Assistant Curator for American Decorative Arts and Contemporary Craft. She taught History of Modern Craft at Tyler School of Art for ten years as well as American Art History at the Pennsylvania Academy of the Fine Arts. Ms. Zwilling is especially interested in fostering connections between traditional craft media and contemporary artists. Through her scholarship and curatorial projects she explores the intersections between rich historical cultural traditions and vibrant contemporary artistic life.
www.theclaystudio.org
Brienne Rosner
is the Gallery Director of both the Retail Gallery and Sally D. Francisco Exhibition Gallery at Peters Valley School of Craft. She is also a studio artist living and working in East Stroudsburg, PA. Brienne received a BFA in Painting with a minor in Art History from Boston University. Workshops at Peters Valley have helped expand her work into mixed media with a focus on jewelry. She has exhibited in solo and group exhibitions nationally. She was recently awarded the Louise K. Binswanger Prize for Best Artist New to the Show at the 40th Annual Philadelphia Museum of Art Contemporary Craft Show.
www.briennerosner.com
CALENDAR
March 1, 2018:
Entry Deadline
March 12, 2018:
Notification will be sent via email
April 1, 2018:
Work is due at Peters Valley School of Craft
April 14, 2018:
Exhibition opens with a Reception from 5pm-7pm
May 20, 2018:
Exhibition closes. Unsold works will be shipped or can be picked up after this date. Please review this prospectus for details.
ELIGIBILITY
Work must be original and created by the applicant. Open to 2- and 3-dimensional work (including but not limited to: painting, drawing, photography, printmaking, collage, paper, encaustic, ceramic, wood, metal, jewelry, glass, textiles, fiber art, mixed media, functional or sculptural). Entry in this exhibit establishes an agreement on the part of the applicant to all conditions listed in this prospectus. Open to emerging and established artists residing and working in the United States. Please keep in mind that exhibition space is limited; however, work that cannot be accommodated in the physical exhibition may still be considered for the online exhibition and printed catalog.
ENTRY FEE
There is a $25 application fee for two entries, non-refundable. Applicants may submit up to three additional entries for $10 each.
Proceeds from this fee support Peters Valley's education programs.
SHIPPING
Artist assumes shipping costs to Peters Valley School of Craft (PVSC). Artist assumes shipping costs for the return of unsold work from PVSC. Work may be delivered and retrieved in person by appointment. We request artists provide a pre-paid return shipping label in the box. All original packaging will be kept for return shipping.
INSURANCE
Insurance is provided by PVSC for the wholesale value of the object while it is our possession up to $5,000. Artists shall provide insurance coverage for work while in transit to and from PVSC. PVSC is not responsible for work until it is actually received & consigned. Hand delivered work is insured only while on PVSC property. PVSC is not responsible for the return packing, shipping or value of artwork which requires special needs unless prior arrangements have been made between Artist and PVSC, noted in writing and signed by both parties. Special needs for purposes of this paragraph shall include, but will not be limited to, oversized objects which cannot be shipped via United Parcel Service or the United States Postal Service, weights in excess of 100 pounds and/or perishable items of any manner associated with the artwork.
SALES
A 40% commission on the retail selling price established by the Artist shall be retained by Peters Valley School of Craft. Any membership, collector or other discount granted by PVSC shall be charged against PVSC's commission.
Work does not need to be for sale. For works submitted that are not for sale, put NFS along with an insurance value where prompted to provide the price.
PUBLICITY
PVSC assumes the cost of publicity. Such publicity, including selection of media and photographs, will be made at the discretion of the Executive Director of PVSC. Publicity may include: mailing and distribution of any show announcements, press releases to the media, gallery interpretive displays or other didactic material associated with the exhibition, advertisements in newspapers and other publications if any are warranted.
Additionally, a catalog will be produced for the exhibition. Copies will be available for purchase.
PHOTO IMAGERY & STATEMENT
The Artist grants permission to use submitted images and statement as well as any images of your work created by PVSC for publication and promotional purposes regardless of whether they will appear in the physical exhibition, including any documentary products produced and made available for sale.
PVSC shall have the right to publish any such photographs and statements furnished by the artist with no payment to the artist or the photographer who produced the image. Artists must secure publication permission from the photographer if copyrighted; and provide the same to PVSC.
Print this Page
View Legal Agreement