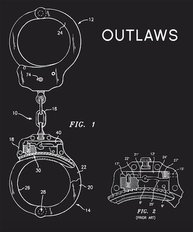 Outlaws


209 Castlewood Drive, Lexington, Ky, 40505


Entry Deadline: 2/17/18
Application Closed

REQUIREMENTS:

Media
Images - Minimum: 1, Maximum: 6
Audio - Minimum: 0, Maximum: 6
Video - Minimum: 0, Maximum: 6
Total Media - Minimum: 1, Maximum: 6

Entry Fee (Outlaws): $20.00



The Lexington Art League is seeking submissions for Outlaws, an exhibition curated by Po' Boy Art Collective which aims to explore themes of "Outlaws" in historical, pop culture, modern, and conceptual ideas.

Outlaws by all accounts are people who live outside of the law. The duality of the word works on many levels, wavering between good and evil and finding a balance between the two. Outlaws may be working for what is right while it may be considered against the law or outside social norms.

Eligibility:
National. Open to all artists regardless of location, media, or experience level.

Fee:
$20 entry fee.

Residents of Kentucky, Indiana, Tennessee, Virginia, West Virginia, Missouri, Illinois, and Ohio may use coupon code 'LocalArtist' to wave submission fee upon checkout on Cafê.


Conditions: Artists are required to deliver artwork to the Lexington Art League, 209 Castlewood Drive, Lexington, KY, 40505, by 5pm, March 12th, 2018

Artists picking up their artwork are required to do so between 5/3/18 - 5/5/18 from 10am and 4pm.

If art is shipped to the gallery, the artist is responsible for shipping costs to the gallery. Return shipping will be paid by the Lexington Art League.

All accepted work must be ready to hang or display. Artists must provide written installation instructions for any artworks requiring special handing or installation methods.

Artists may choose to make their work available for sale. This is not a requirement. All sales will be managed by the Lexington Art League for a 30% commission of the sale price.

Only residents of Kentucky, Indiana, Tennessee, Virginia, West Virginia, Missouri, Illinois, and Ohio are eligible for free submission coupon code. Submitting artists who are not residents of the above mentioned states who use the code for free entry will be removed from the jury process and not be able to exhibit.

Submission Requirements: All submissions should be made through Café (callforentry.org)

Artists may submit up to six works of art for consideration. Each work may be considered separately, unless otherwise noted by artist that works must be shown as a complete collection.

Please keep the number of files submitted under 6 files (images at 300DPI/PPI.) Include image list with size, title, media, and date, artist statement, bio, and resume. No online cloud drive submissions will be accepted. Audio/video, files should be sent as embedded .html links.

Submitted applications must be received by February 17th, 2018. A contract will be sent upon acceptance. Contact ldennison@lexingtonartleague.org with any questions.