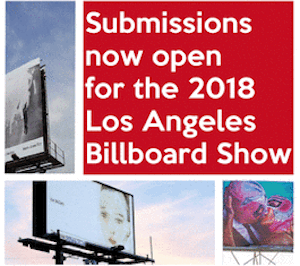 2018 Los Angeles Billboard Exhibition
Entry Deadline: 3/18/18
Application Closed

REQUIREMENTS:

Media
Images - Minimum: 1, Maximum: 6
Total Media - Minimum: 1, Maximum: 6

Entry Fee (First Image Fee): $27.00
Media Fee (per sample over minimum): $7.00

THE BILLBOARD CREATIVE IS EXCITED TO ANNOUNCE THE OPENING OF SUBMISSIONS FOR ITS 2018 LOS ANGELES BILLBOARD EXHIBITION.

The Billboard Creative is an all-volunteer nonprofit that produces public art shows on billboards in Los Angeles. TBC has appeared in such news outlets as "Huffington Post", The Creators Project and KCRW's "Art Talk" just to name a few. We are excited to open the call for submissions for the 2018 exhibition. Selected work will be displayed on billboards throughout Los Angeles. Imagine your art viewed on a massive scale, by tens of thousands of Angelenos on their daily commutes. Public art displayed in a quintessential Los Angeles medium. Open Internationally to all disciplines - if you can put it on a digital file we can put it on a billboard. Check out the website for examples and locations. Submission information below.

Submission Information:
Deadline: March 15, 2018
Selected artists will receive their own billboard in Los Angeles for one month
Pay the $27 dollar fee for first image $7.00 for each additional image up to 6 images. (CC or PayPal)
To ensure an easy and safe submission process, TBC use Call for Entries to accept images and payment.
Upload Image.
After submissions close Curator Andrea Blanch, founder and editor in chief of Musee Magazine, will conduct a blind-review process to select the pieces that will be included in the exhibit.
Deadline: March 15, 2018.
Open to artists from all countries.
We accept many forms of art - if you can get it on a digital file* we can put it on a billboard. There are great examples of paintings, sculptures, mix media etc. on the gallery page. *(Sorry, we still aren't accepting video or audio works at this time.)
TBC is an all-volunteer nonprofit - all submission fees are used for the production and management of exhibitions - we have no salaried staff.
If your work is selected, TBC covers all expenses for the production, mounting, and leasing of the billboard.
Not all submissions will receive a billboard.
Everyone is eligible - if you are under 18 you must have a parent or legal guardian submit your work.
The Billboard Creative will not use your images for any commercial purpose outside the terms of the TBC show and publicity for TBC and its shows. Every image you submit is yours and you retain all rights to your images.
CHECK-OUT the website for full details and more about The Billboard Creative.