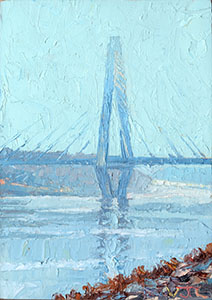 Elements


1600 Genessee St. Suite 161 Kansas City, MO 64102


Entry Deadline: 2/28/18
Application Closed

REQUIREMENTS:

Media
Images - Minimum: 1, Maximum: 4
Total Media - Minimum: 1, Maximum: 4

Entry Fee ( Elements): $15.00



"Elements" is a group show centered around the four elements of nature; earth, wind, water, and fire. The Vanessa Lacy Gallery is accepting any and all mediums and subjects, as long as they fit the "Elements" theme. Some themes include, but are not limited to, abstracts, landscapes, weather, prairie fire, nature, and river scenes. The deadline to submit to this call for entries is February 28th at 5pm CST. All artwork must be original and available for sale. After the entries have been juried, the accepted artists bring their work to the Vanessa Lacy Gallery March 3rd through 6th during our hours of business. Artists may also ship wotk to the Vanessa Lacy Gallery to arrive before March 6th. This show will have an opening reception from 5pm-9pm on Friday, March 9th and a closing reception April 7th from 10am-2pm.