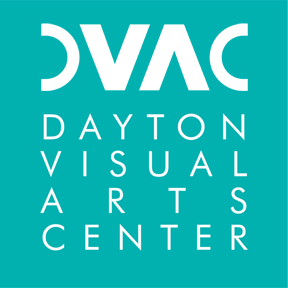 2018 DVAC Biennial Call for Exhibition Proposals
118 N. Jefferson St.
Dayton, OH 45402
Contact Email:
pmauk@daytonvisualarts.org
Call Type:
Exhibitions
Eligibility:
International
State:
Ohio
Entry Deadline:
9/4/18
Application Closed
REQUIREMENTS:
Media
Images - Minimum: 6, Maximum: 10
Audio - Minimum: 0, Maximum: 3
Video - Minimum: 0, Maximum: 2
Total Media - Minimum: 6, Maximum: 10
Entry Fee (2018 DVAC Biennial Call for Exhibition Proposals): $30.00

APPLICATION FEE: Each proposal is $30; this fee is waived for the first application received from any current Dayton Visual Arts Center member
CURRENT DVAC MEMBERS: Email Gallery Manager at pmauk@daytonvisualarts.org or call 937/224.3822 for DVAC Member Waiver Code you need to input at check-out
TO BECOME A DVAC MEMBER and receive exhibition and sales opportunities all year long, go to daytonvisualarts.org and click "Membership."
The Dayton Visual Arts Center is now accepting proposals for exhibitions for the 2019-20 and 2020-21 seasons. In addition to annual exhibitions and projects that highlight the work of member artists, the Dayton Visual Arts Center will schedule:
four to six exhibitions during each season; including one large solo show each year by a member artist; and

two exhibitions for its annual REACH (Realizing Ethnic Awareness and Cultural Heritage) Across Dayton collaboration with Sinclair Community College and EboNia Gallery.

REACH

celebrates our African American, Appalachian, Latino, Native American, and all other ethnic communities and the rich commonalities they share.
PURPOSE
The Dayton Visual Arts Center (DVAC) is committed to:
Presenting contemporary visual arts of the highest caliber

Showing a wide range of styles and media

Representing diverse viewpoints and cultural backgrounds

Encouraging interaction between artists and the general public
JURORS: TBA in July
PROCESS, ELIGIBILITY, MEDIA COVERAGE, EXPENSES AND PROGRAMS
A three-person jury will review images from curators and artists; their recommendations will go to the Exhibition and Program Committee, who then consider the full proposals. A schedule for two seasons is then approved by The Dayton Visual Arts Center's Board of Trustees. Although we are a member-based organization, non-members are encouraged to apply to this call. Exhibitions may be scheduled to be concurrent. The exhibition space is quite flexible and is appropriate for large pieces and site-specific installations. While the Dayton Visual Arts Center promotes local and regional artists through its programs and services, there is no geographic limit as to who may have an exhibit in the gallery. All printed materials and media releases will be prepared by the Dayton Visual Arts Center. During the spring prior to the beginning of the exhibition season (i.e. in May 2019 for work scheduled September 2019-June 2020), the Gallery Manager will request create a contract stipulating deadlines for an agreement to participate in the Opening Reception, Gallery Talk, and work delivery and pick up dates and request illustrated checklist, short bio, artist statement, statement about the body of work, Curriculum Vitae or Resume and critical reviews.
The Dayton Visual Arts Center manages for basic installation, an opening reception and direct mail publications to promote the exhibition. Any additional expenses (special installation furniture or lighting, publications, shipping, etc.) will not be covered by The Dayton Visual Arts Center unless approved in advance by the Board of Trustees. The Dayton Visual Arts Center insures work during exhibition, but not during transit. Sale of work exhibited in the gallery is encouraged, but we do not require that exhibited work be for sale. The gallery commission is 40 percent. Selected proposals will be rewarded a modest stipend, an illustrated color brochure with a critical essay, digital documentation and an opportunity for the exhibition to travel to additional venues throughout the state of Ohio. Education for artists and the general public is an important part of DVAC's mission. The organization actively seeks an audience for the work it shows and schedules gallery talks and other programs with visiting artists whenever possible.
ABOUT THE SPACE The gallery is 1,800 square feet and 200 feet of running wall space, including three moveable walls. The ceiling is 16 feet high, with 50 feet of wall space at that height; the rest of the walls are 10 feet high. Natural light comes in to the space through storefront windows with a west exposure. Exhibitions generally run between four and seven weeks. Exhibitions are sometimes expanded to include showing work offsite with community partners. The Dayton Visual Arts Center maintains professional standards in installation and presentation, but also serves as a multipurpose space for community events, lectures and receptions. Due to the nature of how this space is used, there may be some limitations on 3-D work. Artwork may need to be moved at times for events.
TIMELINE
December 15 Selected applicants notified of approved proposals
January-March Selected applicants offered an exhibition time slot
ABOUT DVAC
The Dayton Visual Arts Center (DVAC), a 501c3 established in 1991, helps sustain the arts community by providing a place to exhibit, market, and sell work and also helps satisfy the needs and wants of art-lovers who have a place to see artists' work and, often, meet the artists. At its core, DVAC advances art for the community and a community for artists.
DVAC receives operating support from the Ohio Arts Council, Culture Works, Montgomery County Arts & Cultural District, The Dayton Power & Light Foundation and the Virginia W. Kettering Foundation. Community Partner Members include Houser Asphalt & Concrete, LMG-Lunne Marketing Group, LWC Inc., Mousaian Oriental Rugs , Premier Health, Square One Salon & Spa and members.
Print this Page
View Legal Agreement