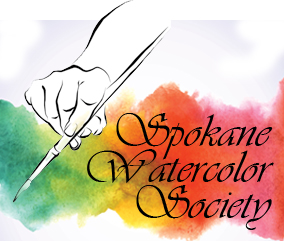 Spokane Watercolor Society 2018
Spokane Watercolor Society
12402 N Division St # 360
Spokane WA 99218
Contact Email:
gailjo51@gmail.com
Call Type:
Exhibitions
Eligibility:
National
State:
Washington
Entry Deadline:
7/20/18
Application Closed
REQUIREMENTS:
Media
Images - Minimum: 1, Maximum: 3
Total Media - Minimum: 1, Maximum: 3
Entry Fee (First Entry): $40.00

Media Fee (per sample over minimum):$20.00

Juror of Selection and Awards – Birgit O'Connor
Birgit has been painting for 20 years and specializes in floral, landscape and other subjects of nature. She has been published in over 30 national and international publications and has shown all over the world. She is a member of the California and Louisiana Watercolor Societies and produces videos and instructional materials.
Birgit's Spokane Workshop hosted by Spokane Watercolor Society
The workshop will be held at Spokane Art Supply, 1303 N Monroe Street, Spokane, Washington, from 9am to 4pm, October 16 – 19. As an artist she strives to "show that the seemingly delicate medium of watercolor can be bold, rich and dramatic. " She writes "I am intrigued by showing others how to view the everyday world in another way by taking what is not noticeable and bring that into focus to give viewers a new prospective."
Contact person:
For Juried Show information - Gay Witherspoon pwither@aol.com
For Workshop information – Carol Grabowski carol_grabowski@comcast.net
Calendar for 2018
July 20 Digital entry deadline is 11 pm, Pacific Time Zone on callforentry.org
Aug. 20 Notification will be mailed or made by email.
Oct. 10-12 Mailed paintings must be received by Spokane Watercolor Society at 12402 N Division St, #360, Spokane, WA 99218.
Oct. 15 Hand delivered paintings must be delivered to the Northwest Museum of Arts and Culture, 2316 W First Avenue, Spokane, WA, between 10 – 11:30 am.
Oct. 16-19 Artist workshop at Spokane Art Supply from 9am - 4pm.
Oct. 18 Exhibition opens and artists' awards presentations and opening reception from 5 – 8pm at the Northwest Museum of Arts and Culture. For regular hours call (509) 456-3931
Nov. 11 Exhibition closes.
Nov. 12 Paintings retrieved by hand between 10 – 11:30 am. Mailed paintings shipped.
Sponsorship
Spokane Watercolor Society was founded in1954 with membership from Spokane and the surrounding regions of Washington, Idaho and Nevada. Our mission is to foster the development and growth of artists in the medium of watercolor and to promote watercolor art. Members may display in SWS shows and receive scholarships for classes and workshops. See more at our website: www.spokanewatercolorsociety.com or visit us on Facebook at Spokane Watercolor Society.
Eligibility and Image Requirements
· The SWS Juried Show is open to U.S. artists 18 years of age or older.
· Entries must be the original creation of the artist within the last two years and not previously shown in any other SWS show. Source material must be wholly original and not derived from any published images.
· Only works hand-executed in aqueous media (watercolor, acrylic, gouache, egg tempera, water-based ink) will be accepted and only on paper supports. Collages must be in conjunction and consistent with water media.
· No pastel, water-soluble oil paint or computer-generated images.
· Minimum image size is 10" by 14".
· Maximum image size is 22" by 30".
· Paintings must match the submitted digital entries.
· The Northwest Museum of Arts and Culture will not accept paintings of nude subjects, as it is open to the public.
Matting and Framing Requirements
· All paintings must be matted and framed.
· Mats must be white or cream colored. White or colored liner may be used, maximum ½ inch wide for white and ¼ inch for colored.
· No mat decoration of any kind (v-grooves or lines). Filets or linen mats may not be used.
· Frame size is: minimum of 14" by 18" and maximum of 34" by 44".
· Frame must be simple metal or wood, maximum width of 3".
· Maximum weight is 50 pounds.
· Works must be framed under Plexiglas and be ready to hang, with screw eyes and wire.
Conditions
· All paintings must be for sale and remain on display for the duration of the show.
· The price listed on the callforentry.org website includes a 15% commission. A minimum payment of 50% will hold the painting until the end of the show, Nov. 11, 2018.
· Paintings must meet the requirements outlined within.
· Unsuitable material will not be hung. Decisions of the Juried Show Chair are final.
· SWS reserves reproduction rights of accepted paintings for promotional purposes. Images of accepted paintings may be displayed on our website and/or Facebook page.
Procedures and Rules
· Entry fees for SWS members are $20 for the first painting and $15 for each additional.
· Entry fees for non-members are $40 for the first painting and $20 for each additional.
· Entry fee payments are by credit card on the www.callforentry.org website at the time of entry. Members only may choose the check option and must pay the SWS treasurer immediately after entry to be considered for the show.
· All fees are nonrefundable.
· Digital format for entries:
Crop images to exclude frames or mats. Images must represent paintings exactly as is. No editing
File format - JPEG or .jpg – no exceptions.
Resolution – 72 dpi
Image size – no longer than 6 inches on the longest side.
File name – LastnameFirstInitialPaintingTitle.jpeg (for example: DoeJEarlySpring.jpg)
· Notification of acceptance will be by email on August 20, 2018 or mailed by that date. Further shipping instructions and requirements will be included.
· Accepted artwork must be either hand delivered to the Northwest Museum of Arts and Culture, 2316 West First Avenue, Spokane WA between 10 and 11:30 am, Monday Oct. 15, or mailed to Spokane Watercolor Society, 12402 N Division St # 360, Spokane WA 99218 to be received Oct. 10, 11 or 12. Return postage must be included.
· Accepted paintings must bear identifying information on the back, including title, artist's name and contact information, and price.

Contact person for Spokane Watercolor Society is:
Gay Witherspoon
3305 W. Rutter Parkway
Spokane, WA 99208
Print this Page
View Legal Agreement