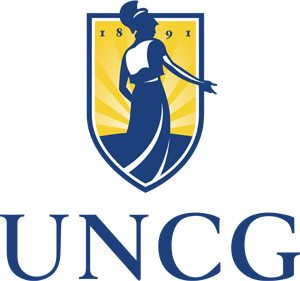 Womans College Tribute, University of North Carolina at Greensboro
Dr. Lawrence Jenkens
CVPA
PO Box 26170
Greensboro, NC 27402
Contact Email:
davismoye9@gmail.com
Call Type:
Public Art
Eligibility:
National
State:
North Carolina
Entry Deadline:
3/23/18
Application Closed
REQUIREMENTS:
Media
Images - Minimum: 1, Maximum: 20
Video - Minimum: 0, Maximum: 2
Total Media - Minimum: 1, Maximum: 20
REQUEST FOR QUALIFICATIONS
The University of North Carolina at Greensboro seeks to commission a permanent public artwork to celebrate and pay tribute to the thirty-year period when the university was the Woman's College of the University of North Carolina. The tribute should resonate with the feelings of innovation, revolution, and transition associated with Woman's College as an integral piece of UNCG's character, history and future.
THE SITE
The Woman's College Tribute will be placed on part of the lawn in front of the Stone Building on College Avenue, a central location on our campus and at the heart of what was Womans College. The perimeters of the site are indicated on the attached plan of the area in front of Stone. The only hard and fast limitations on the project's final design are that it not disturb the tree canopy (tree drip line) so as to not to damage the trees' feeder roots, and that it also respect the height and proportions of the buildings around it (Stone and Petty). Power and/or water can be made available to the final project, but bringing it to the Tribute and incorporating it into the work must be included in the total estimated budget for the project. A larger campus map and photographs of the site are also attached.
ABOUT WOMAN'S COLLEGE
UNCG opened its doors to students on October 5, 1892, as the State Normal and Industrial School, an institution dedicated to the education of women. The School became a College in 1897, and in 1919 was renamed the North Carolina College for Women. The era of Woman's College of the University of North Carolina—fondly known by students and alumnae as "WC"—began in 1932. WC, like its forerunners, forged a space in which women were educated, in its classrooms, auditoria, theatres and gallery. Drawing its students from around North Carolina and from across the country, WC allowed women access to a formidable education, and as WC transformed its students, its alumnae transformed their communities and the world. The roster of WC grads who rose to the top of their fields—in business, the arts, government and even the military—is astonishing. The women who are not on this list, however, were also agents of important change, standing as examples of the importance of educating all members of society and as role models in their families and communities for other women—and men—who sought access to higher education.
In 1963, the first male students were admitted, and the college's name changed to the University of North Carolina at Greensboro. Today, the University boasts a diverse student body of almost 20,000 students from across the country and around the globe. UNCG has been recognized for its emphasis on service-learning and dedication to community involvement—only part of the rich legacy of WC in the University's history.
We hope that the Woman's College Tribute will capture the essence of a transformational institution the legacy of which is access to education, dedication to learning, and a fundamental belief in service.
LINKS TO MORE INFORMATION ABOUT WOMAN'S COLLEGE:
https://www.ourstate.com/womans-college-greensboro/
LINKS TO MORE INFORMATION ABOUT UNCG TODAY:
http://admissions.uncg.edu/discover-about.php
https://newsandfeatures.uncg.edu
SELECTION PROCESS
Submissions of qualifications will be reviewed by committee and three finalists will be invited to submit full proposals. Each finalist will be paid a stipend of $1500.00. This sum will include any necessary travel and expenses of preparing the proposals. These proposals will be exhibited on campus, and all University constituents will be invited to offer feedback. The Woman's College Tribute Committee will make a recommendation to the Chancellor indicating its preference for the winning design.
The fabrication process and installation schedule will be determined after the finalist artist is selected, dependent on all relevant schedules including funding.
SCHEDULE
· March 23, 2018. Deadline for submission of qualifications.
· April 20, 2018. Notification of selected finalists
· April 24­–June 15, 2018. Optional site visits
· June 15, 2018. Deadline for full proposals
· August 1, 2018. Notification of selected artist
· A schedule for fabrication and installation will be determined in conjunction with the selected artist.
BUDGET
The total project budget, from the selection of the winning design, through installation is $150,000. This must cover all costs, including but not limited to design, fabrication, delivery, and installation, fees, assistants and an artist's stipend. The costs associated with the submissions from the three finalists is not included in this figure, and they will be handled separately.
PROJECT CONTACT
For questions or comments on content of the proposal, contact Dorothy Moye, Davis-Moye & Associates, project manager: davismoye9@gmail.com
For technical assistance in submitting this proposal see https://www.callforentry.org/cafehelp.phtml, or contact café@westaf.org
HOW TO ENTER
All entries are to be submitted digitally through www.callforentry.org (CaFÉ). Please retain a copy of the information you provide on the entry form.
If you have not registered previously with CaFÉ, setting up your portfolio is free. Entry in this competition is also free. CaFÉ requires that all images conform to a specific format. The Woman's College Tribute project management team encourages all entrants to review the instructions and tutorials for formatting images and entering before beginning the actual entry process. Specifications are outlined at http://www.callforentry.org/image_prep.phtml
Entries will be accepted on the CaFÉ website from February 6 through March 23, 2018, and all entries must be completed by midnight MST on March 23.
In the entry you will be asked to include the following:
· Contact information
· Resume highlighting previous experience with public art projects (no more than 3 pages, submitted as PDF file). Please omit your name and contact information from this document.
· A minimum of 5 and a maximum of 20 images of past projects. You may include up to two videos in your allowable images. All media files must be formatted according to CaFE's guidelines.
· Artist statement
· Contact information for 3 professional references
· A detailed listing of images provided, numbered to correspond to the portfolio images submitted. Please include full photography credits as well as title, dimensions, and description of each work.
For technical assistance with your entry, please see https://www.callforentry.org/cafehelp.phtml, or contact cafe@westaf.org.
By submitting images of your work, you give permission to the Woman's College Tribute committee to use the images in displays of proposals for public comment, on the university's websites, in digital publications, press releases, and in publications (both print and electronic.)
Print this Page
View Legal Agreement