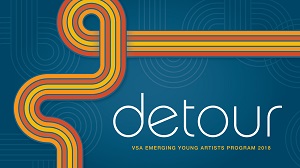 Detour


The John F. Kennedy Center for the Performing Arts
PO Box 101510
Arlington, VA 22210



Entry Deadline: 6/1/18
Application Closed

REQUIREMENTS:

Media
Images - Minimum: 1, Maximum: 6
Audio - Minimum: 0, Maximum: 6
Video - Minimum: 0, Maximum: 6
Total Media - Minimum: 1, Maximum: 6




Detour Theme
This call for art challenges artists to embrace life's detours, to seize and explore those spontaneous forays off the beaten path. With a detour, the destination remains the same but the journey to reach it can be full of surprise and discovery. When making a shift in direction, how do you choose to navigate? Does your artwork bypass the ordinary and challenge the predictable? We're asking artists to consider what's possible and to celebrate the marvelous and unexpected.


About VSA Emerging Young Artists Program
The VSA Emerging Young Artists Program, a Jean Kennedy Smith Arts and Disability Program, recognizes and showcases the work of emerging young artists with disabilities, ages 16-25, who are residing in the United States.

Volkswagen Group of America is the VSA Emerging Young Artists Program Presenting Sponsor.

Awards
Fifteen winning artists share a total of $60,000 in awards. Grand Prize is $20,000, First Prize is $10,000, Second Prize is $6,000, and the remaining Awards of Excellence are $2,000 each. Winning artwork will be exhibited in a year-long, nationally touring exhibition, and artists will attend an all-expenses-paid professional development workshop in Washington, DC.

Application Process
The application deadline is May 31, 2018 and winners will be announced by July 31, 2018. Artwork will be judged by a panel of experts in the field of visual arts who will be looking for artwork that demonstrates a high level of skill, expresses original ideas, and reflects the Detour theme. To request an accommodation or receive the application materials in an alternate format, contact Anne-Marie Walsh, awalsh@kennedy-center.org, at least two weeks prior to the submission deadline.

Eligibility
Artist must be between the ages of 16 and 25 on May 31, 2018 at 11:59 pm Eastern Time (EDT).
Artist must reside in the United States.
Artist must have a disability as defined by the Americans with Disabilities Act. Note: artist must be comfortable identifying as a person and artist with a disability.
Selected applicants will be contacted by email and will be asked to submit documents proving the above eligibility requirements prior to advancing to the final round of adjudication. Eligibility documents include the following:

Proof of Disability
This is usually a letter from a doctor or other healthcare professional identifying the applicant's disability(s). The document does not have to be recent but must state the nature of the disability. Other proof of disability is accepted, such as a statement from a reputable disability association or organization, professional counselor, representative of a college or university disability services office, Individualized Education Program (IEP) documents, or a letter from the head of the IEP team.
Proof of Age
Provide a copy of a government issued ID, such as a passport, birth certificate, or driver's license. To be eligible you need to have been between the ages of 16 and 25 on May 31, 2018.
Proof of US Residence
You do not have to be a US citizen, but you do need to be residing in the United States. Proof of US residency could be a lease or utility bill in your name, a student loan statement, a notarized affidavit of residency, a letter from a current employer, a letter from a teacher or professor, or another official document indicating that you are currently living in the United States.
Other Requirements
Submitted artwork must be completed within the last 3 years, and after the onset of disability.
Previous Emerging Young Artist Program award winners are not eligible to apply.
Submitted artwork must be able to withstand handling, storage, and transportation for a year-long, national tour.
Artwork containing perishable materials, such as food, will not be considered.
2-Dimensional artwork cannot exceed 60 inches in height or width.
3-Dimensional artwork cannot exceed 48 inches in any direction when packed for shipping.
All art forms eligible, including but not limited to: painting, drawing, sculpture, ceramics, folk arts, photography, textile, video, graphic and digital arts.
Applicant must be the sole creator and owner of all artwork submitted. Group projects will not be considered.
Work that suggests visual plagiarism, such as direct copy of another artists' work, will not be considered
Note: Artists are strongly encouraged to submit the maximum number of images allowed in CaFE (6 images), and if possible, to submit images of multiple works of art rather than multiple views of a single work of art. Jurors will be looking at the quality and scope of the submitted portfolio of artwork as a whole.