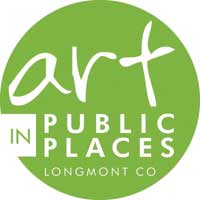 2018 mural projects


400 Quail Road


Entry Deadline: 4/8/18
Application Closed

REQUIREMENTS:

Media
Images - Minimum: 6, Maximum: 8
Total Media - Minimum: 6, Maximum: 8


View Site Details



Longmont, Colorado. With a permanent collection of more than 70 public art installations, 42 "Shock Art" (switchgear boxes) adorned throughout the City and a rotating sculptural exhibit (Art on the move) that exhibits up to 12 pieces throughout the City each year, Longmont is a community that truly embraces the arts!

As diverse as the community/population is the artwork and the styles represented throughout this City that spans 22 square miles, with a population of about 95,000 and boasts 1500 acres of parks and open space! Art in Public Places acknowledges all styles/forms of artwork and celebrates this diversity. AIPP encourages those who seek to adorn public spaces with their creativity to submit their work for consideration.

Longmont is a small city with a growing population that still has a small town feel, honoring the historical roots to the Chicago colony while concurrently embracing the technological advances of modern day society and the opportunities provided. Longmont continues to grow in its representation of diverse cultures.

Art in Public Places invites artists to submit images of past work to be considered for two upcoming mural projects. There is no theme for either of the sites. For each of the two projects, three finalists will be selected. Finalists will be asked to present (in person or via video conference) a proposal. All finalists will receive a $400 stipend following their presentation.

Up to three finalists will be asked to consider many aspects of Longmont and the surrounding area and to present a proposal. Artists might consider the following buzzwords in their proposal: inclusion, tolerance, peace and love, culture, diversity.

Community members who make up the selection panel will look for artists are able to:
Respond to the strong sense of community valued by Longmont residents

Convey the history and culture of Longmont

provide inspiration to continue through the underpasses while demonstrating artwork that is creative and energetic throughout.

Include representation of all who work, live and play in Longmont.
All work must be appropriate in subject matter, with no implications of religious, sexual, violent or political content. Work is designed to be timeless and to remain in perpetuity.
THE SITEs:
Submissions for this call will be considered for each of two projects:
1) Underpass at 9th Avenue between Alpine & Pace. This long underpass serves as an easy access to the many bicyclists and pedestrians that pass through on a daily basis, eliminating the need to cross the busy four- laned 9th Avenue. This underpass was built in 2007 and provides access to various schools, pools, parks and practice fields or the YMCA.
Words that might be considered for this project include: story, inclusion, tolerance, diversity, peace & love, culture
2) Hover at 21st Street. There are residential neighborhoods on both sides, with commercial shopping centers within two blocks on either side. Pedestrian traffic consists of neighbors walking to nearby McIntosh Lake, or accessing the many businesses. Bicycle traffic may have those same destinations, as well as a convenient access to Garden Acres park and the designated "Longmont (bicycle) Loop" and schools on either side.
SITE SPECIFICS:
1. 9th & Alpine underpass crosses underneath 9th at a Diagonal, hence the extremely elongated tunnel. The length of the tunnel (floor) is 171' long. Wing walls to the North extend as far as 58' and wing walls to the South extend as far as 108' for a total length approximately 317'.The height of the box is 9' and the path is 8' across.
2. 21st & Hover tunnel is 90', with a height of only 6'6". The wing walls extend as long as 43' to the East and as much as 76' to the West with a curvature (West-bound). The width of the "box" is 8' across.
TIMELINE
March 1 2018– Call to artists
Deadline for submissions: April 8, 2018
mid -April – up to three finalists notified for 9th & Alpine project
Mid- May – three finalists to present to selection panel
summer – paint mural
June – selection panel to review ALL submissions for 21st & Hover project
Early July – up to three finalists notified
Late July/early August – three finalists present proposals
Late August/early September – paint mural

APPLICATION/SELECTION PROCESS/EVALUATION
A selection committee comprised of interested community members will review the submissions; up to three finalists will be selected and will have four weeks to develop and present a proposal to said selection panel. Finalists will receive a $400 stipend after completing presentation.
SUBMISSION REQUIREMENTS;
Please submit up to six images of past work, with locations, prices and dates. Additionally, please provide an artist statement (general), CV and one paragraph describing your interest in completing this particular mural/work of art. Video material up to two minutes may be submitted.
Provide a brief summary on your intention to include community engagement in the process. Community engagement may include youth members from the community. Any winning artist(s) who might work with youth must undergo a background check by the City of Longmont.
We recognize that the space is large. We are open to artists' suggestions on either filling it or a portion thereof. If a portion of the canvas is "muralized" it is possible that another mural will be added when funds are available. Submissions will only be accepted through callforentry.org.
Selection panel members will consider artists who:
· Have successfully demonstrated ability to engage community members in past work
· Propose process for community engagement in Longmont murals
· Take into account "buzzwords" as provided (above)
· Utilize any portion of the space provided
· Have demonstrated ability to complete said work on time and within budget
· Creatively transform blank canvas to enticing and enhanced thoroughfare for all users
· embrace diversity, community, inclusivity
ELIGIBILITY
Artists residing along or near the Front Range of Colorado are eligible to apply. No additional housing/accommodation/travel provisions will be provided.
PROJECT BUDGET Up to $10,000 is available for project A (9th & Alpine). Up to $7500 is available for project B (21st & Hover). Artists must provide proof of insurance before contract is executed; project budget includes allocations for all materials, travel, insurance and completed artwork.
This project is a collaboration between several divisions within the City of Longmont. Artist will maintain a close working relationship with City staff from the Youth Center, Art in Public Places, Police Department, Neighborhood Resources and more.