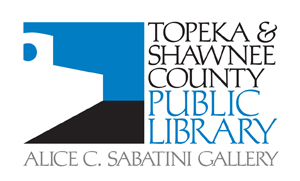 The Printed Image 7
Printed Image 7
Topeka and Shawnee County Public Library
Alice C. Sabatini Gallery
1515 SW 10th Ave
Topeka, KS 66604-1374
Contact Email:
gallery@tscpl.org
Call Type:
Competitions
Eligibility:
National
State:
Kansas
Entry Deadline:
5/30/18
Application Closed
REQUIREMENTS:
Media
Images - Minimum: 1, Maximum: 9
Total Media - Minimum: 1, Maximum: 9
Entry Fee (The Printed Image 7): $35.00

The Printed Image
7 2018
Call for Entries
The Printed Image supports national artists working in hand-pulled print media, and offers art lovers an opportunity to view the latest trends in printmaking.

The Printed Image is sponsored by the Friends of the Library. The exhibition will be hosted at the Alice C. Sabatini Gallery at the Topeka & Shawnee County Public Library, Topeka, Kansas.

Exhibit dates:
September 7 - October 21, 2018

Juror:
MELANIE YAZZIE is a sculptor, painter and printmaker. She is Professor and Head of Printmaking in the Department of Art and Art History at the University of Colorado, Boulder. She often takes part in collaborative art projects with indigenous artists in New Zealand, Siberia, Australia, Canada, Mexico and Japan. Of her journeys, Yazzie says: "It's at these gatherings and traveling from place to place that fuels my work and revitalizes my spirit!"

Yazzie's work follows the Diné dictum "walk in beauty" literally, creating beauty and harmony. As an artist, she works to serve as an agent of change by encouraging others to learn about social, cultural, and political phenomena shaping the contemporary lives of Native peoples in the United States and beyond. Yazzie's work incorporates both personal experiences as well as the events and symbols from Diné culture. Her early work focused on depictions of the harsh realities of Native peoples (i.e., racism, identity conflict, poverty, abuse, etc.) to bring Native issues to the forefront, but more recently she is making work with a positive twist.

"My artwork is culturally based in my heritage of being a Diné (Navajo) person. The artworks stem from the thought and belief that what we create must have beauty and harmony from within ourselves, from above, below, in front, behind and from our core. We are taught to seek out beauty and create it with our thoughts and prayers. I feel that when I am making my art, be it a print, a painting or a sculpture, I begin by centering myself and thinking it all out in a "good way", which is how I was taught from an early age. My work speaks about travel and transformation." - Melanie Yazzie


http://cuart.colorado.edu/people/faculty/melanie-yazzie/



Eligibility and Entry Instructions

Eligible artists:
Artists 18 years of age or older, currently residing in the United States.

Eligible prints:
Any hand-pulled print technique, including intaglio, relief, serigraph, lithograph, photogravure, collagraph, monoprint and monotype, and broadsides. Three-dimensional prints and artist's books are also eligible.

Non-eligible prints: photography, digital prints, photocopier prints. All work must be hand-pulled, framed, and ready to display behind non-breakable plastic or plexiglass (no glass).

Prints must be no more than 3 years old (2015 or newer) and not previously exhibited in The Printed Image. Questions: call the Sabatini Gallery at 785-580-4515 or email

gallery@tscpl.org



Entry fee:
A $35 non-refundable fee for up to three works.

Entry format:
All entries and fees will be processed through CaFÉ.com at

https://www.callforentry.org/

. Do not send your entry to the Sabatini Gallery.

CaFÉ Entry deadline:
May 30, 2018

Notification of acceptance:
Artists will be notified by email on June 20, 2018

Conditions of Acceptance:
Accepted works may not be removed from the exhibition before October 21, 2018. Works must be received for exhibition to be eligible for awards. If an accepted work is found to have been misrepresented, it may be disqualified. The Sabatini Gallery reserves the right to photograph and reproduce any submitted work for publicity or educational purposes. The Topeka & Shawnee County Public Library will retain submitted images of accepted entries as part of its permanent records.

Size Restrictions:
Any print over 96" x 96" or 50 lbs will be accepted only if the artist is able to install the work between August 27 - September 2, 2018. Call 785-580-4515 for questions or an appointment.

Shipment and Delivery:
All accepted work must arrive between July 30 - August 15, 2018. Artists are responsible for covering the shipping and insuring cost to and from the Sabatini Gallery. All return shipping MUST be prepaid. Artist is responsible for providing prepaid return shipping labels for UPS, FedEx, or postage from USPS. Shipping cartons must be substantial and reusable, no Styrofoam packing peanuts. Late or damaged work will not be exhibited.

Delivery and Shipping Address:
Printed Image 7
Topeka and Shawnee County Public Library
Alice C. Sabatini Gallery
1515 SW 10th Ave
Topeka, KS 66604-1374

Return of Work:
Hand-delivered work must be picked up between October 24 - November 9, 2018. Shipped works will be returned beginning October 26, 2018. Artists are responsible for providing postage or prepaid shipping labels for the return of their work. Nothing will be shipped COD.

Insurance:
All accepted entries are covered by the Sabatini Gallery's insurance while on site until November 9, 2018. The Topeka & Shawnee County Public Library will not insure nor be responsible for any works left after November 9, 2018.

Awards:
Juror's Awards will be named by the juror and announced at the Awards Reception on Saturday, September 8, 2 - 4 pm. These are cash awards for high-quality work.
Purchase Awards will be named by the Alice C. Sabatini Gallery and will become part of the Topeka & Shawnee County Public Library's permanent art collection. Awards are sponsored by the Friends of the Library.

Sales:
The Sabatini Gallery encourages potential buyers to contact the artist directly. Neither the Alice C. Sabatini Gallery nor the Topeka & Shawnee County Public Library receive any commission on sales.
Print this Page
View Legal Agreement