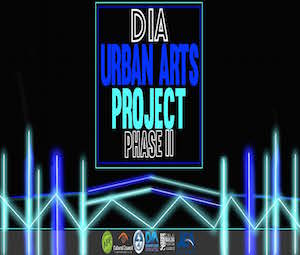 DIA Urban Arts Project Phase II
300 Water Street, Ste. 201
Jacksonville, FL 32202
Contact Email:
mason@culturalcouncil.org
Call Type:
Public Art
Eligibility:
National
State:
Florida
Entry Deadline:
5/10/18
Application ClosedNumber of Applications Allowed:
5
REQUIREMENTS:
Media
Images - Minimum: 4, Maximum: 8
Audio - Minimum: 0, Maximum: 2
Video - Minimum: 0, Maximum: 2
Total Media - Minimum: 4, Maximum: 12
1. Introduction
The Cultural Council of Greater Jacksonville, Art in Public Places and the Downtown Investment Authority on behalf of the City of Jacksonville, Florida announce a Call to Artists for a Request for Qualifications for Phase II of the DIA Urban Arts Project. The call solicits artists who can address streetscape aesthetics with functional and interactive public art that serves to draw attention to an outdoor urban area utilized during both daytime and nighttime. Artists are encouraged to explore ways to integrate public art with technology and renewable sources of energy. This urban arts project is located near the St Johns River in an area that received significant environmental impact from Hurricane Irma in 2017.
The four categories of public art include vinyl wrapped traffic signal cabinets, sculptural bicycle racks, 2-D art and outdoor sculpture. Individual artists or artist teams may apply to address the sites by combining multiple categories and media to achieve the greatest comprehensive aesthetic and interactive impact. For the categories of environmental sculpture and 2-D art, preference will be given to artwork that incorporates lighting or luminescent elements and/or projection or other electronic art for creative place making and wayfinding. Sculpture and 2-D projects could be creatively combined to make 2-D light patterns on the ground throughout the site. Jacksonville is interested in showcasing eco-friendly, forward thinking aesthetic designs that find solutions to environmental concerns, such as incorporating solar-powered lighting or light producing and/or heat reducing surface coatings.
The budget for all categories combined is currently $104,718. A single artist or artist team who addresses the entire site with a comprehensive environmental impact scheme would receive $104,718 for design, fabrication and installation. The local electrical authority is partnering with the project to provide some financial assistance and technical expertise with lighting. This is a national call and regional and local artists are encouraged to apply through Café only.
2. Overview and Description
The DIA Urban Arts Project Program was developed jointly by Art in Public Places Committee and the Downtown Investment Authority (DIA). Both entities were formulated under and acting on behalf of the City of Jacksonville. The Art in Public Places Program of The Cultural Council of Greater Jacksonville recently completed the first phase of the three-phase civic engagement initiative to promote community development through use of public art installations which enhance the urban environment and provide attractive streetscapes. Phase I of the DIA Urban Arts Project resulted in six separate categories by six artists consisting of 38 public artworks in downtown Jacksonville. (http://www.culturalcouncil.org/dia-urban-arts-project.html).Through such creative place making, the City of Jacksonville seeks to distinguish itself as one of the best places to live, play and work.
· This Phase II Project is located within the entertainment district of downtown Jacksonville known as The Elbow at the entrance to downtown from the iconic Main Street Bridge. With a concentration in The Elbow of bars, music halls, restaurants, the historic Florida Theatre and night activity, illumination is key to the success of this project. The area also encompasses jogging and walking sidewalk paths used day and night, so wayfinding solutions that shine at night are solicited. This is an area that garnered national attention during 2017 Hurricane Irma due to historic levels of flooding of the St Johns River. The aim of the DIA Urban Arts Project Phase II is to create an interesting spot that attracts activity through creative place making incorporating aesthetic wayfinding leading to it that shines at night.
Artists or artist teams with a comprehensive vision to activate the site with innovative lighting techniques and who have inventive ecological ideas for public art are encouraged to apply. Artists submitting application for comprehensive design work to intentionally address a certain area with several interactive public art works can expect the respective project category budgets to be combined. Artists or artist teams may apply for more than one category and may be selected for more than one category.
3. Eligibility
This opportunity is open to participation by experienced local, regional and national artists or artist teams. Local artists are encouraged to apply. Artists or artist teams making application shall be of appropriate status and generally be recognized by recognized art professionals, as artists of serious intent and recognized ability, and shall not be a member of the project architectural, engineering, or design team or of the Art in Public Places Committee, Art Selection Panel or the Cultural Council Board or their respective Staffs.
4. Phase Two Program Area
Three phases are included in the initial DIA Urban Arts Facade and Streetscape Project program (see overall DIA Urban Arts Project map). This Call for Artist Qualifications Submissions is for Phase Two projects only. Phase One projects have been installed in the Phase One plan area as illustrated on the project area plan detail.(see Phase I detail map) Phase Two encompasses the nighttime entertainment district of downtown known as The Elbow, and potential sites are concentrated along Independent Street, Bay Street and Forsyth Street between Ocean and Liberty Streets. The outdoor environmental sculpture and the 2-D art will focus along the grassy area with sidewalks and possibly crosswalks along the ramp from Main Street Bridge situated between Bay Street and Independent Street and across Bay Street from a newly opened upscale restaurant and situated near the JAX Chamber of Commerce.
5. Phase Two Project Categories
Artist Qualifications Submissions under this Call are being solicited for the following projects:
2-A. Five City traffic signal cabinets on corners within a four block area to be wrapped by a vinyl vendor with vinyl bearing artwork or photography created by an artist.
2-B. Parking for ten bicycles strategically placed as sculptural object(s), working with City Bicycle and Pedestrian Coordinator.
2-C. A prominent interactive environmental outdoor sculpture with elements of light that shows up well at night. This project is intended to attract downtown visitors to the park-like area between Bay Street and Independent Drive and bounded by concrete and paver walkways on four sides. The environmental sculpture could incorporate landscaping elements and provide a beacon to passersby. This project category affords the opportunity to utilize renewable sources of energy and other technology combined with aesthetics.
2-D. 2-D art that complements or includes elements of lighting, projection or luminescence intended for existing surfaces or new surfaces created in the area by Phase II projects. Sidewalks are options for art. Illuminated wayfinding assistance could be incorporated into the pathways leading into and through the focus area. This category affords the opportunity to utilize renewable sources of energy, light producing and/or heat reducing coatings.
2-E. Combination of 2 or more of the above project categories to achieve an intentional comprehensive interactive lighted sculptural design to create an interactive destination usable in daytime or nighttime.

Prospective Phase II Sites are as follows:
2-A: Sites for the 5 traffic signal vinyl wraps will be along Forsyth and Bay Streets at the following corners: Bay & Market; Forsyth & Market; Bay & Liberty; Forsyth & Newnan and Bay & Newnan Streets. (Please see traffic signal cabinet location map).
2-B: Specific sites for the sculptural bike racks will be determined during the public process and in cooperation with the City Bicycle and Pedestrian coordinator.
2-C: The site for the outdoor environmental interactive sculpture will be within an area containing existing landscaping elements situated between Bay Street and Independent Drive, bordered by sidewalks, a small parking lot and a vehicle ramp off Main Street Bridge that spans the St Johns River. A nighttime view of the blue illuminated bridge is offered from the grassy area. An illuminated piece could be viewed from the ramp off the Main Street Bridge. A new upscale restaurant is across Bay Street along with other restaurants, bars and music halls within view of the site. A large area of sidewalk right of way on the corner of Bay and Ocean near the Main Street Bridge ramp is part of the intended site. (Please see earth view map showing vegetation.) This site near the river is also an area of significant impact from Hurricane Irma in September, 2017. Coordination with the local electrical authority will be part of this design.
2-D: Site options for 2-D art applications with elements of wayfinding, visual enhancement, lighting, projection or luminescent painting will be sidewalk or other surfaces connecting the Elbow District, including surfaces between Independent Drive and Bay Street and/or other connective surface areas or crosswalks as budget allows and COJ traffic engineering allows. Solar lighting may be incorporated. Sidewalks are used for jogging as well as pedestrian pathways. Cooperation with the local electrical authority may be part of this design.
6. Phase Two Process
Selection
Artist finalist selection will be based solely upon the criteria outlined in this Call for Artist Qualifications Submissions and will be initially judged by the representation of samples of artworks represented in the submitted images that encompass each category. Nine panelists will perform initial blind jurying based on viewing the images without knowing other information about the artists. Further jurying will be based on the individual artist's proven experience with similar projects or design work as listed in the resume, bio, the artist's letter and references. If an individual artist or artist team applies for more than one category of projects, it must be represented that the individual or that among the team, the ability to accomplish the work is demonstrated.
Site Visit and Public Interaction
The final selected artists will be invited to Jacksonville for required site visits, design team meetings including electrical authority officials and public meeting in Jacksonville before creating design proposals. Artists are expected to collaborate among each other with respect to general aesthetics. Following the visit, the artists will create design proposals and submit to the contract administrator along with specifications and maintenance requirements.
Conservator Review with Artists
A conservator team, hired by Art in Public Places, will initially review the design proposals and confer with artists and APP staff. Artists must be available to confer with the conservators and APP staff about the design proposals, respond and make modifications as necessary, before final approval.
Notice to Proceed to Fabrication and Installation
Following the conservator and staff review, the Art Selection Panel will review design proposals and make recommendations to the APP Committee for final approval. The Downtown Development Review Board and Downtown Investment Authority will approve the design proposals and the artists will be issued an acceptance signifying the approval to proceed to Fabrication and Installation. Artists are expected to be present for the delivery and installation of the artworks and according to a negotiated installation schedule.
7. Artist Budgets
Artist budgets listed for the five respective projects are lump sum amounts, made in five payments at certain milestones, and budgets include costs for:
Design, materials, detailing, fabrication, delivery, installation and anchorage of the artwork.
Necessary integrated lighting elements, power sources, projection equipment, illumination methods or other technical components to create desired effect at night
Electrical designs and engineering certification of method of attachment to substrate and related structural drawings to be reviewed by City of Jacksonville.
Reasonable surface preparation specific to the particular artwork.
Vehicular and pedestrian traffic mitigation and/or leased or metered parking spaces
Artist warranties against defect of design, fabrication, installation and materials for one year after final acceptance by APP and City.
Travel and accommodation expenses in connection with attending collaboration/coordination meeting(s) and associated public meeting(s) as well as installation of artwork in Jacksonville, FL.
Note: Project category budgets may be combined to create a comprehensive ("Combo") project for one artist or artist team that incorporates more than one of the project categories in order to enhance the overall impact of the project. The total artist budget for all categories in DIA Urban Arts Project Phase II is $104,718.
Artist's application should address budget parameters in the letter of description.


8. Phase Two General Artwork Criteria (applicable to all four project categories)
The designs for public art will reflect artwork designed:
A. To be original and considered of high artistic quality, creative, innovative and display superior technical competence.
B. To be durable and with minimum maintenance required.
C.Of its location, place and surroundings: physically, functionally, historically, culturally and informed by community stakeholder and coordination sessions.
D. To reflect the overall identity of the City.
E. To be structurally secured to the substrate (as applicable) with tamper resistant fastenings.
F. To be capable of withstanding adverse weather conditions including high winds, high temperatures, humidity, heavy rain, storms, hurricanes, etc. if exterior.
G. To interface appropriately with and also withstand a high traffic, public environment.
H. With consideration of the safety of the public and without toxic materials.
I. To be compatible with pedestrian and vehicular traffic, public transit, parking amenities, existing structures and public or governmental use as applicable.
J. Without images which contain advertising, obscenity, profanity or content not accepted as appropriate to a public environment or by local community standards.
K. To develop and create an awareness of the unique aspects of the place's built and natural environments and fulfill the civic responsibility of CCGJ and the City and promote aesthetics, artistic interest, curiosity, comfort and community pride.
L. To achieve any specific functionality expected and to comply with ADA requirements for access, if applicable, or any City requirements particular to the site.
M. To be visible to the public by day and by night.
N. To contribute positively to way-finding environment within the City.
O. To not include as public art items that are mass-produced or of standard design.
P. To serve the function for which it is intended.
9. Phase Two Projects (Categories) Specific Artwork Information and Criteria:
Project Category 2A: Traffic Signal Cabinet Vinyl Wraps
5 artist-designed vinyl wraps: $6,000
Artist or artist team will create work to be digitally applied to vinyl to cover City-owned electric traffic signal cabinets. These cabinets are functional and are uniform in dimension. The artist will transform these utilitarian objects into works of art to enhance the visual landscape. The primary objective of this project is to initiate, promote, coordinate and implement surprise and to either make a loud statement or devise a camouflaging effect into the street environment. Vinyl wraps may not interfere with the function of the traffic signal cabinet. Photographers, painters, graphic designers, fabric artists or 3-D artists are encouraged to apply, as the vinyl vendor will transfer the designs to vinyl wraps to create a piece of 3-D art. If photographs of 3-D art will be used, both 3-D artist and photographer must apply as a team, with images of prior work samples of each. Any appropriate releases should be included. Artist must cover the cost of the vinyl vendor within the artist budget.
Materials to include long lasting printed vinyl wrap material with anti-graffiti coating. Paints of any kind are not permitted.
Wrapping materials must be supplied and installed by a vendor who is to be approved at the design proposal phase and warrantied by manufacturer for at least 7 years. 3-M products are recommended.
Vinyl vendors typically require designs to be submitted digitally, or submit designs to the vendor that are at least 11" x 17", or submit larger works that can be scanned
Artist must allow for the cost for the wrap vendor work. The Artist budget outlined is inclusive of the wrap vendor fee
Designs or photographs may be similar but not repetitive
Artist will be responsible for the completion of the installation by the vendor.
Artist must be present during installation of the wrap.
Reflective material may be allowed pending approval of COJ.
Traffic Signal Cabinet Locations (see map):
Bay St. and Market St.
Forsyth St. and Market St.
Bay St. and Liberty St.
Forsyth St. and Newnan St.
Bay St. and Newnan St.
Project Category 2-B: Sculptural Bike Racks
Sculptural bicycle racks with parking for at least 10 bicycles = $8,025
Bike rack sculpture designs must balance aesthetic form with function, cause delight and comply with national bicycle parking standards.
Consider as aesthetic street sculptures that also serve the function to safely park bicycles and neither impede pedestrian traffic nor cause tripping hazard.
Project includes parking for at least ten bicycles as single space or rack sculptures
Project budget must include appropriate substrate to secure bike racks
Designs may be similar but not repetitive.
Artist will work with the City Bicycle and Pedestrian Coordinator to maximize functionality in form and placement.
Project Category 2-C: Environmental Sculpture
Outdoor Site Specific Sculpture Featuring Sustainable Lighting Elements = $66,000
This project is intended to enhance the outdoor space to create an intriguing interactive environment and to be highly visible at night.
The substantial site specific outdoor sculpture is combined with wayfinding through the pedestrian corridor. The environmental sculpture should be integrated into the site and incorporate lighting elements. Sound and/or kinetic elements may also be employed. Artwork that includes power-producing technology is possible.
The range of specific site locations to be selected by the artist are between Ocean Street, Independent Drive and the Main Street Bridge off-ramp and shown on the map below. The sculptural piece(s) are intended to draw attention to the focus site from the street and provide a reason to approach, especially at night. The work should be intriguing enough to promote public interest in outdoor public art, draw the public to interact with it, develop community pride, pique curiosity with forward-thinking technologies and attract visitors to the downtown area day and night. Working in tandem with the local electric authority, who will provide expertise and access to power or the creation of it, the artist is encouraged to explore new ways to intertwine art and technology to showcase future placemaking possibilities.
Initial collaboration/coordination among other artists selected for the overall project is required. The element of lighting will be essential to this category of artwork, resulting in being visible at night and incorporated into the budget. The local electrical authority is committing to some financial support for technology, design or infrastructure and the artist would be expected to coordinate with their team.
Create an awareness of the unique aspects of the built and natural environment
Sculpture is to be the central focus of the site within the grassy area, sidewalks or entrances to it
There is no minimum or maximum height requirement
Collaboration with 2-D artist for surface treatment is an option
If the selected artist/artist team applies also for category 2-D, is awarded it, and incorporates 2-D art into this environmental sculpture, the 2-D art budget may be added to the project
Project Category 2-D: 2-D Art
Application of Surface Art = $24,693.75
2-D artwork translated into illuminated designs for unconventional surfaces is the main objective of this project. Artists should consider environmentally forward-thinking technology to incorporate into the design.
Flat surfaces available to address include some sidewalks that border and run through the grassy park-like area
Surfaces available for projection could be ground, sidewalks, trees, ramp wall, neighboring building or future sculpture or future built surface associated with this project
Incorporating nighttime wayfinding into the pathways using surface treatment is encouraged
Materials may include surface solar lighting, bioluminescence, glow in the dark or reflective paint, projection, lighting, holographic art, etc.
Budget to cover cost of technical components and installation and artist may coordinate with the local electrical authority for some financial support with technology and design.
Project Category 2-F: Combo
Combination Project = $14,025--$104,718
The vision of streetscape public art that incorporates two or more of the above categories to create a greater comprehensive impact for Phase II in the Elbow District is considered a Combo. This category is added to notify the Art Selection Panel during the selection process that a consolidated approach to the overall project is being submitted. Note that in any case, artists or artist teams selected for each category will also be expected to collaborate to create an engaging sense of place. Please note that artists interested in the Combo, but who are willing to do a single category project, should also apply to the desired separate categories as well as the Combo.
Artist or artist team must demonstrate artistic and technical excellence in each of the categories combined.
Brief accompanying narrative in Descriptive Letter must address the reason for combining suggested project categories.
Artist or artist team may also apply for each separate category of interest or skill set.
If appropriate, budgets of separate categories will be combined.
Artist Selection Panel will reserve the option to suggest a possible collaboration among artists, though artists are not required to accept collaboration on budgets. Some coordination with respect to aesthetics is encouraged among all artists on this project to ensure overall compatibility.
10. Artist Agreement Items
The Artist or Artist Team selected for each of the four projects or combination of projects will be required to execute an Artist Agreement with CCGJ for provision of the Artwork. Please find Artist Agreement here: http://www.culturalcouncil.org/dia-urban-arts-project.html. Among other items, the following selective items will be included in that agreement:
Insurance
Selected Artist and Artist's subcontractors (if any) shall maintain the following insurance in the amounts and coverages required by COJ and as outlined in Artist Agreement:
Worker's Compensation/Employer's' Liability (if applicable):
Commercial General Liability:
Automobile Liability:
Umbrella Liability
Art Floater
Artist, at his/her option, is responsible for any desired insurance against damage to or loss of artwork during fabrication, delivery or installation.
11. Proposed DIA Urban Arts Project Phase Two Schedule:
May 10, 2018—Qualifications submissions due through Cafe by 11:59pm MST
June 29, 2018—Notification of selection of artists/artist teams applying
July 18-20, 2018—Artists' site visits in Jacksonville, FL, public meetings, research, discovery and coordination/collaboration
September 26, 2018—Design proposals due on-line
January-August 2019—Fabrication, Installation, Dedication and Cataloging
12. Submissions-please read carefully. Do not submit a design proposal.
All applications must be through the CAFÉ system only (callforentry.org)
Submissions must include the following six items:
Application
Resume with Email/Phone Contacts for References
Brief Biography
Brief Artist's Statement
Letter of Description of Artist's or Artist Team's vision for the respective project category or categories, budget parameters, and approach to collaboration with the other Phase Two artists or the artist team and the community. The Combo category application letter would address how the project categories would be combined to achieve the vision. This letter is not to be a design proposal. (One page narrative maximum.)
Images of artist's prior completed artwork with the following information: date of completion, value, dimensions and location. Please select images that best show your ability to address the category/categories for which you are applying. (4 images minimum, 8 images maximum and 2 video maximum).
Acceptable Media File Types for Images:

File format: JPEG or JPG only
File dimensions: 1200 pixels or greater on the longest dimension
File size: under 5 MB
The maximum pixel dimension is 1920 pixels.

Artists may apply for more than one of the four project categories, in addition to the Combo category. The Combo category application would address how two or more project categories would be combined. Artists must make separate applications under each specific category, unless one Artist or Artist Team wishes only to apply for a Combo Category. Artist or Artist Teams may be awarded more than one project from this call.
Artist Teams:
Choose a name for your team and apply as that name through Café.
A team is relegated to providing no more than 8 images. Be sure to identify which images belong to which team member, along with the designations of dimension, location, value and date.
Provide bios, resumes and reference information for each team member as one document under one Team Name unless there is a documented history of the Artist Team working as one.
There is unlimited space for fabricator credentials if part of a team in Resume/References
The descriptive letter and artist statement should represent the whole team
The Art Selection Panel (ASP) will review images and qualifications for all applicants within the team
Insurance should cover all members of the team
If Artist is using a fabricator as a vendor, the fabricator may be named in the descriptive letter.
Artists applying must indicate one of the four projects by category name, such as; Project 2-A Traffic Signal Cabinets; Project 2-B Sculptural Bike Racks; Project 2-C Environmental Sculpture; Project 2-D 2-D Surface Artwork; or Project 2-E Combo Project
If Artist or Team is applying for more than one project category and wishes to be awarded no more than one project, then do not choose to apply for the 2-E Combo Category.
If Artist or Artist Team applying for 2-E Combo category is willing to create the individual categories separately, be sure to also apply separately for each category as well as the 2-E Combo category.
For updates on the RFQ or to see FAQ's please consult the Cultural Council of Greater Jacksonville website:
http://www.culturalcouncil.org/dia-urban-arts-project.html
Print this Page
View Legal Agreement