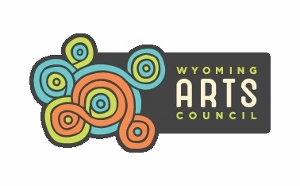 Wyoming Arts Council Visual Arts Fellowships 2019
2301 Central Ave.
Barrett Building, 2nd Floor
Cheyenne, WY 82002
Contact Email:
rachel.clifton@wyo.gov
Call Type:
Fellowships
Eligibility:
Unspecified
State:
Wyoming
Entry Deadline:
6/11/18
Application Closed
REQUIREMENTS:
Media
Images - Minimum: 1, Maximum: 10
Video - Minimum: 0, Maximum: 4
Total Media - Minimum: 1, Maximum: 10
WHAT IS A VISUAL ARTS FELLOWSHIP?
Visual Arts Fellowships are awards of merit, based on the artist's portfolio, honoring the work of Wyoming visual artists whose work reflects serious and exceptional aesthetic investigation. Artists working in any media, including film and video, may apply. Applications are juried by noted artists, curators, and others in the visual arts from outside the state. Up to three fellowships may be given each year, and jurors may also select honorable mentions. Recipients of the Visual Arts fellowships exhibit their work in the Wyoming Arts Council Biennial Exhibit, held every two years at a major visual arts institution or museum in the state. The exhibition is curated by one of the jurors, who serves on the panel for two years.
SUBMISSION GUIDELINES
Applications must be submitted through CaFE (callforentry.org). Mailed or emailed submissions will not be accepted.
Artists working in any visual media are invited to apply, including: experimental (conceptual/new media), graphic (printmaking/book arts), painting, sculpture, installation, photography (includes experimental, color, black & white, photocopy and computer), clay, fiber, glass, leather, metal, paper, plastic, wood, mixed media, film or video.
Artists may submit up to ten work samples, of which up to two may be detail images, if appropriate.
Film/video applicants may submit up to 4 samples, and have the option to submit stills.
Work must have been created within the past 5 years.
Applicants are asked to submit an artist's statement, a resume or CV, and to verify that they meet the eligibility requirements.
Please ensure your name does not appear anywhere on the application or work samples, except where specifically requested, to preserve the anonymous nature of the judging.
WHAT IF YOU WIN AN AWARD?
You'll receive $3,000 up front
Fellowship recipients agree to participate in the Wyoming Arts Council Biennial Exhibition, and are included in the catalog produced.
You'll sign a contract that verifies you're eligible to receive this award.
You'll need to supply a bio and a head shot for publicity.
You will retain all rights to this work and the work you produce during the grant period.
You must fill out a final report form, due August 31, 2019, which asks questions about how this award helped you and what you accomplished during the year you received it.
JURORS
Ruth Bruno
is the Public Art Program Manager at Colorado Creative Industries, the state of Colorado's arts agency. As the Program Manager, Ms. Bruno oversees the selection process for Colorado's Art in Public Places program, in which 1% of the construction budget for state-funded projects is allocated for public art. As well, Ms. Bruno consults on various contemporary art projects and serves on the board of Tilt West, a non-profit dedicated to providing a platform for inclusive community discussion and debate on a range of issues relevant to cultural production in Colorado and beyond. In addition to holding positions in commercial art galleries, she has a background in the nonprofit-arts sector in Denver, including working at the 2013 Biennial of the Americas and the Denver Art Museum, as well as with the Scientific and Cultural Facilities District assisting with the commissioning of a public artwork for the Denver Performing Arts Complex. Ms. Bruno earned an MA in Visual Arts Administration, with a focus in Arts Management, from New York University and a BA in History and Art History from Colorado College. In her spare time, she likes to explore Colorado, in a quest for the next mountain view and delicious craft beer.
Adriane Herman explores cycles of accumulation and release in our physical and emotional landscapes. She has had solo exhibitions at Adam Baumgold Gallery (NY), Western Exhibitions (Chicago), Kansas City Jewish Museum of Contemporary Art, Center for Maine Contemporary Art, and Rose Contemporary (Portland, Maine). Group exhibition venues include The Dalarnas Museum (Sweden); Portland Museum of Art; The Brooklyn Museum; Chapel Street Gallery at Yale University; The Ulrich Museum of Art and International Print Center New York. Her work is in the collections of The Whitney Museum of American Art, The Herbert F. Johnson Museum, The Progressive Corporation, The Ulrich Museum, and The Walker Art Center. She has lectured at over 50 institutions and undertaken residencies in Nova Scotia; India; Mexico, and Kansas City. Herman explores content in context with students at Maine College of Art, where she is Professor of the MFA in Studio Art. Her recent solo exhibition "Out of Sorts," at SPEEDWELL Projects in Portland, ME., received 2018 eco-Excellence award from ecomaine.
Print this Page
View Legal Agreement