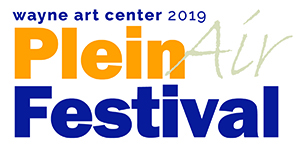 13th Annual Wayne Art Center Plein Air Festival
Wayne Art Center
413 Maplewood Avenue
Wayne, PA 19087
Contact Email:
patti@wayneart.org
Call Type:
Competitions
Eligibility:
National
State:
Pennsylvania
Event Dates:
5/13/19 - 5/18/19
Entry Deadline:
3/1/19
Application Closed
REQUIREMENTS:
Media
Images - Minimum: 1, Maximum: 4
Total Media - Minimum: 1, Maximum: 4
Entry Fee (13th Annual Wayne Art Center Plein Air Festival): $45.00

The 13th Annual Wayne Art Center Plein Air Festival kicks off on May 13th with the arrival of 32 juried, nationally recognized and emerging artists who have come to Wayne, Pennsylvania to capture the cool atmosphere and ephemeral, lush greens of spring in the Delaware Valley. As one of the premier plein air events in the country, Wayne offers the unique opportunity to showcase work created during the festival in spacious, light-filled and state-of-the-art galleries during an exhibition that hangs until the end of June. The galleries at Wayne Art Center are enjoyed by more than 30,000 visitors each year and sales during the Wayne Plein Air Exhibition remain steady throughout the six weeks.
For artists who previously have participated in Wayne Art Center Plein Air, the festival offers an opportunity to reconnect with old friends and collectors and to compete for top cash awards totaling $20,000. For emerging artists, acceptance in Wayne Art Center's Plein Air Festival represents an important step in achieving national recognition. As one of the first plein air festivals in the country, WAC Plein Air has attracted some of the best outdoor painters working in the field and has served an instrumental role in a vibrant movement that visually chronicles this day and age.
Hospitality abounds during the Festival. Local residents and Wayne Art Center Plein Air Festival committee members open their homes to lodge out-of-town artists. Following registration, a hearty Welcome Dinner kicks off the festival fostering camaraderie and celebrating the week ahead. Artists travel Wayne and surrounding areas, a locale robust with colorful and varied landscapes. From quaint small towns filled with period architecture to rolling hills dotted with livestock, to the dynamic skyline views of Center City Philadelphia and its surrounding waterfronts, including the Delaware and Schuylkill rivers, there is no lack of inspiration or subject matter. A week of intense work culminates in an entirely fresh exhibition of more than 300 paintings. The exhibit opens with a Gala Preview Party attended by more than 250 guests, where awards will be presented by the Juror.
This year's juror, Joe Paquet, comes to Wayne Art Center from Minneapolis, MN. Paquet is an Emeritus Member of The Plein Air Painters of America, The Salmagundi Club and a Signature Member of The California Art Club.
Joseph Paquet, while pursuing a Bachelor of Fine Arts at the School of Visual Arts in New York, had the good fortune of finding a mentor in artist John Foote, who opened his eyes to the joys of drawing the human figure. After graduating, Paquet met another major influence in his life, John Osborne, who was a uniquely gifted artist and teacher. Osborne believed that a landscape painting should begin on location, but that its poetic essence should be completed in the solitude of the artist's studio. Paquet experienced a demanding and rewarding apprenticeship in which he learned to fuse field studies with the image he could see in his mind's eye. Increasingly, however, Paquet is creating most of his work from life, believing that direct correspondence with nature increases the potential for greater feeling. "Intellect, he says, doesn't keep one warm at night."
Paquet has been featured in the Washington Post Sunday Magazine, The Artist's Magazine, American Artist, Southwest Art, and Plein Air Magazine. Paquet's awards include both Artist's Choice and Collector's Choice from The 2007 Laguna Beach Plein Air Invitational as well as the 2008 Alden Bryan Memorial Prize from The Salmagundi Club of New York, the First Place in Landscape from the Richeson 75: Artist's Choice Competition and The Edgar Payne Award for best Landscape at the 97th Annual Gold Medal Show at the California Art Club.

Calendar of Events for Wayne Plein Air 2019
December 1, 2018 – March 1, 2019
Online submissions accepted
Friday, March 8, 2019
Notification of Accept/Decline
Monday, May 13, 2019
8 am Arrival of artists for registration and canvas stamping
7 pm Welcome Dinner
Monday, May 13 – Friday, May 19, 2019
Artists paint within 25 miles of Wayne
Friday, May 17, 2019
Paint Out–Artists paint at a specific location (TBD)
Saturday, May 18, 2019
Artists paint in the town of Wayne until 12:00noon.

6 to 9 pm
Wayne Art Center 13th Annual Plein Air Festival Collectors' Soiree & Sale – Awards Presented
Wayne Art Center, 413 Maplewood Avenue, Wayne, PA 1908
Monday, May 20 – Saturday, June 29, 2019
Wayne Art Center Plein Air Exhibition

Sunday, May 19, 2019
3 pm
Juror's Demo and Talk with Joe Paquet
Monday, May 20 – Wednesday, May 22, 2019
Joe Paquet Three-Day Plein Air Workshop
Register at www.wayneart.org
Print this Page
View Legal Agreement