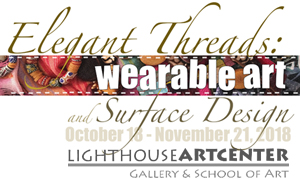 Elegant Threads Wearable Art and Surface Design
Lighthouse ArtCenter
373 Tequesta Drive
Tequesta, FL 33469
Contact Email:
Janeen@LighthouseArts.org
Call Type:
Exhibitions
Eligibility:
National
State:
Florida
Event Dates:
10/18/18 - 11/21/18
Entry Deadline:
8/1/18
Application Closed
REQUIREMENTS:
Media
Images - Minimum: 3, Maximum: 9
Total Media - Minimum: 3, Maximum: 9
Entry Fee (Elegant Threads Wearable Art and Surface Design): $35.00

If you create unique wearable art, fashion, textiles, accessories, or jewelry, we invite you to submit your work for this season's extravaganza at the Lighthouse ArtCenter in Palm Beach County, Florida.
Elegant Threads: Wearable Art and Surface Design is an opportunity to showcase your best wearable art and textile creations. At the Lighthouse ArtCenter, we'll display your work to influential consumers with an eye for new trends in fashion and home design. With clients who are always in the market for luxury art, your creations will have the right exposure to test their potential for trendsetting fashion and textiles. And, the timing will be perfect for holiday shopping.
The exhibition runs October 18—November 21, 2018. Thursday, October 18 will be the Artist Reception and Award Ceremony. Thursday, November 1 will be the ticketed Runway Show. Thursday, November 15 we will host an exciting textile artist technique demonstration.
Located in Tequesta, Florida, the Lighthouse ArtCenter is northern Palm Beach and Martin counties' oldest and largest visual arts organization. It is a two building campus featuring a gallery and a school of art. The Lighthouse ArtCenter is a nonprofit 501(c)(3) charitable organization, founded in 1964 by Christopher Norton, the son of the founders of the Norton Museum of Art in West Palm Beach, Florida.
With 5,000 square feet of gallery space and eleven unique exhibitions annually, the ArtCenter serves over 20,000 guests who attend these art exhibits and special events.
Please note: Artists will receive 60% on sales of their work sold during the exhibition and there will be a 40% commission to the Lighthouse ArtCenter. ALL art MUST remain on display through the duration of the exhibition.
PROSPECTUS
Elegant Threads: Wearable Art and Surface Design is an opportunity to showcase your best work at the Lighthouse ArtCenter in Palm Beach County, Florida, a part of the country where collectors with an eye to new trends in fashion and the arts are always in the market for luxury.
Wearable Art, which is also known as "Artwear" or "art to wear", refers to individually designed pieces of (usually) handmade clothing, accessories and jewelry created as fine or expressive art. Artists are encouraged to remember saleable sizes.
Textile/Surface Design refers to the art of changing the appearance of natural and synthetic surfaces by the application of traditional, stylized, digitized, and illusionary techniques to embellish a product. It is also the art of enhancing a surface's structure by applying 3 dimensional techniques, such as weaving, knitting, embroidery, lace, burnout, beading, embroidery and embossing.
• Artisan designed Wearable Art may be entered as single pieces or as ensembles which could include (but are not limited to) the following:
Dresses, slacks, body suits, coats, robes, jackets, kimono, tops, pants, bags, footwear, accessories, and headwear
• Artisan designed textiles using unique surface design will be entered as individual pieces which are described as:
Wall hangings, throws, pillows, and art quilts and tapestries
Eligibility and Guidelines:
Consideration by digital images submitted through the CaFÉ (Call for Entry) website only.
Artist may submit up to three works in each of two categories; Wearable Art or Surface Design
Wearable Art: Each individual work such as a jacket, a scarves, or a bag constitutes one entry however a fashion ensemble is considered one work which, if offered for sale, may have only one price for the complete set and will be eligible for only one award in the ensemble category. (Up to three entries allowed per category.)
Jewelry sets containing necklace and earrings may be considered one work if it is sold together at one price. Jewelry will be displayed on pedestals provided by LAC. LAC has a limited number of vitrines. They will be used on a first come, first serve basis. If lighted display cases are necessary they must be provided by the artist with advance approval of the curator.
Surface Design: Wall hangings, throws, tapestries, pillows, and art quilts: No patterns or kits will be considered. All designs must represent the original work of the applicant. Accepted works must arrive at Lighthouse ArtCenter with all of the necessary means for installation. Work which arrives without a proper hanging mechanism will not be shown regardless of whether it was accepted by the jury.
Size Restrictions:
3D Art must be delivered ready to install with an appropriate base if necessary.
•Height: No more than 5 feet high
• Width/Depth: No wider or deeper than 3 feet
• Weight: No more than 35 lbs.
• Framed or mounted pieces are accepted, but the depth of the frame/mount must be included in the overall depth of the piece.
Pieces must hang either:
• From a standard four inch rod pocket sewn to the back of the work, or
• For mounted or framed pieces, from a wire attached for hanging. The wire should be installed so that it does not show above the work when it is hanging and so that it hangs flat against the wall
Wall pieces:
• Height: no minimum but no larger than 60"
• Width: no minimum, but no larger than 60"
• Depth: No more than 6" including frame and mounting
• Weight: No more than 35 lbs.
• Artwork may not have been previously displayed at the Lighthouse Art Center in Tequesta, Florida. There is no restriction on the age of the piece.
• All submitted pieces must meet the requirements in the prospectus; any accepted works that deviate from these parameters will be rejected and returned to the artist at the artist's expense.
• All work accepted must be in pristine condition and be show ready.
• All work must include a label securely fastened on the inside (if the work is a garment /accessory), or fastened to the back of all wall hanging art quilts. The label must contain the artist's name and contact information, title of the work, dimensions, media, and price or NFS (not for sale).
· Artists are responsible for shipping and insurance of accepted works, both to and from the exhibition. Details for shipping will be provided once the jurying process is complete.
· Lighthouse ArtCenter (LAC) prefers (but does not insist) that the work be offered for sale. LAC charges a 40% commission on all sales. Sales tax will be collected and filed by LAC.
· Accepted artists must provide a credit card number for the return of unsold pieces at the close of the exhibition.
· By submitting your work for review you confirm that you will adhere to all of the above.
IMPORTANT DATES:
• Exhibition Dates: October 18—November 21, 2018
• Call to Artists announcement: April 26, 2018
• Call to Artists application process opens on CaFÉ: April 26, 2018
• Online application deadline: 11:59 p.m. EST, August 1, 2018
• Notification of Acceptance: August 10, 2018
• Artwork to arrive at Lighthouse ArtCenter on or before: October 8, 2018
• Exhibition open with Artist Reception and Award Ceremony: October 18, 2018, 5:30 – 7:30 p.m. (Each artist and one guest are invited at no charge.)
• Ticketed Runway Show: November 1, 2018, 5:30—7:30
• Exhibition closes: November 21, 2018
• Unsold works packed and shipped or picked up by November 26, 2018
• Artists' Credit Card number must be kept on file for return shipping and insurance on unsold pieces
GUIDELINES:
Checklist of what you will need to provide:
• Artist information: The name you list is the name by which your work will be labeled for exhibition. Spelling and capitalization will be reproduced in the same manner you enter them on your application and all correspondence will be directed to the address, phone (include country code) and email address provided therein.
• Information about each piece:
- Artist name
- Title
- Artist Statement, materials and techniques described in 2,000 characters or less. (LAC reserves the right to edit statements as necessary.)
- Size: Width x Height x Depth in inches
- Photo credit: if photo is not by the artist
Digital Image submission guidelines: Failure to comply with the digital image submission guidelines may result in the rejection of your submission.
• Submit three digital images for each work: One front, one back, one detail
• File format: JPEG or JPG only
• File dimensions: 1200 pixels or greater on the longest side. Anything larger than 1200 px will be resized to fit the limitations.
• File size: under 5 MB
Special Note: Lighthouse ArtCenter encourages you to send the best quality photos you can. Remember the images you send are the only representations of your work the jurors will see when considering your entry. These photos are also the ones used in advertising and printed materials. Photos should be in sharp focus, showing all edges, well lit, with correct color and no distortions.
Application Fee: $35.00 for up to 3 entries per category
The two categories are:
1) Wearable Art
2) Surface Design
Print this Page
View Legal Agreement