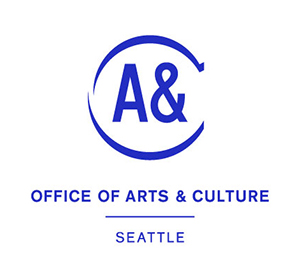 Fresh Perspectives: Seattle Artwork Purchase
Entry Deadline: 7/24/18
Application Closed

REQUIREMENTS:

Media Images: 8




INTRODUCTION
The Office of Arts & Culture, in partnership with Seattle Public Utilities (SPU), invites artists to submit images of two-dimensional artwork and wall hanging sculptures for a competitive purchase for SPU's Civic Art Collection. Maximum measurements for work is 48 x 48 x 5 inches and should not weigh more than 50 pounds. Artwork not conforming to these qualifications may be disqualified. The artwork will enter a rotating portable works collection and objects may need to be moved by one person.

Artists are encouraged to submit colorful artworks. The artwork must be available for purchase. Purchases will be chosen by a panel who are charged with selecting artwork that reflects diversity of expression. The call is open to professional artists residing in Washington, Oregon, British Columbia, Montana, Idaho and Alaska.

Applications close 10:59 p.m. (Pacific Daylight Time), Tuesday July 24, 2018.

BACKGROUND
The City of Seattle owns over 3,000 artworks in its Civic Art Collection and has been collecting for over 40 years. These artworks will enter the Seattle Public Utilities Civic Art Collection managed by the Office of Arts & Culture. They will be displayed throughout city galleries and offices.

ELIGIBILITY
This call is open to professional artists who are residents of the Pacific Northwest (Washington, Oregon, British Columbia, Montana, Idaho and Alaska).

SCOPE OF WORK
The Office of Arts & Culture's (ARTS) goal is to bring new and diverse ideas into our collection. ARTS and Seattle Public Utilities (SPU) are interested in what perspectives our region's artists can bring to the issues of housing unaffordability, racial equity, and climate change. How can we use art to create large statements for justice and equity? Two-dimensional media and wall hanging sculpture will be considered for purchase. Maximum measurements for work is 48 x 48 x 5 inches and should not weigh more than 50 pounds. Artwork not conforming to these dimensions may be disqualified. The artwork will enter the Civic Art Collection and objects may need to be moved by one person. Artists may submit up to eight images of available work. Artists from outside the Seattle-area must include shipping costs for each artwork (as a separate line item) in the image descriptions.

About Seattle Public Utilities
Seattle Public Utilities (SPU) provides Seattle residents with essential water services: drinking water from mountain sources, and sewer and drainage collection to protect our local waterways. Our customers depend on us to be there for them--to deliver these services reliably and spend their dollars wisely. To accomplish this, SPU manages and maintains over 3,700 miles of water, sewer and drainage pipes and related systems that connect to every house and building in the City. SPU is the unseen structure, often underground, that makes the City work—it continually upgrades and maintains its systems to ensure that Seattle has 24/7 utility services. Through SPU's Environmental Justice and Service Equity Division, SPU engages communities of color, immigrants and refugees, customers with low income, and customers with limited English proficiency as partners and collaborators in improving Seattle's quality of life. SPU would like to use art as a platform for all of Seattle's diverse residents to show the importance water quality has on all of our lives. This project is made possible with SPU 1% for Art funds. These artworks will enter the Seattle Public Utilities Civic Art Collection managed by the Office of Arts & Culture. They will be displayed throughout city galleries and offices.

BUDGET
A total of up to $100,000 for all artworks is available for this direct purchase. The budget ranges from $500 - $5,000 per selected artwork.

APPLICATION DEADLINE
10:59 p.m. (Pacific Daylight Time), Tuesday, July 24, 2018. Please allow ample time to complete your application; applications submitted after the 10:59 p.m. (PDT) deadline will not be accepted.

APPLICATION REQUIREMENTS
Up to 8 images of available work. Do not submit images of artworks that are not available for direct purchase. If you are submitting fewer than 8 images, you will need to insert a blank slide (you may download a blank slide here). If any submitted artwork is no longer available, please contact Blake Haygood, Curator and Collections Manager, at 206.684.1742 or blake.haygood@seattle.gov.
Image description list (not to exceed 500-characters per image). Please describe your work samples by including title, year made, medium, dimensions, and price. Artists from outside the Seattle-area must include shipping costs for each artwork (as a separate line item) in the image description list.
Artist's Statement (not to exceed 2,000-characters). Please write a brief description of your artistic intent.
Résumé (not to exceed two pages).
SELECTION CRITERIA
Artwork will be selected on the basis of the following criteria: artistic merit, appropriateness for the public setting and the existing collection, artistic diversity of the collection and completeness of application.

The Office of Arts & Culture is committed to reflecting the diversity and cultural richness of our city in the selection of artists and artworks.

SELECTION PROCESS
Fresh Perspectives will incorporate the youth voice, eye, and vantage point into the City's collection. Most Civic artworks are selected by a panel of arts professionals. By having a panel of five to seven youth to select works for purchase directly from digital submissions, we can bring new and diverse ideas into our collection. Curators create conversations with artworks and ARTS and SPU are interested in what statement youth from the Northwest want to create with our region's artists. How do housing unaffordability, racial equity, climate change, and other issues of our time show up in their curatorial practice? How can we use art to create large statements for justice and equality? The youth panel will curate two art exhibitions from the purchase on themes that resonate with them. Artists are encouraged to look at the mission of SPU when selecting artworks for this call. Staff from the Office of Arts & Culture will provide training opportunities to the youth panel, including conversations with curators and arts administrators from galleries, museums, and public collections.

Diversity within the collection is highly encouraged. However, artworks that contain graphic depictions of violence, sexually explicit imagery, and/or nudity are discouraged.

NOTIFICATION OF RESULTS
All notifications regarding application status will be provided via the CaFÉ system. Artists who apply will be notified of the selection panel's decisions by early September 2018.

The Office of Arts & Culture reserves the right not to select any of the applicants.

WE'RE HERE TO HELP
Please contact Elisheba Johnson (elisheba.johnson@seattle.gov or 206.684.0182) or Blake Haygood (blake.haygood@seattle.gov or 206.684.1742) with any questions.

Attend a Workshop
Wednesday June 20, 2016
6 - 7:30 p.m.
Grand Hall
Langston Hughes Performing Arts Institute
104 17th Ave S
Seattle, WA 98144
206.684.4758
No RSVP or registration is needed to attend the workshop.

TECHNICAL SUPPORT
For assistance with the CaFÉ online application process, please contact CaFÉ tech support at 888.562.7232 or CaFÉ@westaf.org, Monday-Friday, 7:30 a.m. to 4:00 p.m. Pacific Daylight Time.