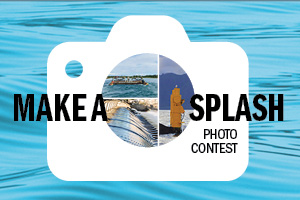 Make a Splash Photo Contest
Entry Deadline: 7/16/18
Application Closed

REQUIREMENTS:

Media
Images - Minimum: 1, Maximum: 20
Total Media - Minimum: 1, Maximum: 20


Make a Splash Photo Contest
The U.S. Department of Energy's (DOE's) Water Power Technologies Office is searching for the best photos of water power in the United States. Winners of the Make a Splash Photo Contest can win up to $2,000 for photos in seven categories.
The contest will award prizes and feature winning photos on the Water Power Technologies Office website, at DOE headquarters, and in other Office material.

Photo Categories
Entrants may submit up to 20 photos (total) in the following seven categories:
Overall Hydropower – grand prize
Hydropower, including multiuse dams and reservoirs.
Overall Marine Energy – grand prize
Marine energy technologies, such as measurement buoys, wave energy converters, and ocean thermal energy converters.
Recreational Hydropower
The recreational use of hydropower, including swimming, boating, fishing, camping, skiing, and hiking—just some of the recreational activities that take place year-round and across the country at sites developed and supported by the hydropower industry.
Community/Local Hydropower
Small-scale, low-head hydropower that provides local or community power.
STEM/Educational Opportunities of Water Power
Youth and students of all ages interacting with and learning about water power technologies.
Jobs/Economic Development of Water Power
Professionals employed by the water power sectors, including maintenance and operations.
Research and Development of New Water Power Technologies
Researchers working to advance water power technologies, whether in a lab setting or in the field.
All photos must be taken within the United States or U.S. Territories or be of U.S. technology in foreign water.

Selection Process
All photos must be submitted via the Call for Entry (CaFE) website. An administrator will vet the photos to ensure that they are relevant to the category. The administrator may reassign a photo to a category other than that identified by the submission. The administrator will also ensure that the photos meet the selection standards laid out below.

Our judges will select the winners of the competition. Photos will be judged for their creativity, quality, and relevance.

Selection Standards
All photos must:
Be the original work of the photographer.
Be taken within the United States, U.S. Territories or include a U.S. technology in foreign water.
Be submitted through the CaFE website.
Be submitted under the Creative Commons – Attribution 4.0 International License (CC BY 4.0) (See https://creativecommons.org/licenses/by/4.0/).
Be a high-resolution, digital copy, minimum size 2100 x 1500 pixels, and maximum 5 MB. For more about submission requirements, please refer to CaFE's Image Prep guidelines.

A photo will be deemed ineligible if it contains the following:
Children or individuals appearing to be under 18 years of age who do not have parental or legal guardian permission to appear in photos.
Photos of adults without their consent. If the photo includes recognizable people, the photographer should submit a signed Model Release form with the entry.
Addresses, license plates, or other personally identifiable information.
Logos or other business marks that are prominently featured in a photo. The contest administrator will determine whether a logo or other business mark is a central or prominent aspect of a photo such that it would be deemed ineligible.
Watermarks, dates, signatures, or copyright images. There should be no signifying mark of the photographer on the image.
Any offensive, unlawful, or abusive content.
Use of the Photos
All photos must be submitted under the Creative Commons – Attribution 4.0 International License (CC BY 4.0) that allows others, including the Government and the National Renewable Energy Laboratory, the right to use, publish, copy, distribute and modify the photos provided proper attribution is provided.
The photos may be used in electronic and print materials.
In the event that ownership of any photograph submitted to this photography contest is contested in any matter, the competition reserves the right to discontinue use of said photograph and disqualify the photograph from the contest.

Eligibility
All professional and amateur photographers are encouraged to submit their photos. If the photographer is under 18, a parent or legal guardian must be present to accept the online terms and conditions. Artists can submit as many photos as they like. Current Federal employees and support service contractors working on a Federal site may submit photos but may not receive cash prizes (winning photos from such personnel will still be acknowledged through the contest selection announcements and through other means).

Application Requirements
All photos must be submitted by 11:59 p.m. MDT on July 16, 2018.
All photographers are required to submit their name, contact information, and a brief description of each photo. The description should include the names of any people in the photo, the state where the photo was taken, and a short description of the activity.