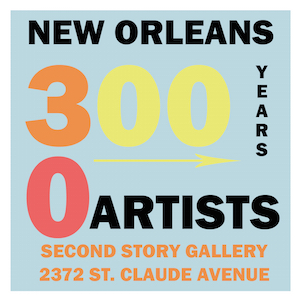 Thirty New Orleans Artists
Contact Email:
charleslovellart@gmail.com
Call Type:
Exhibitions
Eligibility:
Regional
State:
Louisiana
Event Dates:
9/8/18 - 11/1/18
Entry Deadline:
7/26/18
Application Closed
REQUIREMENTS:
Media
Images - Minimum: 1, Maximum: 5
Total Media - Minimum: 1, Maximum: 5
Entry Fee (Thirty New Orleans Artists): $30.00

Thirty New Orleans Artists
A juried exhibition and open call for
New Orleans
resident artists
A visual arts program of the
New Orleans Tricentennial

Three prominent contemporary art professionals
who work closely with New Orleans artists will serve as jurors:
Gia Hamilton, Director of the Joan Mitchell Center; Charlie Tatum, Editorial Manager for the Pelican Bomb;
and
Emily Wilkerson, Independent Curator. Thirty artists will be selected for the final exhibition.
The Second Story Gallery
artists' cooperative in the New Orleans St. Claude Arts District was founded in 2012.
Requirements
:
Media
Images: Minimum 1, Maximum 5
Total Media: Minimum 1, Maximum 5
Entry Fee
: $30 per artist, must provide proof of residence upon acceptance, limit 5.
Calendar:
Call opens: May 22
Call closes:
July 16
Jury selection: August 6
Artists' notification: August 7
Artists' drop-off: August 24–28
Thirty New Orleans Artists Opening Reception & Awards Ceremony,
September 8, 2018, 6 to 9:30 p.m.
Exhibition on display:
September 8 to November 3, 2018
Second Story Gallery Hours: Monday through Sunday, 9 a.m. to 8 p.m., free to the public
Hand delivery pickup of returned work: November 5 to 8, 2018
Local
, must be an artist residing in
New Orleans, Louisiana,
with proof of residence to be demonstrated with valid drivers license or utility bill showing current resident status.
Eligibility: 2-D and 3-D artworks
that meet the requirements detailed in the prospectus are accepted.
2-D eligibility & medium: 2-D work
in painting, drawing, mixed media, printmaking and photography are accepted. Work cannot exceed 50 inches' size at longest dimension. Works must be framed and ready for professional art presentation.
The artworks must have been produced during the past two years
. The accepted work must exactly match the digital work selected by the jurors or will be disqualified.
3-D eligibility
includes wall-mounted work no larger than 50 by 50 inches in size. Freestanding work cannot exceed 7 feet in any dimension. If freestanding work requires base or pedestal, those must be provided by the artist.
The artworks must have been produced during the past two years.
The accepted work must exactly match the digital work selected by the jurors or will be disqualified.
Submission Reuirements
: Please see CaFÉ for digital file requirements.
Sales:
All works are for sale.
The Second Story Gallery will retain a 25% commission
on works that are sold. Price of work should include commission to the Second Story Gallery.
Awards:
Three Top Selected Artists
will be invited to exhibit at the
Second Story Gallery
in a three-person show in the fall of 2019. Cash awards will be given in excess of $1,250. A minimum of 25% of entry fees will be used to pay for artist awards and will be presented at an awards ceremony the night of the opening.
Shipping/Instllation Requirements:

The artists are responsible for hand-delivering the work to and from the Gallery. Shipped works at the artist's expense will only be allowed with permission under special circumstances. Delivery instructions will be sent after the jurying process, along with loan forms. All artworks must be ready to install and must include hardware that will allow for immediate installation with no adjustments. No exceptions! After November 9, a storage fee will be charged for works not picked up.

Entry fee is nonrefundable.

Make sure you have read and agree to the rules and regulations included on this prospectus.

For questions, contact Project Director Charles M. Lovell at charleslovellart@gmail.com
The exhibition
Thirty New Orleans Artists
will be held from September 8 to November 3, 2018, in the
Second Story Gallery
and is a visual arts program of the
City of New Orleans' Tricentennial Celebration
.
New Orleans
has been recognized nationally as an arts center; in July 2015
Hyperallergic
reported that
New Orleans
was rated as the best city for creative workers. The city attracted noted artists to the French Quarter in the past century, commercial galleries continue to flourish on Julia Street in the Warehouse and CBD Arts District, while in the years since Hurricane Katrina, there has been an explosion of art galleries and artists spaces in the
Marigny and Bywater
neighborhoods—in the
St. Claude Arts District.
Barrister's Gallery, Second Story Gallery, Staple Goods Gallery, The Front, Good Children Gallery, Antenna, UNO St. Claude Gallery, Parse, Level Art Collective, Catylyst Collective, Politico Pop-Up and the New Orleans Arts Center
are just a few of the 30-plus venues that currently showcase this dynamic emerging contemporary art scene.
The Joan Mitchell Center, Prospect New Orleans, and Pelican Bomb
where the jurors have recently worked represent three important contemporary art organizations that have led to
the artistic rebirth of New Orleans after Hurricane Katrina.
It is hoped the resulting exhibition will reflect the resilience, multiculturalism and dynamism of the visual arts in New Orleans in the year 2018, during an important historical moment.
Venue:
The location for the exhibition is the
Second Story Gallery,
an artist-run cooperative gallery located in the Healing Center in New Orleans' burgeoning St. Claude Arts District. The Second Story Gallery offers over 1,500 square feet of gallery space at 2372 St. Claude Ave., on the corner of St. Claude and St. Roch, directly across from the St. Roch Market.
The St. Claude Arts District—an eclectic alternative art scene downriver from the French Quarter—is exploding with energy during our city's Tricentennial celebration.
Thirty New Orleans Artists Jurors:
Gia M. Hamilton
is known for her visionary ability to identify and cultivate support systems. A cultural steward, design thinker and applied anthropologist, Hamilton has spent the last two decades straddling the nonprofit world and corporate America, leveraging her expertise in resource-based economic strategy to move forward new models in capacity building and fundraising. As a model builder, Hamilton co-founded an independent African-centered school, Little Maroons, in 2006; later, she opened an intersectional incubator space, Gris Gris Lab, in 2009 and currently leads the Joan Mitchell Center artist residency program. As the Center Director, Hamilton designed the program as a place-based, community-centered laboratory for visual artists, curators and the creative community with the belief that imagination and creativity are paramount to creating a more equitable and socially just society.
Charlie Tatum
is a writer and arts worker based in New Orleans. He currently works as Editorial and Communications Manager at
Pelican Bomb
. He received a BA in art history from New York University in 2011. In addition to contributing regularly to
Pelican Bomb
's Art Review, he has written essays and conducted interviews for
Art in America
,
Hyperallergic
,
Temporary Art Review
and
Burnaway,
and has contributed to catalogs published by Prospect New Orleans, the Joan Mitchell Foundation, UB Art Galleries and the Charlotte Street Foundation. He has previously held positions with Prospect New Orleans, the Whitney Museum of American Art and Lombard Freid Gallery in New York.
Emily Wilkerson
is a writer and curator based in New Orleans. Deeply engaged in the concerns and issues of her community, she enjoys writing about contemporary art as a departure point for exploring our shared social and cultural experiences around the globe. Wilkerson has contributed to publications including
Pelican Bomb
,
Art Papers
,
Burnaway
and the exhibition catalogs for
Prospect.4: The Lotus in Spite of the Swamp
,
Prospect.3: Notes for Now
and
Out of Easy Reach
, and her ongoing research focuses on socially engaged art practices and the alternative educational strategies of international artist and curatorial residencies, the latter for which she was awarded the 2011–2012 Neely Macomber Travel Prize. She most recently served as Deputy Director for Curatorial Affairs at Prospect New Orleans, and has worked on exhibitions and projects at the San Francisco Museum of Modern Art, the Chinati Foundation and the Contemporary Arts Center, New Orleans, among others. She completed her master's degree in Art and Curatorial Practices in the Public Sphere at the University of Southern California in Los Angeles in 2012 and holds a B.A. from Louisiana State University in Baton Rouge.
Examples of
Thirty New Orleans Artists
Project Director
Charles Lovell's
work have recently been added to the collections of The Historic New Orleans Collection, the Arts Council of New Orleans and the New Orleans Jazz & Heritage Foundation. His 2016 and 2017 New Orleans exhibitions include the Ashé Cultural Art Center's
Metamorphosis: Unapologetic Existence
, the Contemporary Art Center's
Experiments in Anarchitecture
, the New Orleans Art Center's Louisiana Photography Biennial, the Ogden Museum's Louisiana Contemporary and LeMieux Galleries' Bombay Sapphire Artisan series. In addition, his work was shown internationally in 2016–2017at the Photobook Melbourne's # Archive Memory Bank Exhibition in Melbourne, Australia; his photographic book was shown at the Emily Harvey Foundation Archive's Leporelli Venezia in Venice, Italy; and his photograph and poem was also shown at the Emily Harvey Foundation Archive's Project 387. A selection of fifteen of his photographs were featured in the 2016 exhibition
Preserving New Orleans' Second Line Culture
at the New Orleans Jazz & Heritage Foundation Gallery, for which Lovell received a Community Partnership Grant and curated the group of eight additional photographers, including Michael P. Smith. Also, a portfolio of twenty photographs from his New Orleans Second Lines was presented on January 9, 2017, in Jeff Rich's weekly photography series, "Eyes on the South," in the online edition of the
Oxford American.
Second Story Gallery, New Orleans Healing Center
2372 St. Claude Ave., New Orleans, Louisiana 70117
Charles M. Lovell, Coordinator
Cell: (575) 770-0095
E-mail: charleslovellart@gmail.com
Submission to this juried exhibition constitutes a legal agreement on the part of the artist and the organizer that are set forth in the written document of this prospectus.

The Entry Fee of $30 is non-refundable.

The artist must agree to hand-deliver and pick up their artworks according to the calendar unless special dispensation is granted. The Second Story Gallery and the jurors reserve the right to final curatorial, educational, marketing and installation plans and may use any of the entered art for their marketing, publicity and educational purposes.

The Second Story Gallery is a non-profit arts cooperative and will take exceptional care in the handling and display of the accepted artworks, but artists are responsible for their own insurance of their works and the artists agree that the Second Story Gallery is not providing insurance for the submitted artworks. No works with a valuation in excess of $10,000 can be accepted.
Print this Page
View Legal Agreement