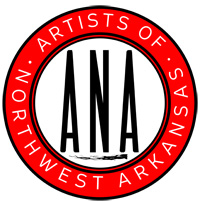 Artists of Northwest Arkansas 24th Annual Regional Exhibition
20165 Ricky Lane
Springdale, Ar 72764
Contact Email:
arkart@cox.net
Call Type:
Exhibitions
Eligibility:
Regional
State:
Arkansas
Event Dates:
9/6/18 - 9/28/18
Entry Deadline:
6/30/18
Application Closed
REQUIREMENTS:
Media
Images - Minimum: 3, Maximum: 5
Total Media - Minimum: 3, Maximum: 5
Entry Fee (Artists of Northwest Arkansas 24th Annual Regional Exhibition): $50.00

Media Fee (per sample over minimum):$10.00

The 24thAnnual ANA Regional Juried Art Exhibition is a regional competition hosted by the Artists of Northwest Arkansas to support the work of regional artists. This exhibition will be held at Art Ventures on the town square at 101 W Mountain, Fayetteville, Arkansas. The primary goal of the show is to acknowledge, promote and encourage artists in multiple media and disciplines.
Application Dates: April 15 through June 30, 2018
ELIGIBILITY: The 24thAnnual ANA Regional Juried Art Exhibition may be entered by any artist, 18 years of age or older, currently living in Arkansas, Kansas, Missouri, Texas and Oklahoma.
WORK ELIGIBLE: A maximum of five entries per artist may be submitted for consideration.
● Work must be original, not done under supervision and not previously shown in this exhibit and completed in the last 3 years.
● Work previously shown in an ANA juried Exhibition is ineligible.
● Orient images the way they are to be viewed
● All 2- and 3-dimensional media are eligible. The categories include Drawing/Pastel, Mixed Media, Oil, Photography/Digital Art, Water Media (watercolor and acrylic), and 3D Sculpture. At this time, we cannot accept video entries, performance or installation art.
● No reproduced drawings or paintings will be accepted. Originals ONLY!
● Photographs and digital art printed on paper or other ground will be accepted.
● Diptychs and triptychs must be in one frame.

● Plexiglas must be used for glazing. Pastels under glass will only be accepted with a signed waiver form.
SIZE RESTRICTIONS: All work accepted for the exhibition must be ready for display. For 2-D work, maximum of 2304 Sq In (48" X 48"), Sculpture is limited to 100 lbs. All framed art must have screw eyes or D-rings, strong wire attached and be ready to hang. Gallery wrap is acceptable with the edges painted.
ENTRY FEE AND MEMBERSHIP: A general non-refundable entry fee of $50.00 will be charged for the first three entries. Members of The Artists of Northwest Arkansas will be charged $40.00 for the first three entries. A fee of $10 will be charged for additional entries with a maximum of five entries per applicant.
MEMBERSHIP IN THE ARTISTS OF NORTHWEST ARKANSAS: Membership in the Artists of Northwest Arkansas is not required to enter this show, however, ANA members must be current on their dues to enter this competition for the reduced entry fee. If you are interested in becoming a member or need to pay your dues, you will find information on our website. There are no qualifications necessary to join The Artists of Northwest Arkansas. Membership is $35 per year. ANA members who wish to retain Signature status must be up to date with dues for each year since joining ANA. Please see our website for additional information. http://www.artistsnwarkansas.com
METHOD OF SELECTION: The 24th Annual ANA Regional Art Exhibition will be selected from digital image files. Three non-member jurors will select the pieces juried into the show. No more than 1 work of art from any entrant will be juried into the show.
The three judges are:

Phil Starke has been painting professionally since his graduation from the American Academy of Art in Chicago, IL. He has prestigious gallery representation and has been teaching classes and workshops around the country for over 20 years. He participates in numerous exhibitions and gallery shows annually. He has also published 2 books: "Small Works – Landscapes", and "The Plein Air Tip Guide" and his work has appeared repeatedly in Southwest Art, Western Art Collector and other major art publications.

Simon Kogan was born in Russia, where he received 13 years of classical academic training in Moscow, including a MFA as well as an apprenticeship under renowned sculptor Isaac Brodsky.
Since immigrating to the U.S. in 1991, he has steadily risen to national prominence as a sculptor whose widely acclaimed work - monumental to miniature - reflects a bold, yet poetic pursuit of the archetypal and renders an ethereal quality highly resonant with the viewer. A Fellow of the National Sculpture Society, Simon Kogan has long shared his artistic passion through the teaching of sculpture, painting, anatomy and drawing in the U.S. and abroad.
Selma F. Blackburn first earned a degree in Elementary Education, and earned a second Bachelor's degree in art with distinction in 1990 at Hendrix College, Conway.
For over 27 years, she taught classes and workshops in watercolor and design at the Arkansas Arts Center and around the state and country. She has been an adjunct instructor of art at Hendrix College, and assisted for seventeen years in the Louisiana Tech University Continuing Education Summer Watercolor Encounter program in Ruston, LA. She has assisted with art excursions to Italy and Bali, Indonesia, and has painted in Mexico and Guatemala as well.
DIGITAL IMAGES: Digital images shall be at least 72 dpi and no less than 2MB in size and should accurately represent the artworks entered. No work previously entered in our annual exhibition or copy of work previously entered or receiving an award may be entered. It is the intention of ANA that all acceptances will be considered final. However, ANA reserves the right to delete from the exhibition any artwork that does not conform to the entry specifications.
Artists whose artwork is selected to be in the show will be notified of acceptance and provided with instructions for shipping. Only artwork that is hand delivered or shipped will be eligible for awards. If you are selected and do not deliver your work, you will no longer be eligible to enter the ANA juried competition in the future.
AWARDS:
Final selection of awards will be made by our judge from actual works of art, not from digital images. Cash awards and merchandise gift certificates of over $10,000 with Best of Show $2000, First $1500, 2nd$1000 and 3rd$750. Artists do not need to be present to win. Gift certificates and checks will be mailed to winners one week after the show closes. Product awards must be picked up at Reception or on September 29, 2018. Products not picked up will be forfeited.
CATALOG: Each selected artist who is juried into the show will receive a copy of the exhibition catalog.
SHIPPING and RETURN of ACCEPTED ARTWORK
SHIPPING: Accepted entries that are SHIPPED must arrive with return shipping prepaid to: the Art Emporium, 2914 N. College Avenue, Suite 1 & 2, Fayetteville, AR. 72703. Participants may use the carrier of their choice but must include a prepaid return labelwith the shipped artwork. Early shipment is encouraged. Information for the shipping agent will be included in acceptance letter. Details for shipping will be in the acceptance letter.
For accepted entries that will be HAND-DELIVERED, bring them to: 101 W Mountain, Fayetteville, AR Fayetteville, AR 72701. Details for hand-delivery will be in the acceptance letter.
RETURN:Accepted entries may notbe removed before the close of the exhibition. Any entry participant removing art prior to the close of the exhibition will be barred from future entry into this juried exhibition. Shipped artwork, not sold at the show, will be returned after the close of the show starting October 10, 2018, via the same carrier used by the sender, within four to six weeks after the close of the exhibition. If return address is a P.O. Box, please include an alternate shipping address. Directions for artwork pick up will be given with acceptance letters.
LIABILITY: ANA will exercise professional care in handling all entries, but cannot assume liability for loss or damage, however caused, while works are in transit.
It is suggested that artists insure their entries.
PHOTOGRAPHY: The Artists of Northwest Arkansas, reserves the right to photograph and reproduce, in color or black & white, all artworks accepted for the exhibition regardless of copyright. Digital images will be used for the exhibition catalogue, educational, and/or publicity purposes only.
SALES: Sales will be facilitated Art Ventures with a commission of 40% retained on all sales. Artist must price their artwork accordingly. Artist may mark their artwork "Not for Sale", but must provide a value for the artwork for insurance purposes. Artwork sold by Art Ventures will be given to the purchaser after the show closes on or after October 10, 2018.
Additional Items Required:
Art Label provided with notification to be filled out and attached to the upper RH corner of the painting. If sculpture or other 3D work, send in with art work in an envelope clearly labeled.
AGREEMENT: The receipt of an entry for The 24th Annual ANA Regional Juried Art Exhibition will be understood to imply agreement on the part of the entrant with all conditions set forth in this prospectus.
CALENDAR 2018
June 30, 2018 – last day to apply online
July 15, 2018 - Notifications of acceptance begins.
August 15, 2018 - Last day for receipt of accepted artwork at Shipping Agent
September 1, 2018 - Hand deliveries delivered between 10:00AM and 2:00PM
September 6, 2018 - The 24thAnnual ANA Regional Art Exhibition opens
Gallery Hours: Wednesday-Saturday 10am-2pm and 4pm-8pm Sunday 1pm-3pm
September 15, 2018 – Awards Ceremony and Reception 5:30pm to 8:00pm
September 28, 2018- Exhibition closes
September 29, 2018 - Hand delivered artwork must be picked up between 10:00AM & 2:00PM
October 10th – Shipped Artwork begins to be shipped back to artist with prepaid return
Print this Page
View Legal Agreement